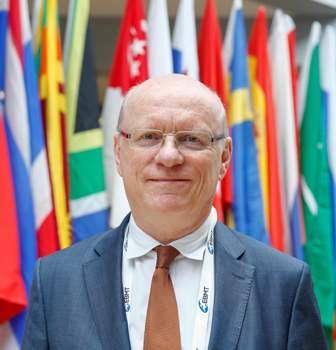 Dear EBMT friends and colleagues,
I hope you enjoyed relaxing and happy holidays and wish you all a Happy and Healthy New Year during which I hope you will stay closely connected to EBMT!
2018 was a very important year for EBMT on many fronts and there is no doubt that this year will be equally exciting. The dramatic impact of novel drugs, immunomodulatory agents, monoclonal or bispecific antibodies and especially the recently approved CAR-T cells are at the same time thrilling and challenging for our society. We are indeed privileged to be working at a time of such rapid progress which has the potential to transform the clinical outcomes of so many of our patients. Never has the role of EBMT been more important in accelerating the development of new therapeutic modalities whilst at the same time facilitating their integration into the clinical landscape.
This year EBMT will continue implementing the CAR-T cell and immune effector cell strategy. And with this, we will hold the 1st European CAR T Cell Meeting in collaboration with EHA from the 14th to the 16th of February in Paris. Attendees will follow the latest scientific developments as well as educational and practical issues around CAR-T cell treatment and complication management.
The first post-authorisation safety studies (PASS) on CAR-T cells will start, the new Registry system MACRO will be launched, and new quality standards for CAR-T and immune effector cells will be developed.
Taking the increasing need of educational tools into account, EBMT will start to develop an E-Learning platform for all health care providers in 2019.
In addition, the new EBMT Handbook has been released and is available to download in PDF. All registered attendees of the upcoming EBMT Annual Meeting will also be able to get a free hard-copy of the Handbook.
The 45th Annual Meeting in Frankfurt is around the corner! Please check the exciting scientific program including the more recent results in stem cell transplantation and cellular therapies. The Local Organising Committee has to be congratulated to bring the world leading experts to this Annual Meeting. For the first time transplant coordinators will become part of our congress with the 1st Transplant Coordinator Day highlighting their important role in the transplant process. Furthermore, the Patient, Family and Donor Committee has worked towards a new format for this year Patient, Family and Donor Day: the programme will include sessions for patients, family members and donors and dedicated sessions for patient advocates.
Further midsize events focusing on a specific topic with high interest are planned as the 1st EBMT GvHD Summit (16-18 May in Warsaw) and the 4th EBMT International Transplant Course (6-8 September in Barcelona). Last, Working Parties educational events will be organised focusing on Working Party specific topics.
Since our society is growing and the interactions with legal regulators, such as the EMA, and with industry partners regarding CAR-T cell studies are increasing, it is important that EBMT revises its governance in 2019 in order to maintain our leading position in the field.
I hope that like me you are excited to be entering 2019 with the prospect of further increasing treatment options for our patients and I would therefore like to encourage you or one of your younger colleagues to become an active member in one of the Working Parties to develop own projects and participate in new treatment guidelines.
Best regards,
Nicolaus Kröger