The Chronic Malignancies Working Party promotes and conduct educational activities and clinical investigations on the role of hematopoietic cell transplantation in chronic malignancies such as chronic leukaemias, myelodysplastic syndromes, myeloproliferative and plasma cell disorders. 
The CMWP aims to contribute to improving outcomes for patients undergoing stem cell transplantation for chronic hematologic malignancies by the following means:
Performing high quality retrospective registry studies
Performing prospective clinical trials and non-interventional studies (NIS)
Improving the quality of EBMT registry data
Promoting scientific interaction by organising educational courses and scientific meetings
Collaborating with national and international transplant- and disease-specific groups
Disseminating knowledge to the transplant and non-transplant scientific communities, patient organisations and the lay public
CMWP Team

Scientific Council co-chair with the Research and Sciences portfolio
CMWP Chair
United Kingdom



CMWP Study Coordinator Lead
Clinical Programmer
Leiden,
Netherlands


CMWP & SAAWP Data Manager
Leiden,
Netherlands
CMWP & SAAWP Senior Biostatistician
Rome,
Italy

CMWP & SAAWP Biostatistician
Leiden,
Netherlands

Structure
The CMWP consists of five subcommittees:
Myelodysplastic syndromes (MDS) including Chronic Myelomonocytic Leukaemia (CMML)
Plasma Cell Disease (PCD)

CART PCD

Philadelphia-negative Myeloproliferative Neoplasms (Ph-neg MPN)
Chronic Myeloid Leukaemia (CML)
Chronic Lymphocytic Leukaemia (CLL)
Each subcommittee will have a chair and one or two vice-chairs.
Vice-chairs should act as co-chairs and should be directly responsible for at least two studies. (Chairs of subcommittees should allocate at least two studies to each vice-chair)
The chair of the CMWP appoints the chairs and vice-chairs of subcommittees.
Subcommittee members who have served over four years on the board may be replaced to provide opportunities for other interested WP members.
It is a goal of the current chair to have the board reflect the international range of EBMT-affiliated centres.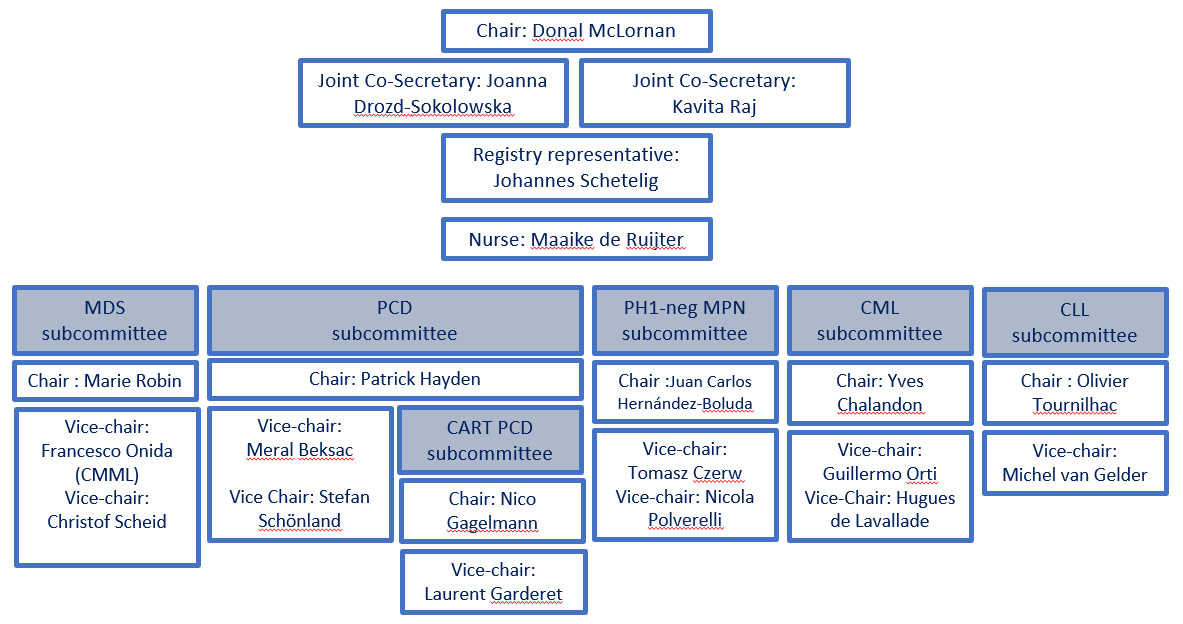 Membership
Working Party membership is open to all physicians in EBMT-affiliated Transplant Centres.
Applicants from elsewhere are welcome to apply to join. The final decision will rest with the Chair of the Working Party. The secretary maintains the list of members.
If a member has not attended any meeting for two years, they will be deemed to have left the Working Party and will no longer receive group email communications from the Secretary.