In the context of the coronavirus disease (COVID-19), the EBMT has set up this section to provide you with an array of useful information and resources.
A Message from EBMT President
By Nicolaus Kröger, MD
Dear EBMT members, colleagues and friends,
Since my last message from 19 March, the SARS-CoV-2 pandemic has further spread and the number of COVID-19 patients who died from the disease is steadily increasing and has now exceeded more than 30.000.
Even if some countries and regions are more affected by SARS-CoV-2, the virus ignores borders and continents and in nearly all countries the authorities have taken intrusive measure to control further spread of the virus in order to avoid collapse of our health care system. These drastic measures have profoundly impacted our way of life, our economy and our health care system in a way unlike any other experienced in our life.
The COVID-19 caused burden to our health care system is overwhelming and the scarcity of medical resources such as personal protective equipment, ICU beds, ventilators and critical care nurses is becoming starkly apparent. As a result, political and ethical discussions about prioritization of scare medical resources and health service funding are now more topical than ever.
However, as well as the daily stories of heartbreak and tragedy there are also heartening accounts of individuals, societies and nations coming together to face the pandemic for example by transferring patients who require ventilatory support across borders to hospitals with ICU capacity.
At this critical time EBMT is more than ever committed to its mission to save the lives of patients with blood cancers and other life-threatening diseases by advancing the fields of blood and marrow transplantation and cell therapy. We deeply trust in the strength and resilience of our members, the physician, nurses and health care providers for their tireless efforts to treat and care our patients during the ongoing COVID-19 pandemic.
EBMT remains committed to doing everything it can to provide our members  with practical and topical guidelines and continuously updated information on the COVID-19 epidemic on our EBMT website: https://www.ebmt.org/covid-19-and-bmt
Together with Jan Styczinski, Malgorzata Mikulska and Per Ljungman from EBMT's Infectious Disease Working Party we have weekly exchange with the American Society for Transplantation and Cellular Therapy (ASTCT) to harmonize our weekly updated general COVID-19 recommendation which are accompanied by specific disease-oriented recommendations  from EBMT Working Parties
About 700 registered colleagues followed the 1st webinar on COVID-19 by Per Ljungman on Friday 20 March and this webinar can been seen again on: https://youtu.be/-9DsgnSy5OE
To address the concerns of our patients regarding the risk of contracting coronavirus infection during and after hematopoietic stem cell transplantation and/or CAR T cell therapy, the Patient Advocacy Committee and the Patient Engagement Taskforce of the Transplant Complications Working Party will deliver a webinar "COVID-19 and me" dedicated to patients and care givers on Friday 3rd April 2020. You can register here.
Another webinar with experienced colleagues from Italy, Spain and Germany on "COVID-19 and Hematology Patient Care" will be presented together with the European Hematology Association (EHA) on Wednesday 1st April.
Practical considerations regarding donor testing and ensure unrelated donor grafts via closed borders and limited flight connections will be presented in another webinar "How to ensure unrelated donor grafts during COVID-19 pandemic" in collaboration with WDMA on Monday 6th April. You can register here.
To obtain further information regarding patient outcomes in these challenging times like to encourage you to report you case timely to the ongoing prospective survey on impact of COVID-19 on stem cell transplant and CAR T cell recipients. More information here.
Finally, I would like to thank EBMT board members and staff for all their hard work at this very testing time. Even if we cannot meet physically and most of EBMT staff is working in home office we are not disconnected and daily operational work is running smoothly.
Thank you for all your hard work on our patients' behalf. Please don't forget to also take care of your own welfare.
Best and stay safe.
A message from EBMT Nurses Group President Elect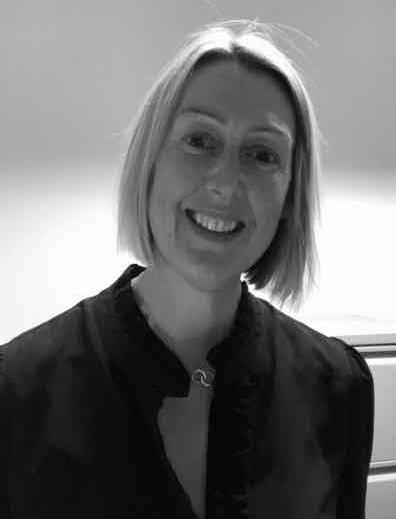 By Michelle Kenyon
Dear All,
The key focus of many of our professional and personal lives at the moment is all around Covid-19. We are all hearing about the awful, harrowing and difficult experiences that our EBMT family, our colleagues and we ourselves have faced and will be facing. While it's important to share these 'front line' experiences, we would like to share some messages of support for each other.
Teamwork is more important now than ever; what nurses achieve when they come together is inspiring. Haematology and Transplant nurses working together within and across teams, getting through the day with a smile, a coffee, a loo break; the importance of looking after ourselves and each other and the importance of saying a simple thank you.
I'm sure I'm not alone in receiving some very heart-warming messages of support from patients, friends and colleagues and it makes a huge difference to morale and what you feel you can achieve.
We, the EBMT Nurses Group, would like to involve our community and invite you to share your messages with pictures of your teams:
Your message will be posted on our website - https://www.ebmt.org/covid-19-and-bmt
You can also share your stories with us using the #strongertogether hashtag and tag @TheEBMT_Nurses for a retweet.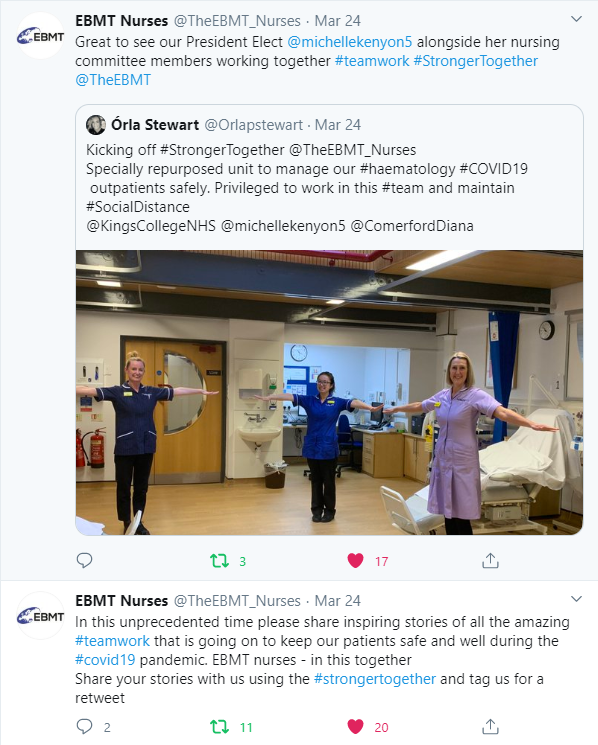 EBMT Recommendations
Due to fast spreading of SARS-CoV-2 a panel of experts of EBMT recommends the following guidelines for transplant units, recipients, and donors of hematopoietic cells. These guidelines will be updated when new information is obtained about COVID-19 epidemiology and clinical outcome.
Working Parties' recommendations
Prospective survey on impact of COVID-19 on stem cell transplant recipients
The impact of the new coronavirus SARS-CoV 2 on immunosuppressed patients such as stem cell transplant recipients is currently unknown. The Infectious Diseases Working Party of the EBMT therefore invites you to participate in a prospective survey about the impact of covid-19 on patients having undergone stem cell transplantation.
The survey is in two steps:
Please, fill in the registration form for each patient diagnosed with covid-19 at your center and submit the completed form to the EBMT IDWP Data office. The form is protected with a password: covid_idwp
We will then send you a more detailed form asking for more details of the clinical course and outcome of covid-19 
We will thereafter merge the information with the MED-A form to get the basic patient information. 
We believe this is an important survey to rapidly collect information about this new virus associated disease and hope you and your center are willing to participate.
For any question about this survey, please email idwp.ebmt@lumc.nl
If you do not wish to participate, please let us know as well. 
Postponement of the 46th Annual Meeting

EBMT has postponed its 46th Annual Meeting from 22 March to 25 March 2020 to 30 August to 2 September 2020.
The postponed conference shall take place at the same venue, IFEMA, in Madrid, Spain.
For any queries please contact: registration@ebmt.org
Impact of the COVID-19 outbreak on JACIE accreditations

In the light of substantial and ongoing disruption caused by the international COVID-19 outbreak which has made normal accreditation services difficult or impossible to maintain in the foreseeable future, the JACIE Committee took the decision to extend current accreditations by 12 months and to give coverage to those centres that are actively preparing for reaccreditation. The EBMT Board members were informed of and endorsed this decision at their meeting on 21 March as part of a broader response by the association to the current crisis.
This decision recognises that transplant programmes are already managing or preparing to manage patient care in a very volatile context which requires all of their attention now. There is widespread concern about the wellbeing of their patients and all their energies are being directed towards this end at a time when many teams are facing shortages of resources including staff who have either been diverted to other critical services or are unavailable due to isolation measures. 
Furthermore, the Committee also took into account the likelihood that even when the outbreak has been controlled that centres will still face a period of disruption as they return to normality. Volunteer JACIE inspectors are unlikely to be unavailable for a period of time even when travel restrictions are removed which will still make inspections difficult or impossible to schedule at least in the short-term. This decision also recognises that in countries where healthcare systems require JACIE accreditation, lapsed accreditations could cause administrative difficulties for centres and interrupt delivery care which should be avoided to the extent possible. 
The JACIE Office is implementing this decision and will be notifying the affected centres directly in the coming days.
For any queries please contact: jacie@ebmt.org
Novel coronavirus additional information
The following resources are being updated regularly with timely information:
International & European authorities
Epidemiology website
Scientific societies 
Scientific Journals