The purpose of the EBMT Registry database is to provide a pool of data to EBMT members to perform studies, assess epidemiological trends, and ultimately improve patients' lives. The EBMT Registry underpins extensive European research that translates into changes in clinical practice and improvements in patient outcomes and care.
EBMT currently works with ProMISe, a web-based relational database management system for the design, maintenance, and use of (clinical) data management. With the license due to expire at the end of 2023, we are working on the design and implementation of a new data platform that not only fulfills our current needs but is also flexible and scalable for the future.
Important Milestones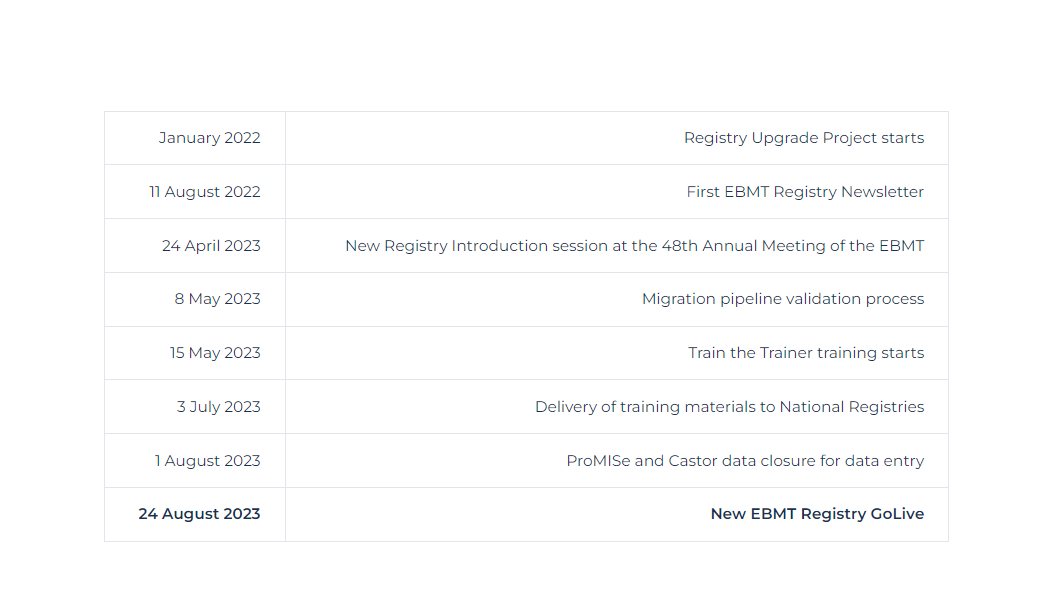 Trainings
Get ready for the upcoming EBMT Registry training starting in August! We will provide comprehensive training modules on the EBMT E-learning platform, covering all essential topics. Additionally, weekly Q&A sessions will be held to address common questions raised in the E-learning forum. To gain access to the database, users must pass a certification test.
Stay tuned for further details in our July newsletter.
Core Data: Data Collection Forms - Downloads
The Med A/B forms have undergone revisions, resulting in the creation of a selection of shorter forms. Data managers will now have the flexibility to choose relevant forms based on specific time points or situations during a patient's treatment or life. The upcoming launch of the new registry will include data collection forms from the core dataset. This core dataset consists of the essential minimum data that all member centers must provide for their consenting patients.
Core Data: Data Collection Forms - Guidelines
Please find below the downloads for the completion guides for the data collection forms.
EBMT Registry Newsletters