Scientific report 2022 of the Paediatric Diseases Working Party (PDWP)

Major achievements
In 2022, a major focus of the WP activities was both the increase of the educational as well as of the research activity of the PDWP subcommittees. In that view, a dedicated Pediatric Infectious Diseases subcommittee has been established, with Elif Ince and Krzysztof Kalwak as co-chairs, in order to cover pediatric aspects of post-transplant infectious complications. 
On the educational side, "CART in first line ALL therapy, pros and cons", "Primary treatment of acute GvHD – time for a risk adapted approach?" and "PK and antigen target differences of variant ATGs" are only some exemplary topics that were offered via a pre-recorded webinar and consecutively discussed in a moderated 45 min live session. Internationally recognized speakers with outstanding expertise in their respective field participated, e.g. Tobias Feuchtinger, Francis Ayuk or Jaap Jan Boelens.
From November 10th to 12th the ninth international Haemoglobinopathies Meeting was hosted for the second time by the PDWP, as an extension of the formerly well-established Regensburg's Sickle Cell Meeting. During the three-days meeting, all aspects of sickle cell disease and thalassemia syndromes were presented by more than 30 international experts worldwide. Each session offered the opportunity to interact directly with the speakers in order to discuss and ask questions. The meeting was attended by more than 130 participants from 24 countries.
As a further focus on haemoglobinopathies, and in order to fill the gap of the EBMT registry, a very extensive questionnaire for haemoglobinopathies was designed and distributed to the centers. With the collection of these very detailed data, five distinguished scientific contributions, which are already evaluated and accepted by the scientific committee of the PDWP, can be elaborated and prepared for publication.
The scientific output in 2022 reached an IF of 61, that was only topped once during the term of the current WP chair with an IF of 86 in 2020. One of the most important publications of this year is the review of Haematopoietic Stem Cell Transplantation (HSCT) for severe autoimmune diseases in children on behalf of the ADWP and the PDWP published by Raffaella Greco et al. on the British Journal of Hematology. The oral presentations are also well above the average of the preceding decade.
Moreover, a Midterm Meeting on ​New indications in Immune Dysregulatory, Autoinflammatory and Autoimmune Diseases, in collaboration with both the ADWP and IEWP is organised. The meeting will take place in Brescia, Italy from 22 – 24 June 2023. 
Principal research studies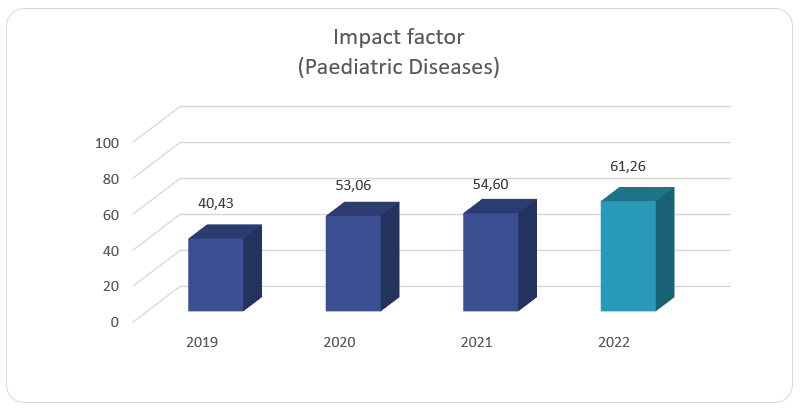 |   | 2019 | 2020 | 2021 | 2022 |
| --- | --- | --- | --- | --- |
| Oral presentations | 8 | 8 | 1 | 10 |
| Poster presentations | 1 | 3 | 1 | 3 |
| Educational events | 1 | 1 | 1 | 1 |
PDWP Webinars
How to transplant children and AYAs with ALL: Christina Peters (speaker) and Katharina Kleinschmidt (moderator).
The injured lung in HSCT – the nowadays diagnostic and therapeutic challenges: Tayfun Güngör (speaker) and  Marianne Ifversen (moderator).
PK and AntigenTarget differences of variant ATGs: Jaap Jan Boelens (speaker) and Selim Corbacioglu (moderator).
First line treatment of acute GVHD - time for a risk adapted approach?: Francis Ayuk (speaker) and  Daniel Wolff (moderator).
Diagnosis, Grading and Management of Toxicities from Immunotherapies in Children and AYA Patients with Cancer: Kris M. Mahadeo (speaker) and Hisham Abdel-Azim (moderator).
Vaccination post cellular therapy in children: Roland Meisel (speaker) and Elif Ince (moderator).
Role and status quo of CART in non-ALL: Patrick Schlegel (speaker) and Antonio Pérez-Martínez (moderator).
CART in first line ALL Therapy, pros and cons: Tobias Feuchtinger, Gunnar Cario (speakers) and Adriana Balduzzi (moderator).