Scientific report 2021 of the Acute Leukemia Working Party (ALWP)
Major achievements
The year 2021 has been another difficult one due to COVID-19. Despite the complexity of the situation, I am always so grateful for your continuous support and for the hard work of the ALWP team and contributors. However, I am blessed by the profound appreciation we received for the extraordinary research efforts of the last 12 months.
As you probably know, the number of HSCT procedures for patients with acute leukemia continues to grow. This increase is accompanied by improving results, due to both lower risk of relapse (maintenance therapy post HSCT, but also better disease control prior to HSCT), and decreased non-relapse mortality. In 2021, as in previous years, the ALWP have published an amazing number of high-level peer reviewed papers in reputable high-impact factor journals. Our key initiative of aiming to collect next-generation sequencing (NGS) data and use of novel drugs is moving well in the right direction with several thousands of cases being documented and collected. This initiative is crucial if we want to embrace the latest advances in the field, especially the role of NGS as a backbone of the clinical decision-making process, both at diagnosis and at time of relapse. NGS not only allows assessment of the unique clonal hierarchy of an individual patient, but also identification of «druggable» mutations.
I am very grateful for your tireless efforts in sending such complex data, which will definitely lead to the generation of new knowledge to further advance the management of acute leukemia.
Principal research studies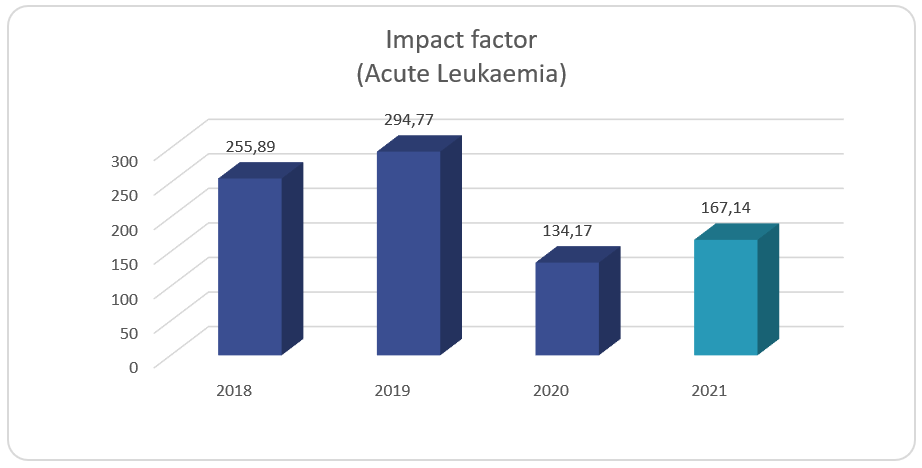 |   | 2019 | 2020 | 2021 |
| --- | --- | --- | --- |
| Oral presentations | 24 | 17 | 10 |
| Poster presentations | 17 | 12 | 8 |
| Educational events | 1 | 2 | 1 |