Summary by Monique Minnema, haematologist UMC Utrecht Cancer Center:
Thursday 14 February – Session III: Key Note Lecture Improving outcomes of therapy with CAR T cells. S. Riddell
In the first part of the lecture the differences in the signaling domains of the different CAR T cells are explained. Most used signaling strategies are the CD28/CD3Ʒ and the 4-1BB/CD3Ʒ. It seems that CD28 signaling is faster and stronger and indeed the product that uses the CD28 domain (axicabtagene ciloleucel) seems to induce rapid CAR T cell expansions after reinfusion and faster occurring CRS. However, this may also induce a propensity to exhaust and induces more T cell effector memory cells instead of the T central memory cells that may last longer in the body.
In the second part of his talk Dr Riddell investigated the role of BCMA expression on plasmacells, the presence of soluble BCMA in the blood and the use of anti BCMA CAR T cells in Multiple Myeloma. In an experimental trial they observed relapses after anti BCMA CAR T treatment with low to negative BCMA expression on the plasmacells and a small differences in responses related to the level of BCMA expression before treatment. Therefore, in a new trial it is explored if the expression of BCMA on the plasmacell can be enhanced and maintained by the use of inhibitors of gamma secretases. These gamma secretases cleave off the BCMA form the cellmembrane and in a mice model inhibition indeed resulted in an upregulation of BCMA.
Dr Riddell concluded that CAR T cells will continue to improve with the use of different cell compositions, CAR T cell design and multivalent targeting in the future.
Summary by Annalisa Ruggeri, Secretary of the Cellular Therapy & Immunobiology Working Party:
Thursday 14 February - Session IV CAR T in pediatrics
Academic CAR T cell trials for pediatric patients in Europe | F. Locatelli (Italy)
Real life experience in the treatment of pediatric, adolescent and young adult ALL patients using commercially available CAR-T cells | P. Bader (Germany)
The pediatric session reported the CAR-T experience in Italy, France and Germany. Two academic trials on CAR-T anti CD19 for ALL and anti GD2 for neuroblastoma are currently ongoing in Italy. The product is a second generation CAR-T with 4,1bb as costimulatory domain and a safety switch with the inducible Caspase-9. All patients receive a lymphodepleting chemotherapy (LDC) with Fludarabine and Cyclophosphamide (Flu-Cy). Eleven patients with relapsed/refractory lymphoid malignancies have been treated in the phase I/II, 8/10 patients with Bcp-ALL infused obtained CR with MRD negativity after CAR-T infusion, with half of the patients experiencing subsequent relapse (one relapse CD19-). The phase I trial for neuroblastoma is currently ongoing with 5 dose level scheduled, nine patients have been treated with no grade 4 CRS reported. A subsequent infusion of CAR-T cell is planned for patients with loss of response. 
In France 25 patients with Bcp-ALL were enrolled in the ELIANA trial (Maude NEJM 2018) and 16 were treated, LDC was based on Flu-Cy. Six patients were admitted to the ICU for the management of CRS, and 62% had neutropenia, while decrease in platelet count was reported in 20% of the patients. Overall EFS at 1 year was 68%.
In Germany, 23 patients received CAR-T using commercially available products. The majority of patients (83%) were in relapse after a first HSCT. 20 of the 23 patients received the CAR-T infusion (2 transduction failure and one further disease progression after cell production). The infusion of CAR-T was associated with occurrence of CRS in all patients, with 3 patients experiencing grade 4 CRS. CRS was dependent on the disease load prior to LDC. Overall, 9 patients were in remission at time of LDC. With a median FU of 11 months EFS was 65%, and OS 69%. The response before the LDC was an important factor for EFS, with no event reported in the group of patients transplanted in CR.
The place of CAR T in the treatment algorithm of B-ALL and the prevention of CD19 negative relapse are important matter of debate in the next future.
Summary by Nico Gagelmann, University Medical Center Hamburg-Eppendorf, Hamburg, Germany:
Friday 15 February - Scientific Session V Pre-clinical & clinical pipeline
New targets and technologies for CAR-T cells | M. Hudecek

CAR T-cell therapy for childhood solid tumours | K. Straathof

CARs, TRUCKs and beyond: The next generation of CAR T cells | H. Abken
The first session on Friday covered a wide range of issues from basic detection of actual expressed CAR T cells to their role beyond hematology as well as future CAR T cell generations. First, Dr. Hudecek highlighted the ever-existing controversy over the amount of target molecules required to activate T cells via the CAR. In a prevailing subset of patients, CD19 is expressed on a large fraction of myeloma cells at a very low density, only detectable by super-resolution (so-called dSTORM) microscopy. dSTORM analysis allowed defining the threshold of antigen expression for T cell activation via a CAR-engineered T-cells targeting CD19, being < 100 molecules/cell. Furthermore, he presented a synergistic use of CAR T-cell immunotherapy and small molecule inhibition, exemplified by superior antileukemia efficacy of FLT3-CAR T-cell in combination with crenolanib, proposing a role of CART T-cell bridging to a stem cell transplantation. Next, Dr. Straathof focused on Neuroblastoma, the commonest extra cranial solid cancer of childhood, expressing the diasialoganglioside GD2 abundantly, being an attractive target. A current trial showed 100% manufacture success with no neurotoxicity or pain syndrome. However, significant cytokine release syndrome was present while anti-tumor activity was detected in patients with bone marrow disease sites. Future steps will be the combination with agents to address checkpoint and next-generation GD2-CAR cassettes incorporating cytokine signal. Last, Dr. Abken presented recent research on CARs targeting an auto-antigen (CEA). Healthy cells expose polarized CEA on the luminal side, while cancer cells (such as pancreatic cancer) express the antigen over the entire cell surface, therefore being the target for CAR T cells, while healthy cells with luminal CEA remain 'invisible'. Finally, CAR T cells may even be redirected, so-called TRUCKs, engineered to secrete cytokines which activate innate cells to attack cancer cells which are not recognized by previous generations of CAR T cells.
Summary by Monique Minnema, haematologist UMC Utrecht Cancer Center:
Friday 15 February – Session VI: Key Note Lecture Next generation CAR T Cells. C June
Dr June is one of the pioneers of CAR T cell treatment and in the first part of his lecture he explains how it all started. One of the first problems that had to be figured out was the amount of T cells that can be given to a patient to eradicate large tumors. In contrast to the use of tumor infiltrating lymphocytes, CAR T cells have the capacity to proliferate after administration which is extremely important. And currently, it is known that for this proliferative capacity the type of induction treatment seems to be very important and in the body the amount of needed CAR T cells can be reached.
After discussing some new work done in the laboratory on the persistence of CAR T cells in the body Dr June discussed some clinical problems that may arise in the future. These are among others after treatment no more vaccination possibilities, permanent pancytopenia due to less stemness of the hematopoietic stem cells because of the high cytokine levels after infusion but especially auto immune diseases. Patients with auto immune diseases are currently excluded from the clinical trials but with the commercial use this may be different. Dr June has diagnosed some patients with auto immune sequela after CAR T cell treatment and fears that this may become the biggest clinical problem in the future.
Friday 15 February – Session VIII: Key Note Lecture CAR therapy: The next wave. M. Sadelain
Dr Sadelain discusses the most important clinical problems of CAR T cell: 1. exhaustion and 2. antigen escape and further details on new engineering strategies that hopefully may solve here problems in the future. 
One of the strategies to have less exhaustion is the exact placing of the CAR construct, the so called T-cell receptor α constant (TRAC) technique, instead the current practice of at random integration. His group has described before that directing a CD19-specific CAR to the T-cell receptor α constant (TRAC) locus not only results in uniform CAR expression in human peripheral blood T cells, but also enhances T-cell potency, with edited cells outperforming conventionally generated CAR T cells in a mouse model of acute lymphoblastic leukaemia.
The problem of the lack of persistence of CAR T cells with the of CD28 signaling domain can perhaps be solved by inducing a certain mutation in the CD3Ʒ domain called the 1XX mutation. In animal testing these 1XX mutated CAR T cells have a longer half life time and promote expansion of important T central memory cells. A clinical study with this 1XX CAR T cell with start soon.
Concerning the antigen escape it seems that the fascinating process of trogocytosis plays a role in the antigen escape of the tumor cells. Trogocytosis is a process whereby in this case the CAR T cells conjugate to the tumor cells and extract the CD19 from these cells and express them on their own surface. This is a reversible process and thereby creates possibilities reinduce the CD19 on the surface of tumors.
Summary by Jennifer Hoek, EBMT Senior Data Manager:
Saturday 16 February - Session XIV Data Managers session - data collection & LTFU Part I
The Cell Therapy Form in the EBMT Registry | C. Ruiz de Elvira
The EMA Initiative on Registries – E. McGrath
Specifics of LTFU for Patients Treated with Gene Therapy Medicinal Products | A. van Biezen
In the first presentation we are given a preview of the new Cell Therapy Form as it will appear in the new Registry programme MACRO. Carmen Ruiz, head of the registry, explains that the current form, capturing all essential information on these products, was designed when the Cell Therapy and Immunobiology Working Party was established in 2016. The new form will therefore not be very different from the current one, but has more detail added, especially to sections such as complications and follow up, as these data are crucial for the post-authorisation evaluation of the therapies.
Eoin McGrath, JACIE operations manager, next relates how EBMT received the draft qualification opinion from EMA for the use of the registry to support these post-authorisation evaluations. The EMA is interested in using registries because they are neutral and provide a potentially very efficient way of collecting quality data. The idea is that a collaboration between regulators, companies and registry holders will improve the opportunities of using registries. EBMT has been working together with different stakeholders to create an optimal environment for using the registry for the evaluation of CAR-T cell therapies. The EMA final opinion is expected in February 2019.
To further evaluate the safety and efficacy of the product after marketing authorisation and support regulatory decision-making, EMA will require that a post-authorisation study (PAS) is carried out, in which patients are tracked for many years after receiving the product. Anja van Biezen, EBMT business development manager, shows us by means of different statistical analysis graphs how important it is to register complete long term follow up data. When missing data has to be censored for, it can easily lead to wrong conclusions which could injure (future) patients.  EBMT realises that delivering high quality follow up data is a great demand on data managers, and will support them by means of an improved database, training, and where possible a compensation.
Session XVII Data Managers session - data collection & LTFU Part II
PAS Studies and CAR-T: regulatory Requirements | S. Terwel
Example on Organisation | I. Yakoub-Agha
From ProMISe to MACRO and Minimalized Data Sets | P. Ljungman
In her presentation on regulatory requirements for PAS studies and CAR-T, Sofie Terwel, Clinical Trials Coordinator, explained that while there is legislation and regulation for everything to do with clinical trials, in the area of non-interventional PAS studies (NI-PASS) there is no clear framework. With humor she guided us through the dry matter of partly applicable regulations and numerous exceptions as different EU countries will have different procedures. The methodological approach of the NI-PASS further complicates regulations, with different requirements for primary data collection and secondary data use, both of which are applicable to our registry. Since using registries for NI-PASS is relatively new, the EMA/PRAC are to approve PASS protocols and provide guidance on the conduct of these studies.
Ibrahim Yakoub-Agha, Principal Investigator of the university hospital in Lille, showed us the complexity of the organisation of CAR-T treatments in a hospital. Hospitals need an accreditation to perform CAR-T. Up to 7 different departments can be involved in the treatment, and decisions have to be made fast. Therefore, it is crucial that there is a very structured unit and that all personnel, ranging from nurses and doctors to datamanagers, are well trained to perform the required tasks.
In the last presentation of the session, Per Ljungman, outlined the considerations underlying the decision to transfer the register from ProMISe to the new system MACRO. The increasing complexity of transplantations and the need to capture new technologies require a system that is more flexible and manageable, to be able to perform high-quality data collection and analyses. For this reason, too, it is imperative that only the minimum essential data is collected. The new system will work with modules, which can be adjusted when research questions shift. The core data comprises variables that define diseases, procedures, timepoints and events, as well as any other variables necessary for benchmarking, which is an important new use of the registry.
Summary by John Murray, EBMT Nurses Group President, Orla Stewart and Diana Comerford, Nurses Group Communication & Networking Committee:
Saturday 16 February -  Session XIII Nurses session - Patient care - Part I
What is driving CARs into the spotlight - The science simplified | E. Vickers

A CAR-T for Everything - Overview of current studies and indications | R. Davies

Patient selection and harvesting the CAR | M. Vercasson
On Saturday morning we had a dedicated nursing session. Despite only 46 nurses registered, there were nearly 100 attendees in these sessions demonstrating the work we are doing within CAR T is already positively influencing and making waves in this field for safe practice and improving patient experience. Experts came from all over Europe and Israel.
The 1st European CAR T joint EBMT and EHA cell meeting for the nurses group was a great success. The nurses group had a parallel session incorporating presentations from nurses and allied health professionals from across Europe. We began with a crash course in the science of immunobiology from Dr Elaine Vickers (UK). This talk gave a simplified overview of T cell activity and how they can be manipulated to become active against cancer cells. Dr Vickers was an engaging speaker who set the session off well, delving into the complicated world of cellular therapy and demystifying it.
Rebecca Davies (UK) took over the reins, a nurse educator from University College London who took us through the current CAR T studies and indications for treatment. There was practical information about how to infuse often extremely small volumes of cells without losing any of the product.
Marlene Vercasson (FRA) spoke about patient selection and how to perform a cell harvest. Whilst most of the procedure is similar to a standard lymphocyte collection there are many subtle differences that can catch out the unprepared. Following this talk we should all be aware of the basics around cell harvesting and how important it is to have good links with pharmacy as this product is treated as a medicine.
Session XVI Nurses session - Patient care - Part II
Evaluation & preparation of pediatric patients for CAR T-Cell treatment | D. Hutt

Treatment and nursing assessment post CAR T cells in Ambulatory Care settings | D. Comerford

The EBMT Guidelines for practice / A framework for managing Patient Care, CRS and Neurotoxicity | O. Stewart, R. Ellard
Our second nurses session had Daphna Hutt (Israel) from Israel discuss CAR T from a paediatric perspective. As we are all aware, children are not just small adults! Consent is a large issue and needs to be skilfully performed by a team that is adept and familiar with the process, Daphna elegantly explained this. The apheresis itself needs some adjustments, consideration needs to be made with respect to extra corporeal blood volume and the need to have a blood prime or not, this led to some lively debate around parameters. Medical play for younger children is an important aspect and Daphna shared some pictures of the toys used by her team.
Diana Comerford (UK) took us through a nursing assessment and how to do this in an ambulatory setting. Many of us are not yet performing in-patient CAR T so to hear that some centres are now doing ambulatory therapy was a real eye opener and a direction that many centres will be heading in the very near future.
Our final presentation was a double header with Rose Ellard (UK) and Orla Stewart (UK) presenting the new EBMT nursing guidelines. The guidelines are still under heavy rewrite status as the field is changing so rapidly but the basic concepts have been produced. Rose and Orla aim to have something concrete produced prior to the annual meeting, I am certainly looking forward to seeing them.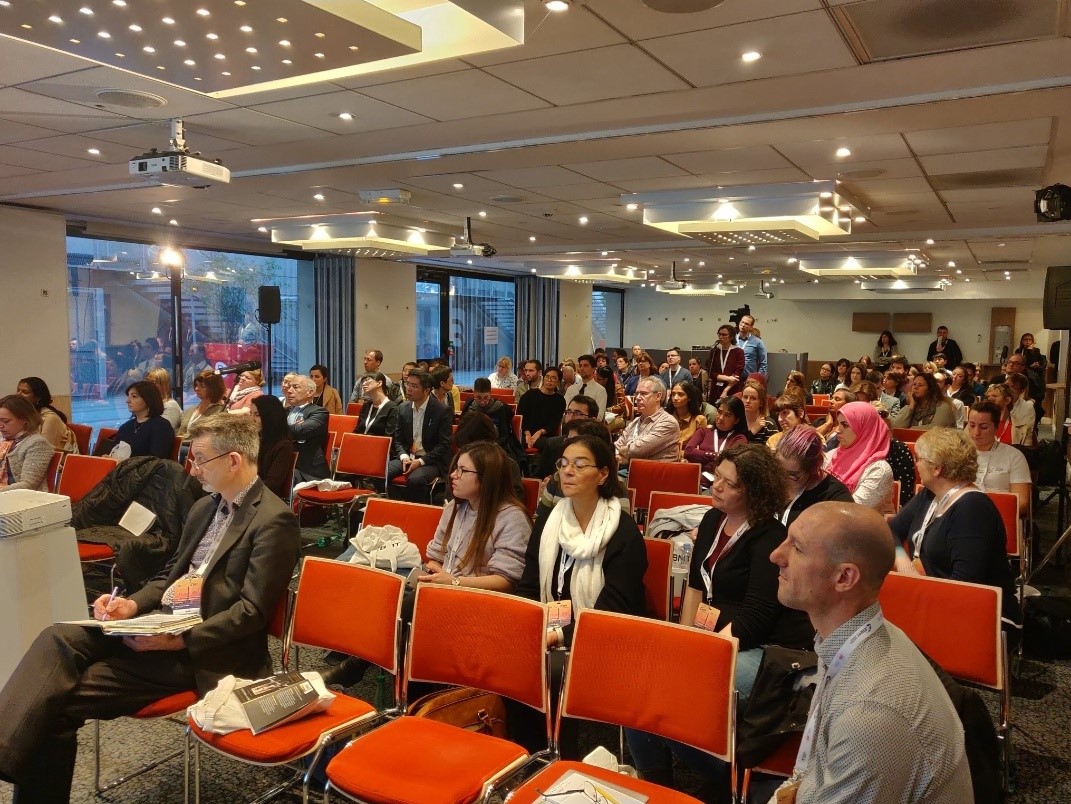 The appetite for knowledge was notable within nursing sessions as doctors, nurses, AHPs and pharmacists queued to ask questions from the nursing faculty. It is an exciting new field and nurses are at the patient's bedside delivering treatment and monitoring for side effects and offering physical and psychosocial support.
Having the 1st European CAR T Cell meeting in Paris was an absolute treat. We were treated to spring weather, canapés and Tattinger in the evening whilst watching the sun go down from the hotel, networking with colleagues and new friends.