//
Inborn Errors Working Party (IEWP)

24-26 September 2021 in Milan, Italy
Summary by Maria Ester Bernardo, Bénédicte Neven and Michael Albert
The IEWP met in Milan from 24th to 26th of September for a face-to-face meeting. For most of the 125 attendees, from 15 countries this was the first occasion to meet since the pandemia! It was not only an outstanding scientific conference but also a very friendly meeting. Some speakers who could not make the travel had kindly prerecorded their presentations, which were played to the audience in Milan.
Alessandro Aiuti: Overview of Sr-TIGET gene therapy clinical trials
Luigi Naldini: New perspectives for gene therapy and gene editing
The opening session was dedicated to the hosting group from Tiget. Alessandro Aiuti first gave an overview on the HSC-GT platform developed at Tiget and presented the main clinical results obtained over the years in the different GT protocols (ADA-SCID, WAS, MLD and MPSIH). Thereafter, Luigi Naldini presented a seminar on the future perspectives of gene therapy, not only with gene addition but also in terms of novel gene editing approaches.
Stem cell therapy in metabolic diseases. Chairs: Maria Ester Bernardo and Caroline Lindemans
Rob Wynn: Use of Rituximab in the preparation of CBT
Rob Wynn presented, in a prerecorded presentation, the novel analysis on the MPSIH patients undergoing cord blood transplantation in Manchester and Utrecht with the addition of two doses of Rituximab (d-10; d+30). The analysis showed significant reduction in the incidence of post-transplant immune-cytopenias and consequent graft failure, as compared with the historical control group without Rituximab. He also briefly summarized Manchester experience in a small group with Wolman Disease receiving a multimodal treatment based on ERT+allo-HSCT.
Valeria Calbi: Gene therapy in MLD
Valeria Calbi presented the most up to date results on HSC-GT for MLD, late Infantile pre-sympthomatic and early Juvenile pre-symptomatic and early symptomatic patients. She showed metabolic correction and clinical benefit in terms of both motor and cognitive functions in the long-term (follow-up up to 7 years after GT).  The GT product for MLD has been recently approved by EMA.
Claire Horgan: Gene therapy in MPS IIIA and future trial in MPS II
Claire Horgan presented the most recent results on HSC-GT for MPSIIA in which the 6 patients foreseen by the trial have been enrolled. She showed early metabolic correction with supraphysiologic levels of the SGSH enzyme both in blood and cerebrospinal fluid (CSF), accompanied by rapid substrate depletion in urine and CSF. She also discussed the design of the clinical trial with HSC-GT for MPSII which will be opened soon in Manchester.
Maria Ester Bernardo: GT for MPS1H
Maria Ester Bernardo presented the interim results of the HSC-GT trial for MPSIH which enrolled 8 patients. She showed extensive metabolic correction and preliminary favorable clinical response in terms joint mobility, growth, motor and cognitive functions at a median follow-up of 2 years after GT. 
Ludovica Santi: Pathophysiological mechanism of bone damage and bone cross correction in MPSIH gene therapy
Ludovica Santi showed some preliminary results on a research project conducted at Tiget in parallel with the MPSIH clinical trial, which deals with the study of the pathophysiological mechanisms of skeletal damage in MPSIH patients and of the potential mechanisms of cross-correction via GT at the level of the skeleton.
New IEWP HSCT guidelines. Chairs: Tayfun Güngör and Emma Morris
Arjan Lankester: Time to start working on the next version?
Arjan Lankester explained the importance and the need of implementing new guidelines in our fields of interest and stimulated the discussion on this topic. Continuing to produce data to support updates of this guideline and to develop future ones will represent a big effort for IEWP to be realized in the near future.
Treatment of Severe combined immunodeficiencies (SCID).

Chairs: Arjan Lankester and Manfred Hoenig
Arjan Lankester: Impact of naïve CD4 on outcome, SCETIDE study
Arjan Lankester, summarized the results of the last analysis performed on behalf of the SCETIDE registry.  This analysis on HSCT was performed in 338 patients with genetically confirmed SCID, transplanted between 2006-2014. In addition, immune reconstitution was studied and was correlated with the outcome in a representative subgroup of 152 patients. The manuscript is under revision.
Bénédicte Neven: Consequences of absent B-cell function long-term
Bénédicte Neven shared data on long-term follow-up of transplanted SCID patients and showed that a sub-group of patients transplanted without myeloablation and who didn't reach B-cell reconstitution, developed a serious condition characterized by chronic hepatitis related to persistent enteric virus infection several years later.
Maria Pia Cicalese: Retroviral GT for ADA-SCID
Maria Pia Cicalese presented the data from gene therapy in adenosine-deaminase deficiency based on a gamma-retroviral vector in 36 patients. OS was excellent (100%) and the Disease -free -survival was good (83%). Six patients required a new intervention (3 second transplant, 3 enzyme replacement therapy). Late onset toxicity due to an insertional event recently occurred in 1 patient, 4.7 years after gene therapy.
Claire Booth: LV GT for ADA SCID / GT trials available in Europe for PID
Claire Booth presented the data from gene therapy in adenosine deaminase deficiency with a lentiviral vector in 50 patients. These excellent results were recently published in the NEJM. She also summarized the gene therapy trials that are currently recruiting patients in Europe.
Marina Cavazzana: ARTEMIS GT / HTLP (human T lymphocyte progenitor)
Marina Cavazzana presented pre-clinical data of gene therapy in Artemis deficiency. She also presented preliminary data of the first 2 SCID patients enrolled in a phase I/II study aimed to study the safety and efficacy of ProTcell TM, allogeneic progenitor T cells generated in vitro and reinjected to the patient early after transplantation with the aim to speed-up early immune reconstitution within the first months after transplantation.
Novel indications/future approaches. Chairs: Austen Worth
Sung-Yun Pai: GT trials for X-SCID
Sung-Yun Pai, from the NIH shared data on the on-going trial on lentiviral gene therapy in X-linked SCID. The trial is open in several centers in US and in London and is currently recruiting.
Bernhard Gentner: Stem cell expansion
Bernhard Gentner presented data on an in-vitro stem cell expansion approach with the aim to facilitate engraftment and optimize stem-cell dose for gene therapy applications.
Daniele Canarutto: Gene editing for HIGM
Daniele Canarutto presented preliminary data on gene therapy by gene editing in HIGM (CD40L deficiency).
Keynote Lecture I. Chair: Luigi Naldini
Alain Fischer: Advances and pitfalls in the curative treatment of PID
Alain Fischer gave an outstanding keynote lecture on lessons learnt from treating X-linked SCID, the success and the pitfalls of HSCT and gene therapy in this condition. He also emphasized all the lessons our field had learned by treating this rare disease.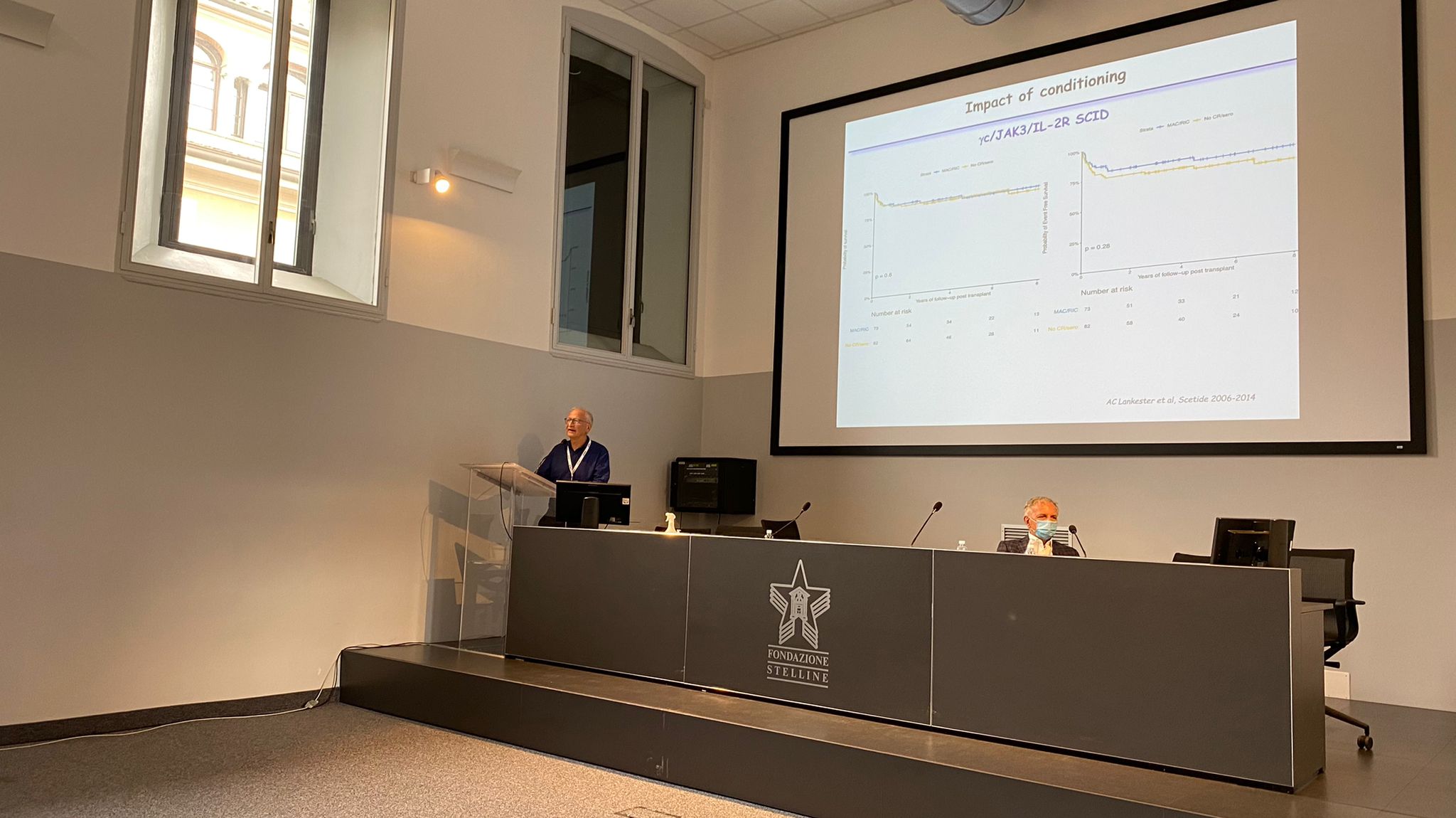 Optimizing alternative donor outcome in IE 'haplo approaches'. Chairs: Michael Albert and Bénédicte Neven
Results of haplo-identical transplants in IEIs have improved very much in the last years, thanks to the development of TCRab/CD19 depletion of the graft and the prevention of GVH by post-transplant cyclophosphamide. The session was dedicated to these 2 approaches.
Su Han Lum: TCRa/b results Newcastle
Monocentric results were first presented: Su Han Lum from the team of Newcastle summarize their experience in haplo-identical transplant with TCRab/CD19 depletion performed between 2012 and 2021 (78 patients).
Carmem Bonfim: PTCY results Brazil
Bénédicte Neven: PTCY results Paris
Carmem Bonfim summarizes results from Curitiba in Brazil, 77 children were transplanted with an haplo-identical donor with PTCY between 2015 and 2021 and Bénédicte Neven shared results of 66 patients transplanted in Paris with the PTCY approach.
Mary Slatter: IEWP haplo study – preliminary results
First results from the retrospective comparative study between the 2 approaches performed by the IEWP were summarized by Mary Slatter. The population included 363 patients, 227 and 136 treated by TCRab/CD19 and PTCY approaches, respectively. Analysis is ongoing and more mature results will be presented at the next EBMT meeting.
Weighing the pros and cons of HSCT or not in non-SCID PID. Chairs: Carsten Speckmann and Isabelle Meyts
Giovanna Lucchini: TTC7A working group initiative
Giovanna Lucchini from the UK summarized the clinical spectrum and the therapeutic challenges associated with TTC7a deficiency. She proposed to conduct a worldwide registry to try to improve our knowledge in this very rare and heterogeneous condition.
Carsten Speckmann and Bénédicte Neven: JAKinibs in STAT1/STAT3 GOF
Carsten Speckmann presented preliminary data on treatment with JAK inhibitors in conditions with increased signaling in the JAK-STAT pathway. An international survey was proposed to try to answer the many questions that surround this off-label treatment approach. 
HSCT in DADA2?
Amanda Ombrello summarized the large clinical spectrum of DADA2 deficiency. She presented the very good efficacy of conservative treatment with anti TNF to prevent stroke, one of the main threats of this disease, while this approach showed less efficacy in treating cytopenias.
Isabelle Meyts and Giorgia Bucchiol presented the results of HSCT among 30 patients collected across an international survey showing very good results suggesting that HSCT is a valuable approach in selected patients.
Keynote Lecture II. Chair: Alessandro Aiuti
Maria Grazia Roncarolo: Treg-based therapies for autoimmune disorders
Maria Grazia Roncarolo from Stanford University summarized the work of her team on therapies relaying on Treg engineered to prevent alloreactivity in the context of allogenic SCT and to treat autoimmunity in IPEX.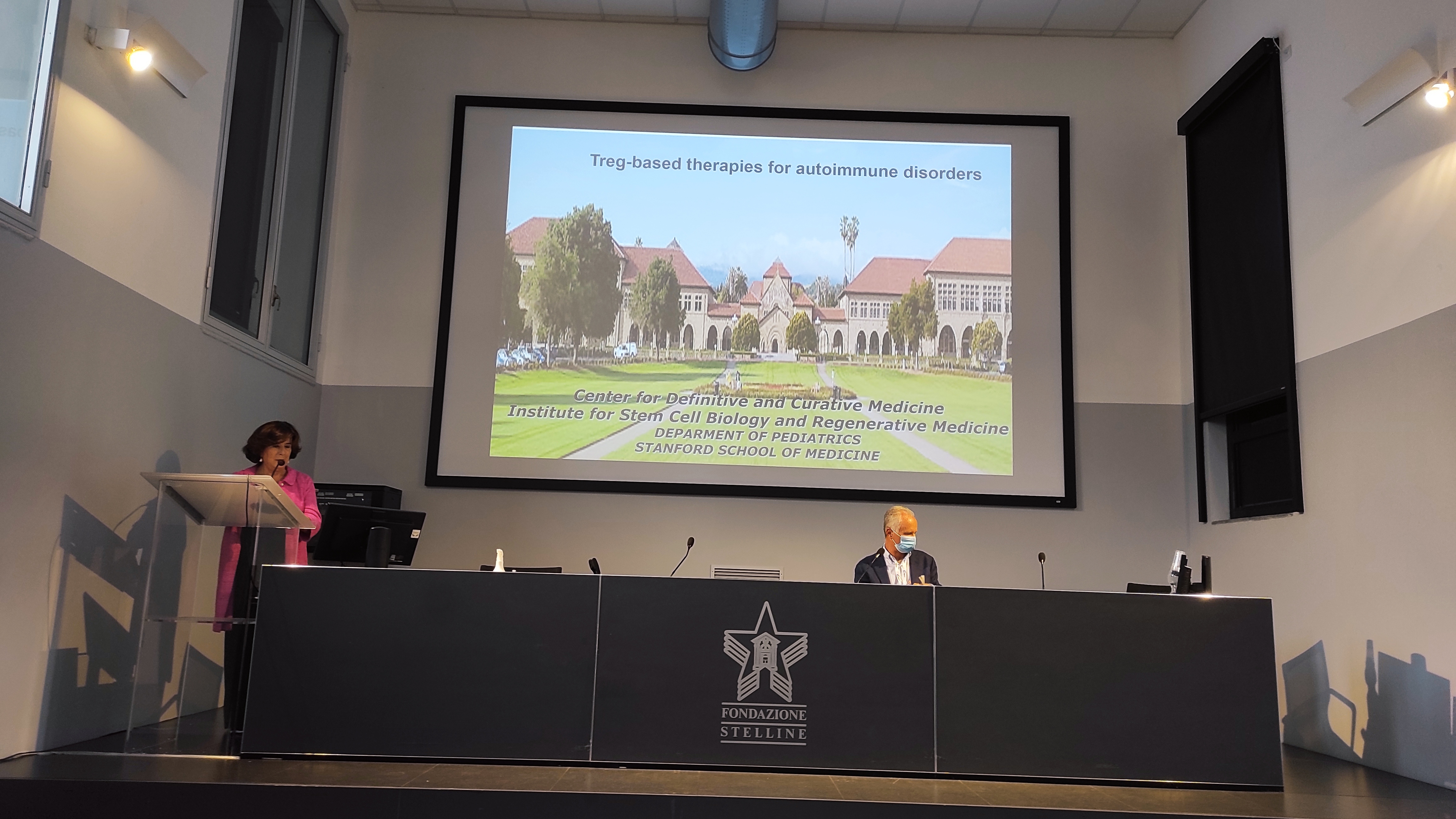 IEWP studies and proposals. Chairs: Arjan Lankester and Stephan Ehl
The Saturday ended with the last session, dedicated to the ongoing studies lead by the IEWP. After this very busy but stimulating day we enjoyed having dinner outside in the garden of the Palazzo de Stelline.
Stem cell therapy in hemoglobinopathy. Chair: Sarah Marktel and Marco Zecca
Nica Cappellini: Best candidates for cellular therapy
It was a very exciting session. Nica Capellini presented the various forms of thalassemia, gave some epidemiologic data regarding patients with hemoglobinopathies (thalassemia and sickle cell disease) followed in Italy and summarized the consensus guidelines defining the best candidates for cellular therapy.
Marco Zecca: Progress in HSCT
Marco Zecca summarized progress in HSCT among hemoglobinopathies and stressed the impact of age on outcome.
Giuliana Ferrari: Challenges in thalassemia GT: update from TIGET
Selim Corbacioglu: Gene-editing in hemoglobinopathies
Franco Locatelli: Update on bbb studies
Giuliana Ferrari updates results from gene therapy trials performed at TIGET; Selim Corbacioglu presented preliminary results on gene-editing in hemoglobinopathies, and Franco Locatelli summarized the results from the Bluebird Bio trials in hemoglobinopathies.
What's new in conditioning? Chairs: Andrew Gennery and Persis Amrolia
The 3 presentations summarized the promise of conditioning regimens based on coupled antibodies.
Robert Chiesa: Anti-CD66 RIT - update from UK RIT study
Robert Chiesa prerecorded his talk on a phase I study conducted in high risk patients with leukemia with a radiolabeled anti CD66 antibody in the UK and presented the design of the phase II study that should start soon.
Persis Amrolia: Novel anti-CD45 drug conjugates as targeted conditioning for SCT and GT
Rajni Agarwal: Anti c-kit conditioning
Persis Amrolia presented pre-clinical data on toxin-coupled anti CD45 antibodies and Rajni Agarwal summarized the results from a phase I study conducted in Stanford University with humanized anti CD117 monoclonal antibodies in conditioning of SCID (re-transplanted patients and newly diagnosed patients).
Clinical and other challenges in HSCT for PID Chairs: Jana Pachlopnik Schmid and Fabio Candotti

 
Carsten Speckmann: Results of NBS in Germany and situation in other European countries
Carsten Speckmann summarized the preliminary results of newborn screening and gave on overview of the different stage of progression for the NBS programs across Europe.
Jana Pachlopnik Schmid: ZNFX1-deficiency
Jana Pachlopnik Schmid shared clinical, genetic and pathophysiologic data on a new and challenging PID caused by ZNFX1 deficiency.
Despina Moshous: HLH treated by Campath
Despina Moshous gave a talk on results of campath in treating HLH.
Claire Booth: SHP2 inhibitors for SAP deficiency
Pietro Merli: Emapalumab for prevention of GF
Preclinical results of SHP2 inhibitors in Sap deficiency were presented by Claire Booth and the role of emapalumab to prevent graft rejection by Pietro Merli.
---