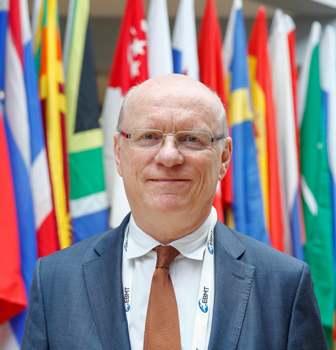 Dear EBMT friends and colleagues,
2018 has been an exciting year for the EBMT, memorable for a wide range of very significant developments. It started with a successful CAR T cell workshop in February at the European Medicine Agency (EMA), and was followed by a wonderful Annual Meeting in Lisbon in the spring which featured a new record of delegates and submitted abstracts. In the summer we hosted a highly successful 3rd International Transplant Course in Barcelona. More recently the commercial CAR T cell products Kymriah and Yescarta were approved by the EMA supporting the EBMT's vision that it has a key role to play in accelerating  the  development of CAR T cell and immune effector cell therapies to the benefit of our patients and the Society. I will not forget to mention the numerous up to date educational events organized over the year by the Working Parties together with our Educational and Event Unit.
It was heartening to witness how effectively and collegiately EBMT scientists, statisticians and data- and project managers worked together during the last year to improve our registry, our quality management system and our governance. One of our most notable advances is the development of the new MACRO Registry, which will be launched early in 2019, creating a robustly benchmarked system, and will support a user-friendly documentation of transplant data and data from the new Cellular Therapy Form.  The number of JACIE accreditations has increased substantially and the new data protection regulation from EU has been successfully implemented in our daily work. The  Clinical Trial office and Data offices have strengthen their workflow launching new clinical studies and data quality initiatives resulting in an improved data quality for our numerous registry studies.
On behalf of our Society, I therefore want to thank all for their hard work in 2018, knowing that many of you will still be working during the holiday season either by taking care of patients in the clinic or reviewing abstracts for Annual Meeting 2019 in Frankfurt. Nonetheless, I hope you all will find some rest and time during the holiday season with your families and your loved ones.
On behalf of entire EBMT, I wish you a Merry Christmas and a Happy New Year.
Best regards,
Nicolaus Kröger