35th Meeting of the Nurses Group
Nurses Educational Day
It was a blustery and slightly rainy EBMT this year in Frankfurt Germany. Some attendees may have seen the sun, but the EBMT Nurses Group was not privy to this as we were busy hosting, chairing, presenting and working in the background to keep EBMT going. Nurses were well represented at EBMT this year with 510 nurses registered for the event, not including the many faculty. The nurse's education day had 155 attendees in the room, which is a fantastic turnout. Further, we had 107 abstracts submitted for EBMT, which included 68 posters and 22 oral presentations. Our representation around the world is growing. Asides from abstract submissions from within Europe, we are also seeing involvement from China, India, Taiwan and Australia, which demonstrates our growing community.
The Nurses Educational Day kick-started on the 24th of March, with 'Nursing challenges throughout the ages.' After a lovely welcome from John Murray, we had an array from speakers from all over Europe sharing their expertise on apheresis, fertility, considerations in elderly patients, late effects, transitioning from adolescence to young adult, ambulatory care, family donors and supporting caregivers of patients who have undergone HCT.
The day was completed by a symposium on Surviving veno-occlusive disease (VOD), with a large focus on the role of the nurse and what we can do to help early diagnosis of VOD. This was an interactive session and highlighted the value of the nurses' assessment.
Asides from a diverse of speakers and range of topics in the scientific programme for nurses, our opening session provided information on abstract selection procedures, an update from the Global Education Committee and presentation of the 11th Distinguished Merit Award.
We had a witty presentation from Dr. Navneet Majhail a.k.a. @BldCancerDoc on the importance of social media amongst healthcare professionals, followed by Dr. Hélène Schoemans' captivating presentation on the hidden complications for long-term survivors post-transplant.
The program for the next 3 days delivered all of our favourites, 'how to sessions, disease specific, best research, best oral, best paediatric' to name a few. For a different angle, we had a whole session on psychological care. One speaker was Jennifer Wiernikowski talking about assisted death. A somewhat delicate subject that was discussed with great care by Jennifer who helped one of her patients through this process.
 
As to be expected CAR-T and GvHD were well attended and there was lively debate and multiple questions following these presentations.
A great team put together a fantastic meeting and we had some truly fabulous presentations. The evening entertainment was also a hit with acrobats and trapeze artists and lovely food in a stunning setting. 
So all we need to do now is make it even better for Madrid 2020!
View the EBMT Posters (including the Nurses Group) HERE.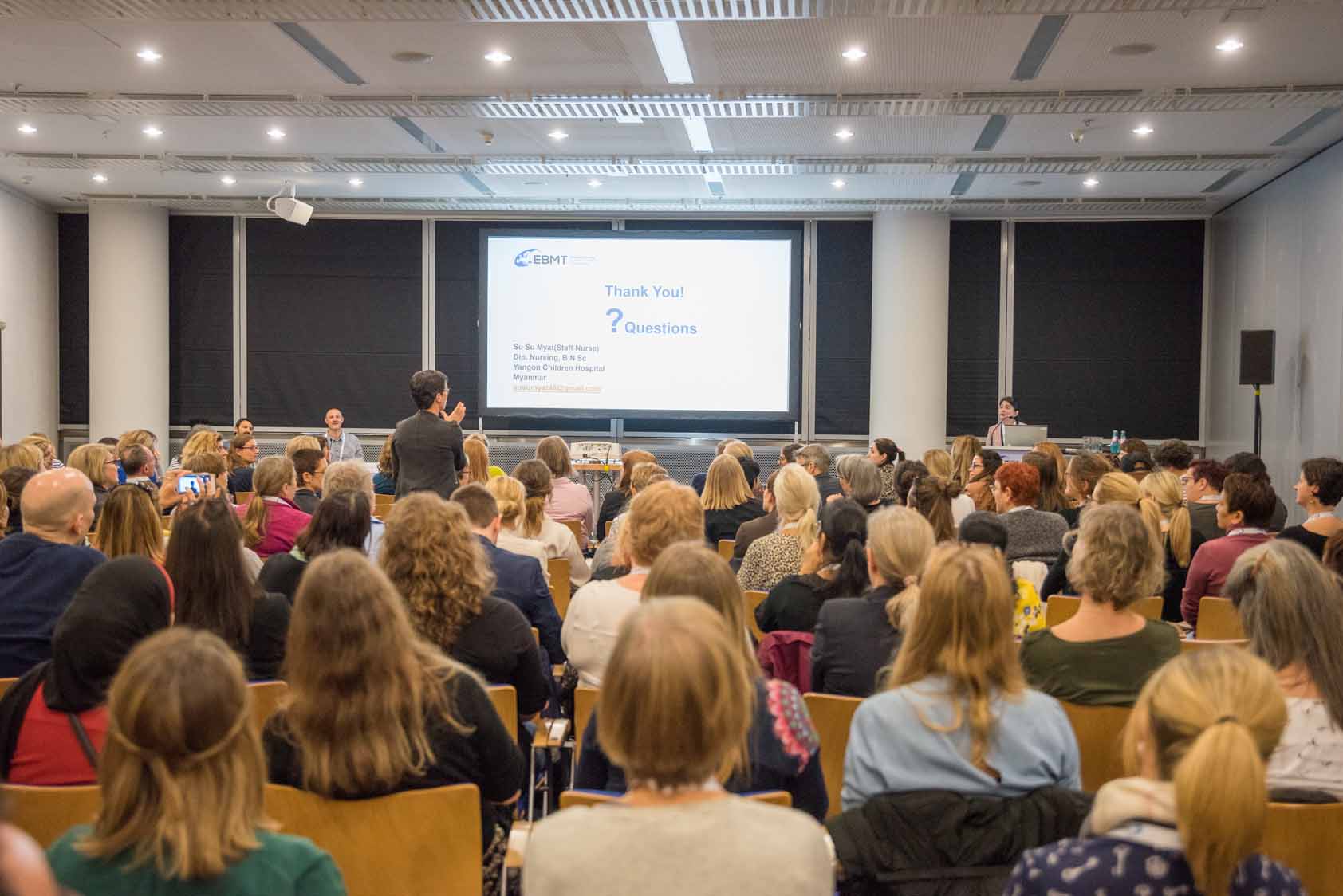 18th Meeting of the Data Management Group
Over 120 Data Managers registered for the EBMT Annual Meeting in Frankfurt this year. A main focus of this Data Management Group meeting was the training on data entry for the forthcoming MACRO system which will soon replace ProMISe. Four repeat sessions were given on Monday & Tuesday enabling us to train over 100 data managers on the use of the new Registry system. Carmen Ruiz de Elvira and Asterios Kasmiris were the lead trainers for these sessions.
In case you have missed this training, please visit the Data Management Education & Training webpage for information on future MACRO training - For centres outside of National Registries, we have 5 places available for MACRO data entry training at our offices in London on 8th May. You can register via the web page. We will keep users informed of the go-live plans when we have more details. In the meantime, you can contact registryhelpdesk@ebmt.org for a personal training account for viewing and entering fake data to continue practicing.
We also had the pleasure of hosting another Med-A Discussion Forum which was well received. Eolia Brissot, Lidia Gil, Hildegard Greinix and Johannes Schetelig formed the Panel and the session was coordinated by Helen Baldomero. As in previous years, Data Managers had an opportunity to ask questions on a range of complex issues concerning the data collection, receiving answers directly from the expert clinicians. We would like to thank all involved for their help. A summary of the session will be available on our above web page shortly.
There were also educational sessions exploring the following topics: HSCT process with Jakob Passweg; General Inborn Errors with Arjan Lankester, Viral Infections with Lidia Gil, Donor Cell Infusions with Jürgen Kuball, Cell Therapy data collection with Christian Chabannon, Allos in MDS with Marie Robin, Haplos in Acute Leukaemia with Arnon Nagler, Interpreting the Karyotype for MED-AB forms with April Sellors, Registry News with Per Ljungman, Data Protection with Iris Bargalló and the value of follow up with Jan Moritz Middeke.
We are currently working on uploading the video recordings and presentations from our Education and Training sessions that took place in Frankfurt on our web site. We will provide links on the same Data Management Education & Training webpage.
Data Management and Statistics posters were displayed in the Exhibition hall. Data Managers also enjoyed an evening reception on Monday and a presentation was given to Jude Aben (Business Support Manager in the EBMT Registry) who will be retiring next month.
We would like to express our sincere thanks and appreciation to all our presenters, chairs and helpers and to everyone who attended the Meeting. With thanks also to Khrystyna Valkiv who worked on the planning and organisation for the Data Management Group before going on maternity leave in February. Her cover person is due to start soon and we look forward to welcoming Khrystyna back next year at the EBMT Registry office.
We are collating all the feedback we received. Some positive comments for the MACRO training so far: "Good job Asterios and staff!" and for the education sessions, especially "Interpreting the Karyotype in MED-AB forms" with April Sellors: "Very clear and informative session. It made my life easier!"
If you have more suggestions for the Data Management Programme next year in Madrid, including speaker topics, please email them to shelley.hewerdine@ebmt.org
We look forward to seeing as many Data Managers as possible in Madrid in 2020! Remember that data managers will have a special registration offer due to the introduction of MACRO. More details will be available soon.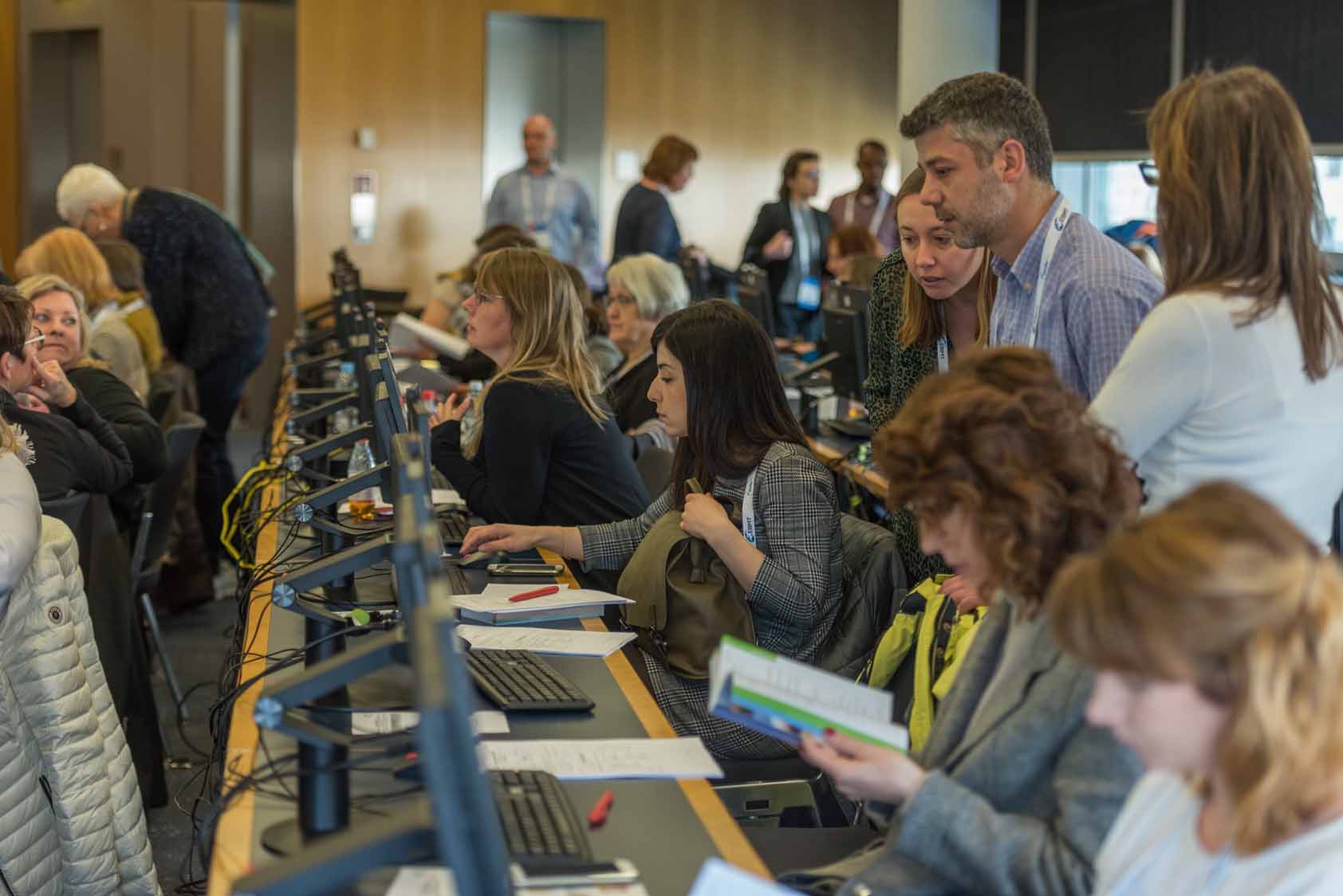 13th Patient, Family & Donor Day
There were many "firsts" in Frankfurt 2019, where the Patient, Family and Donor Day became an integral part of the EBMT Annual Meeting scientific programme. Messe Frankfurt welcomed more than 150 patients, patient advocates, donors and family members. In addition, 159 people from all over the world followed the patient family donor day via live-stream.
Sessions included an international panel of specialists discussing new possibilities in stem cell transplants, CAR-T cell therapy, new treatments possibilities in GvHD, fertility, sexuality and psycho-sociological support. During the session on the need to stay active, attendees were invited to join exercises on the spot.
The day concluded with personal experiences from a former CAR T patient and two donor-receiver couples. A teenage donor from Germany told how she donated her stem cells twice to a patient, who was also present, to help him overcome severe aplastic anaemia, a rare blood disease.
Also for the first time, the programme included a second parallel session dedicated to patient advocates from different disease areas. In a varied programme, attention was paid to the increasing cooperation and mutual influence between patient advocates, clinicians and medical organisations.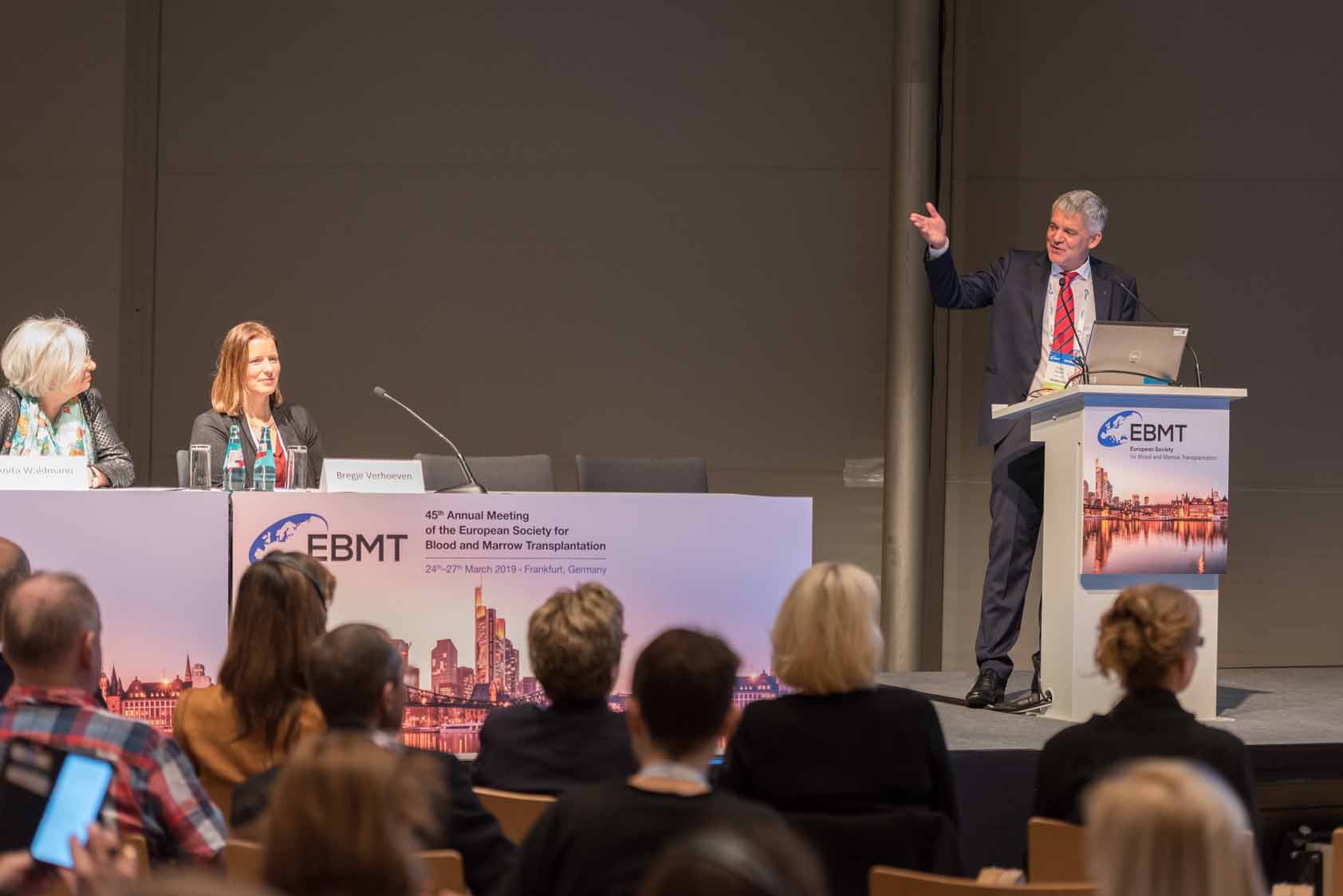 11th Meeting of the Quality Management Group
The Annual Meeting 2019 started with an Introduction to JACIE. Also, this year, it was the second time that the Inspectors session was fully incorporated into the congress programme and opened to non-inspectors. Feedback was very positive and JACIE will assess what more can be done in this area.
2019 also saw the return of the workshop format with 6 groups led by a facilitator discussing specific topics e.g. validation, ISBT128. Apart from the content itself, it was also an opportunity for participants to meet each other and establish networks.
Besides, we managed to recover another event from the past which was the quality management reception. The reception was an opportunity to relax after the full day's learning and chat over a drink and some light snacks. More than that, it was an opportunity for EBMT and JACIE to express our appreciation of quality managers (QM) in general, the QM Inspectors and Quality Managers Committee members in particular.
Outside of the traditional Tuesday format, JACIE was also invited to present at the new Patient Advocacy track on Sunday. Quality and accreditation are overwhelmingly aimed at improving patient care so it is important that patients are aware of JACIE. In some cases, we are aware of patients' associations helping their local transplant units to prepare for JACIE through fundraising so they should be seen as allies by the transplant teams. JACIE is looking forward to involving the new EBMT Patient, Family and Donor Committee in future initiatives.
On Monday, a special session devoted to clinical outcome benchmarking was very well attended with highly positive feedback afterwards from the attendees. There is a sense that only a few years ago, the question of benchmarking provoked rapid rejection by a large part of the transplant community. Today that conversation seems to have moved from Why? To How? Since 2017, the international group of experts has achieved an impressive consensus around many of the fundamental aspects although more work remains to be done. Indeed, this is likely to remain a work-in-progress as we continue to understand more and more about the data, the statistics and the impact on outcome. Nonetheless, the positive reception afforded to the initiative in Frankfurt will further spur on the development of this highly important initiative.
Perhaps the biggest news from 2019's Annual Meeting was that practically no one was standing during the QM sessions in Frankfurt. Overcrowding had become a feature of these sessions in the past and, understandably, a source of dissatisfaction for attendees in spite of overflow rooms and screens with audio outside the doors. So we were very happy to have a room with more capacity than previous meetings – a big thank you to our colleagues in the EBMT operations team for looking after this for us.
Also many thanks to the Quality Managers (QM) Committee for their contribution to the programme and active participation in the QM workshop and to the speakers of the QM Day.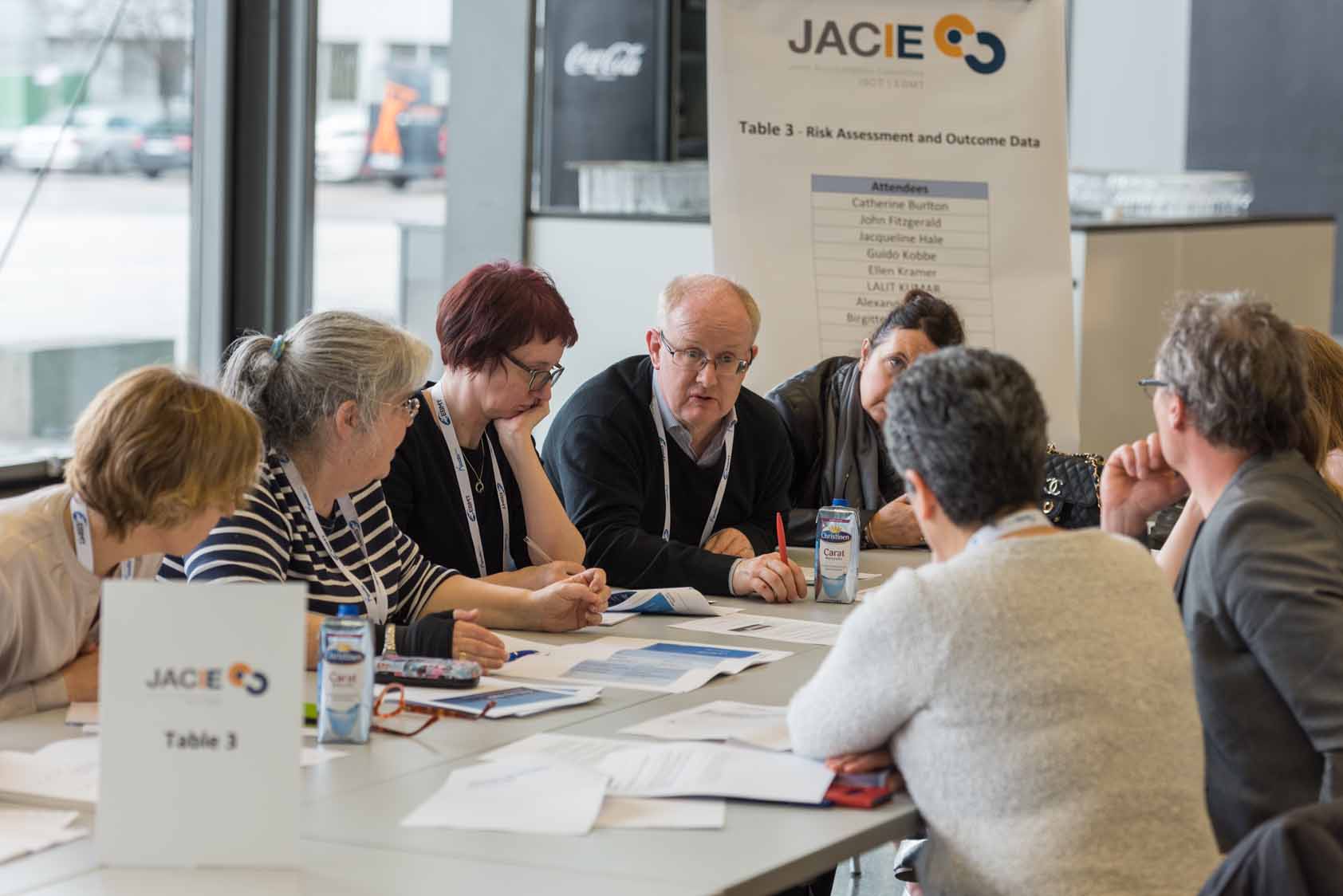 8th Cell Therapy Day
The programme of the 8th Cell Therapy Day (CTD) was designed by leaders and members of the Cellular Therapy and Immunobiology Working Party (CTIWP), together with the local organising committee and the governance of EBMT.
The CTIWP considers the CTD as one of the most important educational tool to raise interest and awareness about old and new forms of cellular therapies, and how optimising cell collection, cell processing and interactions with other components of a transplant program can convert into improved patients outcome.
Again for this 8th edition, the CTD offered an exciting string of presentations designed to foster exchanges and stimulate discussions across all categories of healthcare professionals that are involved in the delivery of «canonical» haematopoietic cell transplantation, as well as the development and administration of a new generation of somatic cell therapy and gene therapy medicinal products.
The latter took of lot of the light this year. CAR-T Cells were again highly publicised. In particular, the CTD started with a brilliant demonstration by Pr Hinrich Abken - considered as a pioneer in the field (CAR-T Cells were originally denominated "T-bodies") - of the potential for CAR-T Cells development beyond currently approved indications, with a special focus on medical oncology. The developments of other somatic cell therapy and gene therapy medicinal products manufactured from immune cells or haematopoietic stem cells were also illustrated, as new drug products are approaching the moment when they will be placed on the market for such severe diseases as inherited globin disorders. This new category of medicinal products continues to raise previously unknown issues. The regulatory perspectives were of special interest, since the delegates could hear how regulators think of potential adaptations to accommodate the specificities of these personalised medicines manufactured from living cells. The needs for biological and clinical follow-up were debated in several presentations, as were paediatric care or handling of cryopreserved drug products.
The CTIWP also held its Scientific Session during the Annual Meeting. Pr HJ Kolb once again presented the prestigious Jon van Rood Award, this year to Dr Itauá Leston Araujo, for his authorship on the publication entitled "Human thymopoiesis is influenced by a common genetic variant within the TCRA-TCRD locus", published in Science Translational Medicine, that identifies non-inherited and inherited factors including the production of TRECs (T cell receptor excision circles).
On behalf of ESMO, Pr John Haanen provided a nice overview of the use of immune effector cells in solid tumors. Dr Florent Malard concluded the session by describing how the microbiota influences our immunological status, how its deregulation can contribute to the emergence of various categories of diseases or alter the response to certain therapies including allogeneic hematopoietic cell transplantation.
8th Paediatrics Day
The 2019 Paediatric Day was novum with regard to a comprehensive overview of all up-to-date and critical aspects of paediatric transplantation, cellular therapy and gene editing strategies. Chaired by Selim Corbacioglu, Josu de la Fuente and Franco Locatelli, the session was initiated with an overview on the current and upcoming activities of the Paediatric Diseases Working Party (PDWP). Selim Corbacioglu presented the new structure of the Working Party with subcommittees focused on pivotal topics. The 2019 Educational Meeting on sickle cell disease (SCD) to be held on May 16th and 17th in Regensburg is a major change in format where the intention is to concentrate information and give a concise update on one selected theme relevant for paediatric transplant physicians. Christina Peters then provided crucial information with the presentation of the interim analysis of the ALL Forum study. AML, a disease in urgent need for a follow-up trial was presented by Franco Locatelli. He summarised the status of ongoing discussions on the new trial concepts and introduced the different options for a prospective HSCT trial in childhood AML, where a 2-arm versus a 3-arm concept are proposed. He was followed by a presentation of the haploidentical HSCT for SCD trial, reported by S. Corbacioglu. SCD, ignored for decades, is now recognised as a major indication for a curative approach with HSCT with alternative donors or gene editing. The trial is subject of major interest from numerous centers from all over the world since donor availability is scarce. The second part of the PDWP session was dedicated to the management of HSCT in low and middle income countries, where the greatest part of patients with hemoglobinopathies are born. Outreach programs like the "Cure2Children" foundation, presented by Lawrence Faulkner and one program in Iraqi Kurdistan presented by Vian Mohammed together with Marta Verna, are pivotal for the development of effective transplant programs in the south-east. The third pillar of this session focused on cellular therapy, and with Persis Amrolia and Rupert Handgretinger - two of the worldwide most recognised experts in this field - highlighted the possibilities of CAR-T-cell strategies and gene editing approaches for paediatric indications.
The Inborn Errors session covered a broad spectrum of both 'state-of-the art' and innovative treatment modalities for inherited diseases. Maria Ester Bernardo presented encouraging first results of lentviral-based gene therapy in MPS1/Hurler's disease. Michael Albert showed us results from an Inborn Errors Working Party (IEWP) study in Wiskott-Aldrich syndrome demonstrating excellent survival in patients treated according to current busulfan and treosulfan-based IEWP SCT guidelines. Robert Chiesa presented SCT outcome results from an IEWP study on the world's largest CGD cohort revealing age and colitis as important predictive parameters for outcome. Arjan Lankester presented results of an IEWP/SCETIDE study on SCT outcome in SCID patients showing a clear correlation between immune reconstitution profile at 1 year and long term clinical outcome. Next, Graham Davies gave a comprehensive overview of the London experience with thymus transplants in patients with inborn thymic defects. The session was completed by Pietro Genovese who presented the preclinical experience with T cell gene editing in CD40 liagnd deficiency as a potential future alternative for conventional stem cell transplantation.
In the afternoon, the selected abstracts for oral presentations of the PDWP and IEWP development in stem cell therapies in both children and adults were presented by transplant colleagues from Europe and Asia. The highly relevant topics included GvHD prophylaxis/immunosuppressive approaches in the haploidentical setting, antiviral treatment after HSCT, haplo-identical SCT approaches in malignant and non-malignant diseases, gene therapy in metabolic diseases, hemoglobinopathy and immune disorders, management of infectious complications and use of clinical score as a tool to guide therapeutic decision making.
In conclusion, the 8th Paediatrics Day with both the PDWP and IEWP sessions, can be considered again as a highlight of this year's EBMT Annual Meeting, evidenced by the very well attended sessions and constructive and vivacious discussions of the audience, emphasising the pivotal position of PDWP and IEWP in the field of cell therapy in paediatric and young adult patients.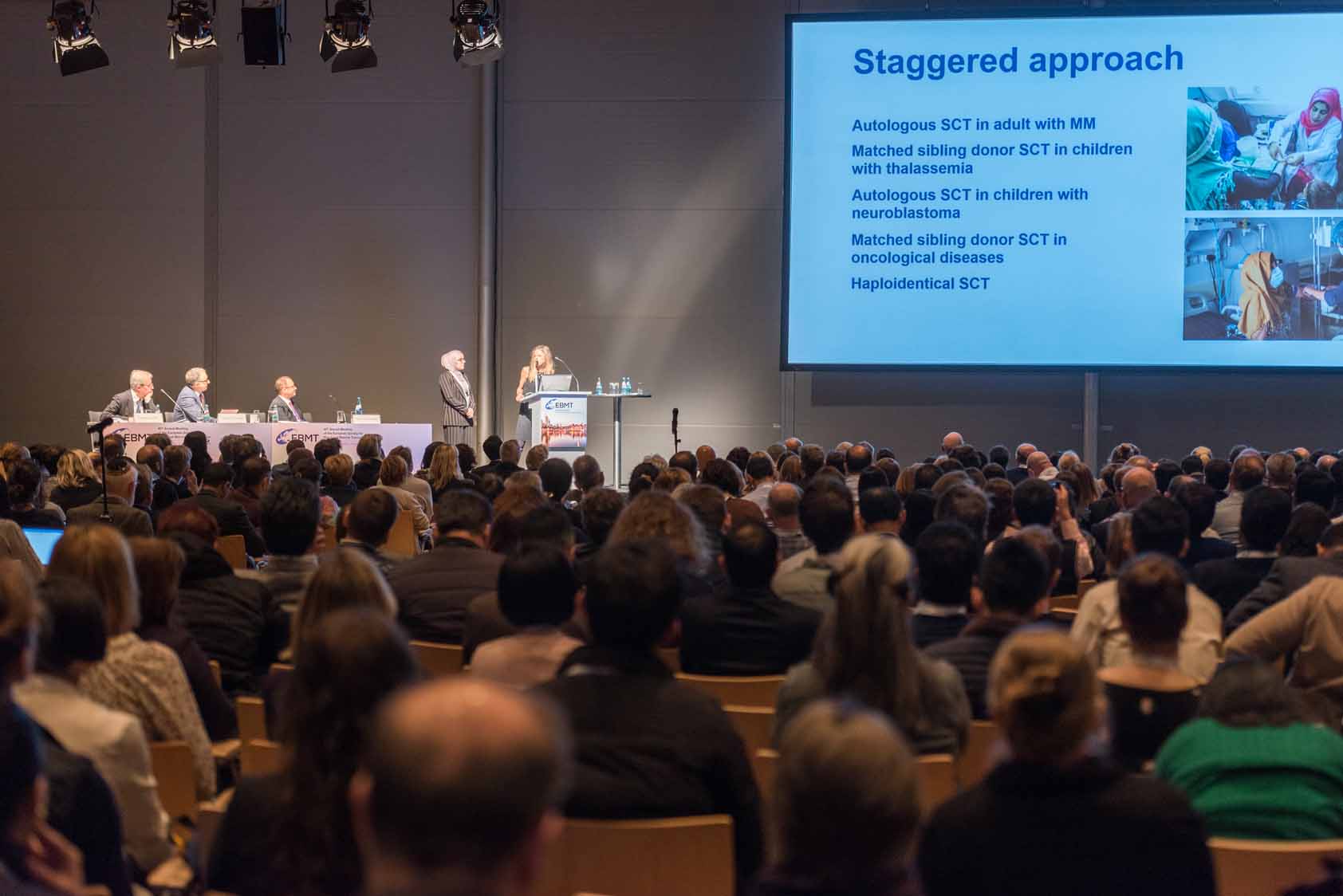 4th Pharmacists Day
The 4th Pharmacist Day was very successful with more than 66 registered pharmacists and many other healthcare providers attending the sessions. The programme was designed by the members of the Pharmacist Steering Committee (Tiene Bauters, Claudia Langebrake, Rick Admiraal, Anne Black, Vera Domingos, Vera Pires, Agnès Bonnin, Erik van Maarseveen and Estela Moreno Martinez).
The first session was dedicated to Medication management/HSCT pharmacists including presentations on Computerized Physician Order Entry for oncology pharmacists and the role of HSCT pharmacists (E. Moreno Martinez, Spain) and a practical session with a JACIE update for pharmacists (Tiene Bauters, Belgium).
As gene and cell therapy are becoming more and more important for pharmacists, the session on CAR T-cells (Boris Fehse, Germany) , the Implementation of CAR-T therapies in the UK (Anne Black, United Kingdom), Gene therapy: current and upcoming (Maria Ester Bernardo, Italy) and How to establish preparation of gene therapy in the pharmacy? (Claudia Langebrake) was hot topic.
Personalised dosing of conditioning agents beyond busulfan included presentations on Cyclophosphamide (Jeannine McCune, USA), Fludarabine (Jurgen Langenhorst, the Netherlands), Melphalan: using a test dose strategy (Karen Sweiss, United States), Clofarabine (Erik van Maarseveen, the Netherlands).
The last session included discussion on PK/PD of biologicals (Rick Admiraal, Netherlands), Biologicals & biosimilars in SCT: an overview of the pharmaco-economic and pharmacovigilance aspects (Barbara Claus, Belgium), How safe and effective are biosimilars? (João Gonçalves, Portugal) and Management of adverse events in immunotherapy (Marye Boers, the Netherlands).
We would like to express our appreciation and thanks to all presenters, chairs and all participants who attended the 4th Pharmacist's Day!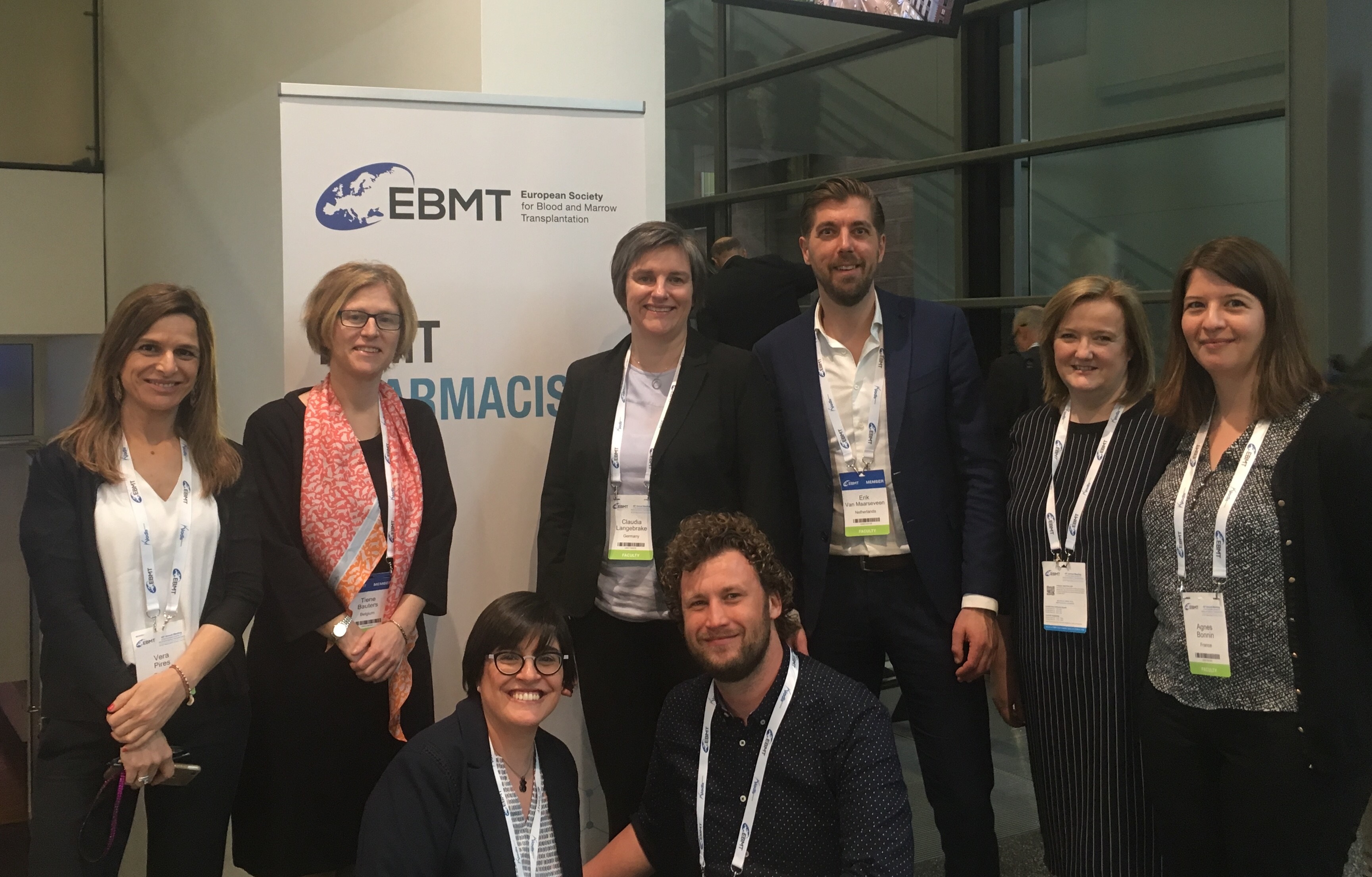 3rd Psy Day
The goal of the 3rd Psy Day was to gather international renowned experts in the field of psycho-oncology under one roof to discuss the psychological dimensions of BMT and SCT and the diversity of practices across Europe and to highlight recent results of several studies in HSCT.
The 3rd Psy Day began with a warm welcome from the hosts Sandra Lange, psycho-oncologist and head of psychosocial service at the Department for Children and Adolescents at University Hospital Frankfurt and Frank Schulz-Kindermann, head of psycho-oncology-services at Hamburg University School and Comprehensive Cancer Centre.
The two morning sessions dealt with practically oriented topics. The first "Workshop Session" focused on "Survivorship Programmes". Karen Syrjala from the Department of Behavioral Sciences at Fred Hutch, Seattle, opened up this first session. Conducting several broad scale longitudinal studies in survivors of SCT, she presented and discussed "Setting up and sustaining a survivorship programme". Corinna Bergelt, psychologist from Hamburg, Germany, is coordinating a German multicenter AYA-study and spoke about "Integrated psychosocial programmes for AYA-survivors".
The second "Workshop Session" focused on "Psychooncological interventions". Philip Alexander, cognitive behavior psychotherapist from London, UK, discussed "Survivorship in ACTion – a group based intervention for patients experiencing fear of recurrence, using acceptance and commitment therapy" and showed why the Acceptance and Commitment Therapy (ACT) and Compassion Focused Therapy (CFT) is particularly useful in working with BMT patients. Frank Schulz-Kindermann was part of a large bi-center RCT and focused on "Meaning centered interventions for palliative care patients".
The afternoon related to patient reported outcomes and psychosocial screening, followed by recent results of studies in HSCT. The first session of the afternoon focused on "Screening and long-term survivorship". Anna Barata, psycho-oncologist from Barcelona, Spain opened up the first afternoon session and presented "Patient reported outcomes in the sequalae of HSCT". Angela Scherwath, psychologist post-doc researcher from Hamburg, Germany, presented the first results of a study about "Cognitive deficits and physical exercise". Alex King, psycho-oncologist from London, UK, discussed best-practice guidelines of "Screening for psychosocial morbidity".
The second session of the afternoon "Recent results of studies in HSCT" was opened up by two sport scientists from Frankfurt, Germany. Anna Senn-Malashonak and Susanne Wallek presented results of their empirical study concerning "Psychophysical effects of an exercise therapy during paediatric stem cell transplantation – a randomised control trial".
The closing lecture was performed by Katharina Kuba, psychologist from Leipzig, Germany. She presented results of an empirical study concerning "Traumatic experiences after SCT ".
At the end of the second afternoon session some of the international speakers held an expert podium discussion.
It was a real honour and pleasure to host the EBMT Annual Meeting 2019 in Frankfurt, Germany, with all the international renowned professionals and to have been able to contribute to the Psy Day's continuity. As one international colleague put it after the meeting: "The EBMT Psy Day really did seem like a good balance of science, clinical, and real world how to get along and understand the bigger picture of what we do". We are looking forward to the next Psy Day in Madrid, Spain in 2020.
1st Transplant Coordinators Day
During the meeting in Frankfurt, the 1st EBMT-WMDA Transplant Coordinator Day and Workshop became a fact! In three oral sessions presenters focussed on 'Identifying the best unrelated graft', 'Stem cells on a Journey', and 'Spotlight on the donors'. The sessions were very well attended, and lots of positive reactions were heard.
In the afternoon, an additional interactive session took place with a 'Spotlight on the Transplant Coordinators' workshop. In three round table discussions, participants talked about their training and education, the care for the family donor and their specific tasks. Although some countries already have networks for clinical transplant coordinators, it became clear that there is a need to create an educational platform or forum, where transplant coordinators can catch up, share and exchange experiences, and follow classes that are tailored to their field, like the WMDA SCCP.
Care for the related donor often belongs to the work area of the Transplant Coordinator, however in some hospitals the organisation of care for the family donors is still not optimal. Privacy issues, donor care management and lack of follow up were some of the topics that were addressed.
Transplant coordinators are also involved in the process for the unrelated donor search, collating and presenting all necessary information for clinicians to prepare decision making. Furthermore they prepare the paperwork for work up requests.
We are looking forward to organise the 2nd EBMT-WMDA Transplant Coordinator Day during the EBMT 2020 in Madrid, Spain. Any suggestions for topics are welcome!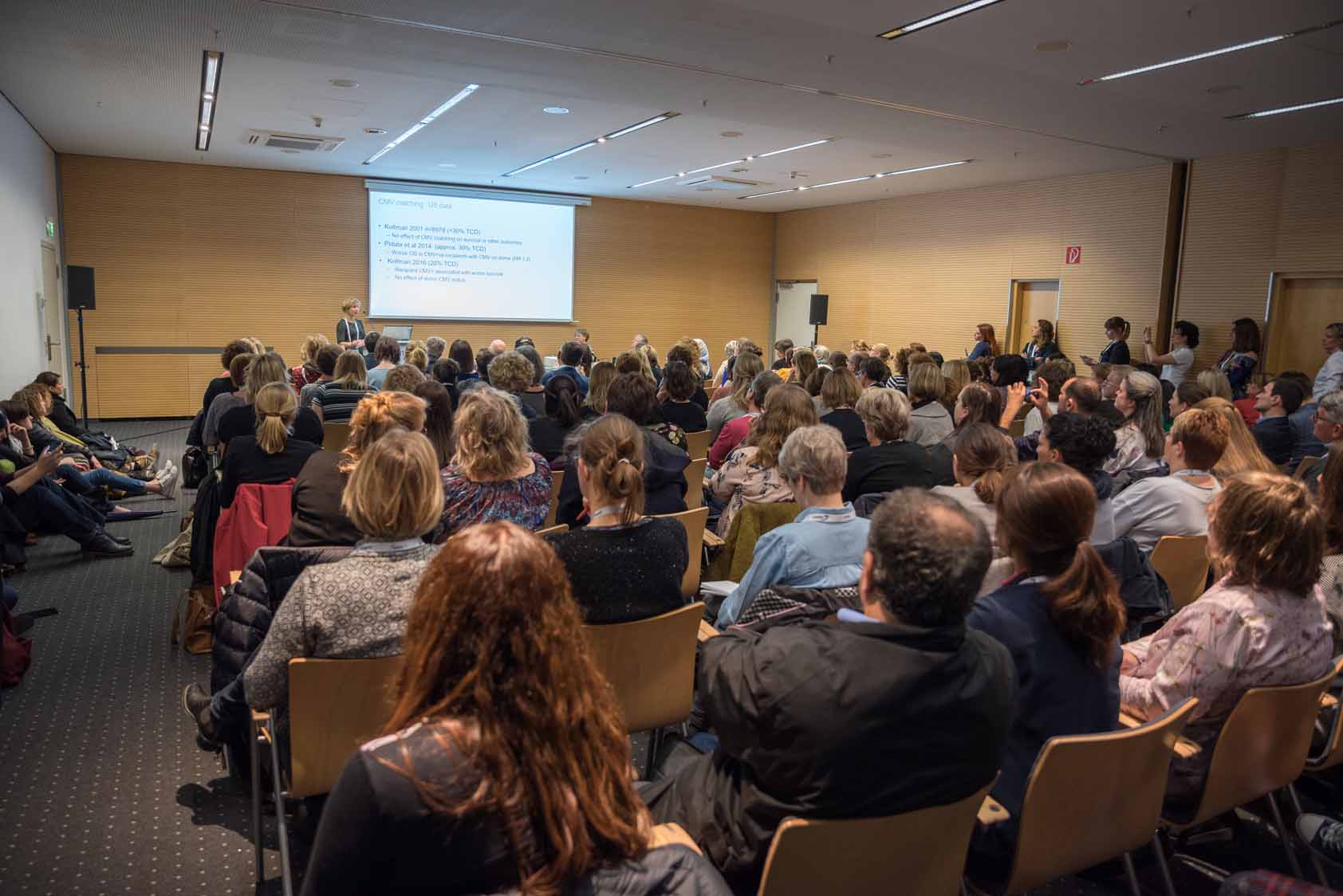 All EBMT attendees can now see PowerPoint presentations and abstracts on the EBMT programme planner and/or 2019 app.