JACIE Committee
Accreditation Committee
The EBMT clinical outcomes benchmarking project has continued its work throughout 2020. The next step will be the circulation of Data Completeness Reports to those centres that meet the criteria (see Figure 1 below) to report the position of centres compared to other anonymized EBMT centres for completeness of follow-up. 
Centres have been selected for benchmarking if:
they are a full member of EBMT;
during the period 2013-2016 they registered at least 80% of the transplants reported in the EBMT Activity Survey;
for benchmarking for allogeneic transplantation: they did a minimum of 10 allografts per year on average during the period 2013-2016; 
for benchmarking for autologous transplantation: they did a minimum of 5 autografts per year on average during the period 2013-2016;
The selection to include for benchmarking was made separately for allogeneic and autologous transplants.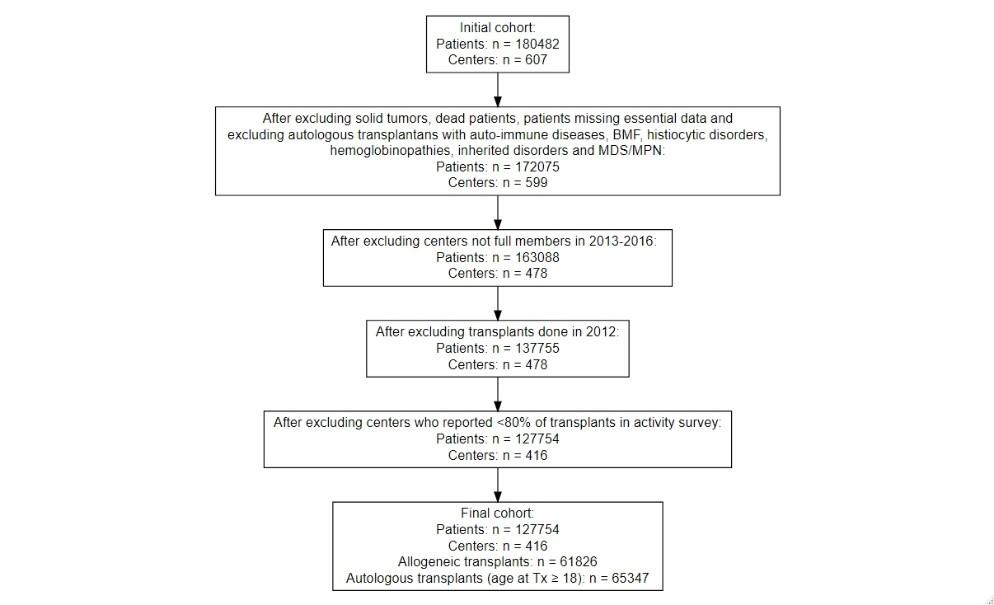 Reports will be made available via an online platform with dedicated folders for each centre and access limited to one person from that CIC. Testing of the platform showed that it was accessible to most of the centres although one centre reported their hospital network blocked access. While we wanted to have started the distribution already, delays in setting up the platform will mean that distribution will take place from mid-September. Support will be available to the centres to help with access. 
Centres will also be asked for feedback on the report contents, format and the overall process to further develop the model. 
This phase will be followed later in 2020 with distribution of the clinical outcome reports to selected centres.