12th Distinguished Merit Award 2020 – Dr Sarah Liptrott
In the Nurses Group opening session during yesterday's programme, Nurses Group President John Murray announced Dr Sarah Liptrott, of the European Institute of Oncology in Milan, Italy, as the winner of the 12th Distinguished Merit Award of the EBMT Nurses Group 2020.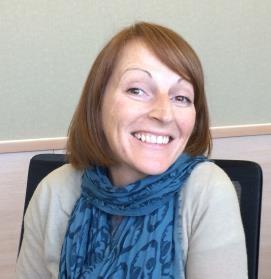 This award is given to a nurse who has demonstrated excellence within the field of haematopoietic cell transplantation. John paid tribute to Sarah as "an incredibly active member of EBMT".
Sarah trained in Liverpool in 1993, moving then to positions in Manchester within the medical oncology department, becoming a senior nurse on the chemotherapy unit and a leader within the clinical oncology team by 2000. A move in 2001 to North Staffordshire allowed her to develop her career and become a clinical nurse specialist in haematology. Her role was extended to provide improved patient care for both inpatients and outpatients, as she became both a key worker and patient pathway co-ordinator. The nurse-led clinic she was part of, that incorporated nurse prescribing, was at the cutting edge of enhanced roles at the turn of the century and shows Sarah to be a dynamic and focussed professional.
By 2005, while still a Clinical Nurse Specialist, she networked with several professional groups and became the vice-chair for the North West Haematology Network Site Specific Group. In 2006 she took a senior position in Milan, Italy at the European Institute of Oncology as a research nurse, working there for three years developing clinical trial pathways. She returned to the UK and South Manchester for a year as team leader of the Oncology Research Team, but the pull of Milan appears to have been too great and she returned in 2010 and has been the research nurse there for the past 10 years, as principal investigator and co-investigator in various nurse-led research studies at both a national and international level.
Sarah gained her PhD in 2018 with work on the telephone support for symptom management and supportive care in haemato-oncology patients. She has presented multiple talks and presentations across Europe and has written numerous papers and abstracts.
As the chair of the EBMT Nurses Group Research Committee, Sarah oversees and participates in the nursing research agenda. Her most recently published paper is on nutritional support in stem cell transplant programmes, a multicentre survey. There are currently 8 other papers in the analysis or write-up stages, which shows how active Sarah and the Research Committee are. The Research Committee has its own specific study day that Sarah has led and developed for the Nurses Programme for over the past 4 years. 
"It would be fair to say that as well as all of this hard work, Sarah always has time to be able to relax and network with friends and colleagues at meetings," said John. "She is very good at engaging with all members and allowing them to bring ideas that can be turned into active projects."
He concluded: "I am sure you all agree that Dr Sarah Liptrott is a worthy winner and I hope that you can join me in congratulating Sarah on this achievement. Once again, I give you the 12th Distinguished Merit Award Winner 2020: Dr Sarah Liptrott."