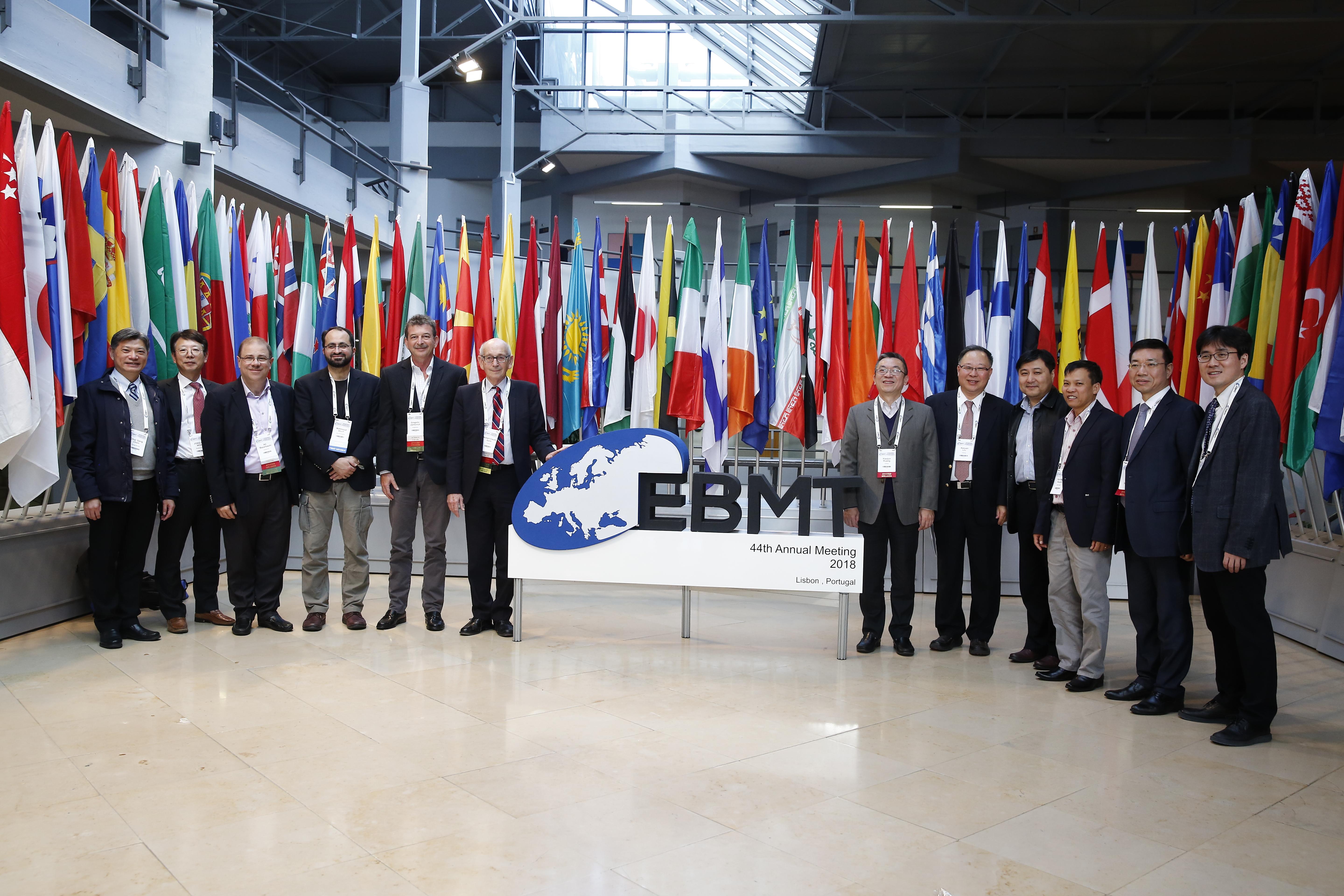 As of 2018, 43 years after it was founded, the EBMT comprises 650 teams over 55 countries, and it has greatly expanded its scope outside Europe. More than 38,000 transplants are reported to the Registry each year and it has become an international reference for scientific evaluations, guidelines, studies, and education in the field of cell therapy. EBMT also is responsible for the JACIE (Joint Accreditation Committee ISCT-EBMT) program all over the world.
Many young investigators and research fellows from non-European countries trained in the early days in EBMT centres. 
Recently, young Chinese investigators and nurses have worked at the EBMT Paris office and produced pioneering studies comparing the results of Chinese and European new transplant technologies.
China, India, Korea, Vietnam, and other countries in Asia have built modern transplant units and create or join other friendly scientific structures such as the Asian Pacific Blood and Marrow Transplantation group (APBMT).
Latin America has been so far underrepresented within EBMT, though its stem cell transplantation activity has considerably increased over the last twenty years.
It is now largely well established that academic prospective clinical trials aimed at acquiring scientific knowledge form a key part of patient-oriented clinical research, and create the basis for continuously improving patient care.
The EBMT board which convened on October 22, 2016, in Barcelona, decided to create this Global Committee to favour and welcome colleagues and teams from outside Europe to extend our common experience and skills.
Global Committee Team

Chairperson Global Committee
AUTO-SCT and graft composition subcommittee
Honorary member
norbert-claude.gorin@aphp.fr
France
Committee Objectives
Promote the EBMT mission outside Europe, starting with Asia, i.e. particularly China, India, Korea, Vietnam. Increase European knowledge from this experience thus far not included in the EBMT megafile, and likewise share the European experience with new joining team members.
Increase the recruitment of EBMT teams and the numbers of transplants reported to the Registry. Enlarge the database.
Translate into all languages (Mandarin in China, as an example) the items in use in the EBMT collection and analysis software
Promote comparisons of transplant methodologies
Reactivate centre effect studies that would benefit from the addition of new teams with different therapeutic approaches
Expand targets for educational meetings  
Promote EBMT and its member teams (current and new members) through joint scientific meetings
Increase the exchanges with young investigators and PI for retrospective studies
Promote the exchange of nurses specialised in stem cell transplantation
Propose JACIE program worldwide
Activities
Organisation of the Global Committee annual or biannual meeting with worldwide members of the committee to define actions, policy and evaluate results of previous actions.
Monitoring of membership outside Europe, and specifically in Asia, for the year 2017
Ensure compatibility between registries (EBMT and national registries)
Further the development of joint meetings bringing together European and non-European teams, with a specific focus in 2018 on Asian and Latin American teams
Annual report to the Board
Strategy
In view of the growing cooperation between many Chinese and European teams and also in view of our 2018 congress in Lisbon with a record participation from Latin America, the EBMT Global Committee has decided to focus first on Asia and Latin America.
EBMT aims to federate all transplant teams willing to share and increase experience in cell therapy today and tomorrow.
Subcommittees & Members

hujiong@medmail.com.cn
China

huangxiaojun@bjmu.edu.cn
China

liukaiyan@medmail.com.cn
China
wudepei@medmail.com.cn
China

chidungyk85@gmail.com
Viet Nam
jhwon@schmc.ac.kr
South Korea

kstwoh@skku.edu
South Korea
william.hwang.y.k@singhealth.com.sg
Singapore

gregjaim@gmail.com
Argentina

bpsimoes@gmail.com
Brazil

Member Global Committee
Post-transplant pharmacologic modulation subcommittee
bazarbac@aub.edu.lb
Lebanon

maljurf@kfshrc.edu.sa
Saudi Arabia
lalitaiims@yahoo.com
India