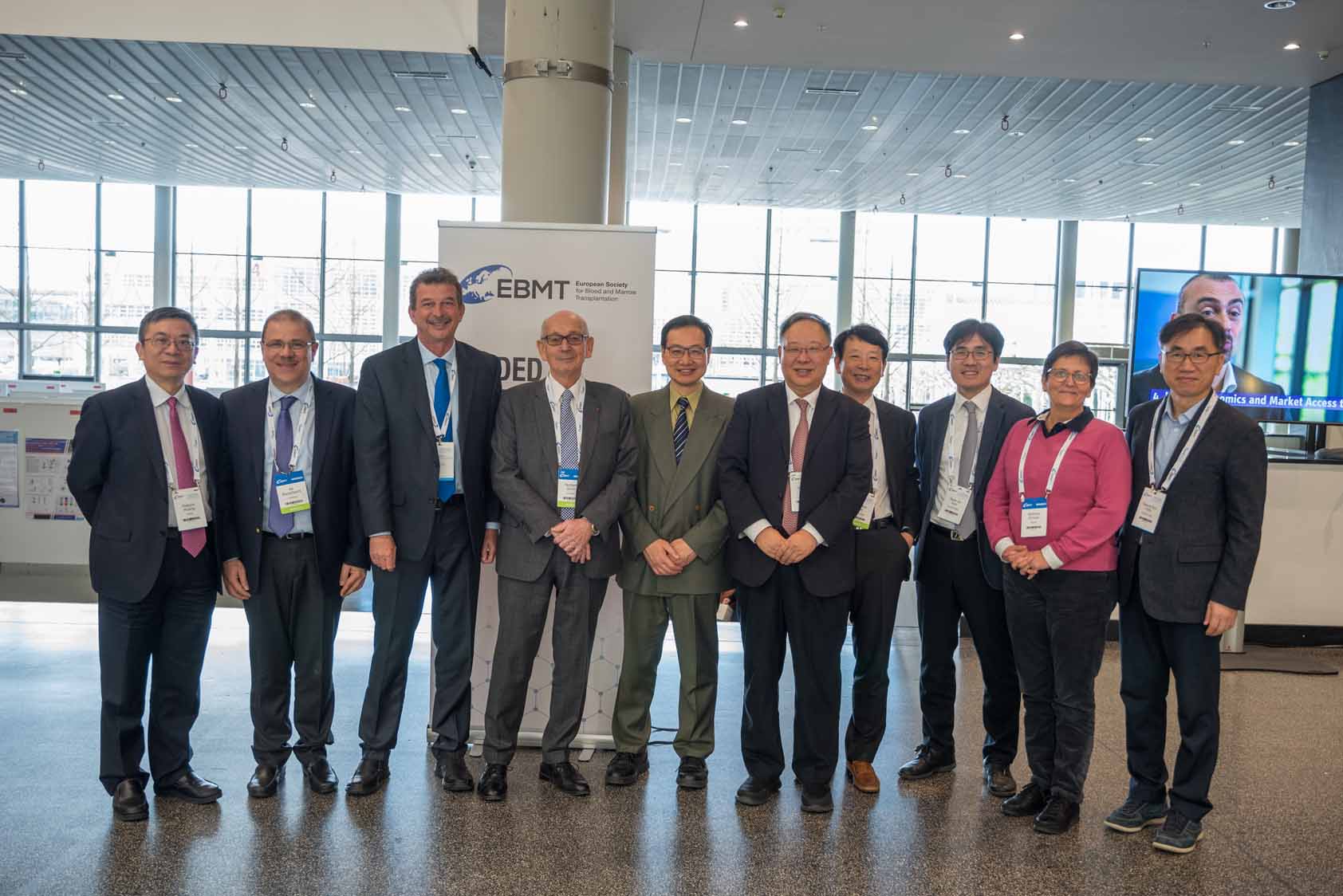 The EBMT Global committee (EGC) was created by the EBMT Board in October 2017 to further extend the scope of stem cell transplantation and cell therapy to as many transplant teams as possible outside Europe to extend further our common knowledge, medical training and research.
The EGC was first constituted in Lisbon during the EBMT Annual Meeting in March 2018 with 16 members, including 6 colleagues from China, 1 from Taiwan, 2 from Korea, one from Vietnam, two from Latin America (Argentina and Brazil), 1 from Lebanon, 1 from Saudi Arabia. We met again in March 2019 at the EBMT Annual Meeting in Frankfurt.
Global Committee Team

Global Committee Chair, Chief Representative EBMT Shanghai Office
AUTO-SCT and graft composition subcommittee
Honorary member
Paris,
France

MEMBER GLOBAL COMMITTEE
EBMT Representative to the JACIE Committee
EBMT 2021 Annual Meeting President
Madrid,
Spain
Member Global Committee
Dean of the First Affiliated Hospital and Director of Hematology Institution Zhejiang University School of Medicine
Hangzhou,
China


Member Global Committee
President Chinese Society of Hematology
Suzhou,
China



Member Global Committee
Post-transplant pharmacologic modulation subcommittee
Beyrouth,
Lebanon

Committee Objectives
Promote the EBMT mission outside Europe, starting with Asia, i.e. particularly China, India, Korea, Vietnam.
Increase European knowledge from this experience thus far not included in the EBMT megafile, and likewise share the European experience with new joining team members.
Increase the recruitment of EBMT teams and the numbers of transplants reported to the Registry.
Enlarge the database.
Translate into all languages (Mandarin in China, as an example) the items in use in the EBMT collection and analysis software.
Promote comparisons of transplant methodologies.
Reactivate centre effect studies that would benefit from the addition of new teams with different therapeutic approaches.
Expand targets for educational meetings.  
Promote EBMT and its member teams (current and new members) through joint scientific meetings.
Increase the exchanges with young investigators and PI for retrospective studies.
Promote the exchange of nurses specialised in stem cell transplantation.
Propose JACIE program worldwide.
Activities
Organisation of the Global Committee annual or biannual meeting with worldwide members of the committee to define actions, policy and evaluate results of previous actions.
Monitoring of membership outside Europe, and specifically in Asia.
Ensure compatibility between registries (EBMT and national registries)
Further the development of joint meetings bringing together European and non-European teams, with a specific focus in 2018 on Asian and Latin American teams
Annual report to the Board
Strategy
In view of the growing cooperation between many Chinese and European teams and also in view of our 2018 congress in Lisbon with a record participation from Latin America, the EBMT Global Committee has decided to focus first on Asia and Latin America.
EBMT aims to federate all transplant teams willing to share and increase experience in cell therapy today and tomorrow.