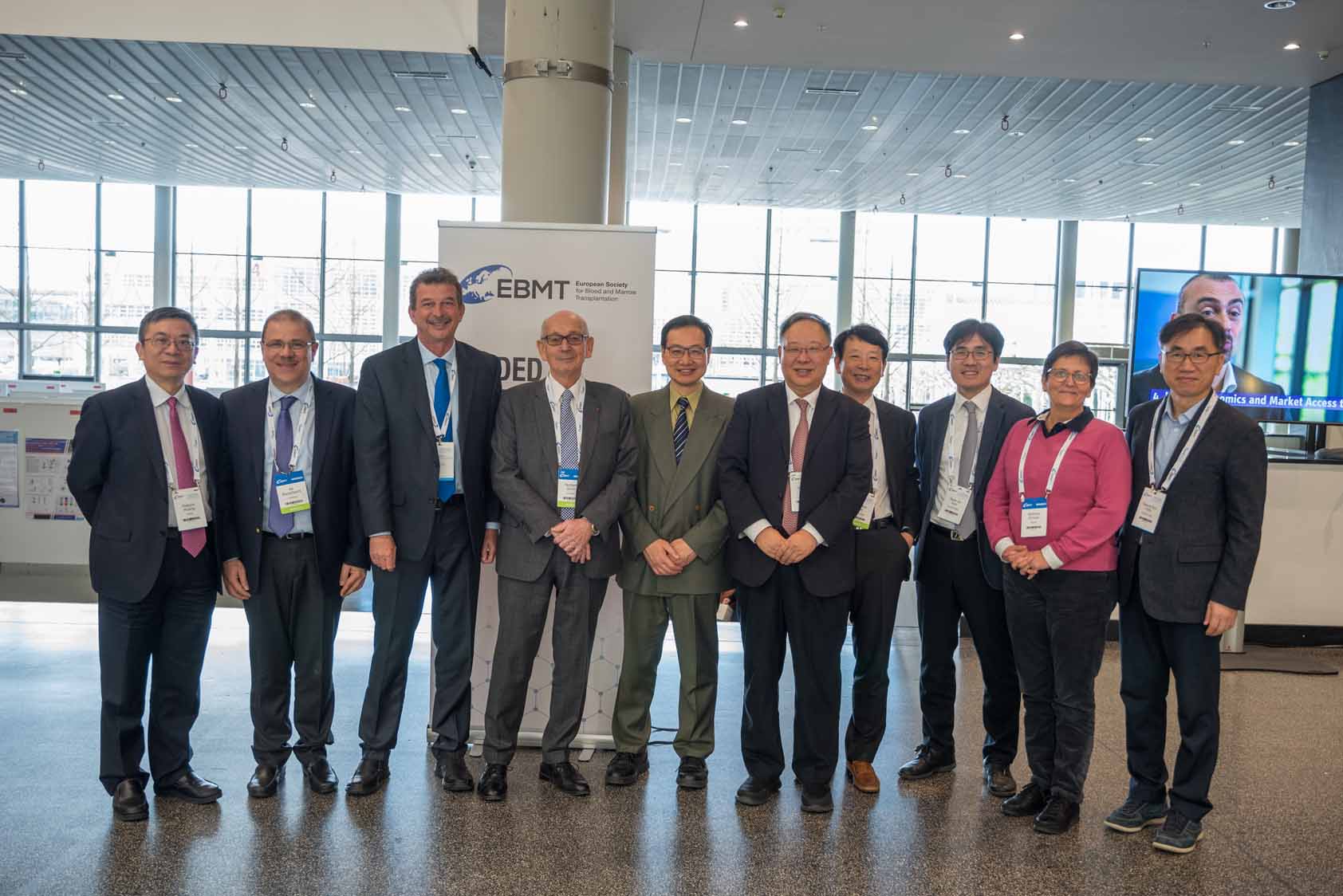 The EBMT Global committee (EGC) was created by the EBMT Board in October 2017 to further extend the scope of stem cell transplantation and cell therapy to as many transplant teams as possible outside Europe to extend further our common knowledge, medical training and research.
The EGC was first constituted in Lisbon during the EBMT Annual Meeting in March 2018 with 16 members, including 6 colleagues from China, 1 from Taiwan, 2 from Korea, one from Vietnam, two from Latin America (Argentina and Brazil), 1 from Lebanon, 1 from Saudi Arabia. We met again in March 2019 at the EBMT Annual Meeting in Frankfurt.
Several points of importance have been discussed by the EGC through teleconferences in September 2018 and October 2019, before the COVID-19 pandemic, which has postponed our EBMT Annual Meeting. This new situation has undoubtedly set the stage for increasing our exchanges through more online/teleconferencing from now on.
EBMT team members interested to join the EGC may apply before our next Annual Meeting, where a partial renewal of members will take place, with a short note indicating in what aspects they think they may contribute to our efforts.
The EGC has so far achieved several objectives:
Objective 1: extend the scope of EBMT outside Europe, increase the worldwide experience, improve international guidelines:
We have been fortunate that numerous colleagues from Asia and Latin America have joined the EGC with enthusiasm (see the list of EGC members: https://www.ebmt.org/global-committee). At present time, we are lucky to have with us numerous Chinese colleagues that areexperts in the field of stem cell transplantation, cell therapy with CAR T cells and also a large unfortunate experience with COVID-19.
EBMT and the Chinese medical association have initiated a memorandum of understanding already a year ago (after a visit of our president Nicolaus Kroeger and Norbert Claude Gorin EGC chair, in Shanghai in May 2019). We received important financial support from "Boxiao" a Chinese medical supplier. Boxiao has offered to provide generously for free, the space for an EBMT-CHINA office in the heart of Shanghai, as well as to sponsor the work of 1- 2 Chinese data managers/study coordinators. We have already held several candidates and a meeting at Shanghai townhall was scheduled with the regulatory authorities in February 2020 to get definitive approval. Unfortunately, it was cancelled due to the SRAS 2 virus. However, the paperwork is still being processed by the Chinese medical association, the Shanghai townhall authorities and the EBMT office in Barcelona. At the time of writing this document, the inauguration of the EBMT-CHINA office as well as a first EBMT-CHINA symposium are planned for early November 2020 in Shanghai, SRAS 2 virus permitting.
EGC also has been pleased to work this year with the Algerian team in Oran which provided interesting data on the use of stem cells stored at 4dg C and non-cryopreserved.
Objective 2: Help teams with limited financial resources to join EBMT:
For many countries, Latin America and Middle east in particular, the fees required by EBMT for team membership are considered too high in view of existing financial resources.
Importantly, the EBMT has taken a major step to solve this issue: It concerns exclusively new non-European teams applying to team membership and justifying of financial constraints: the decision is the following, which should be read with attention:
From June 2019 and valid for 2020
Membership is now free for non-EU transplant centres wishing to become new EBMT team members. However, free membership has to be approved by the EGC. It will be provisional for the first 2 years and conditioned by the engagement of the team to some rules:
Report prospectively to the EBMT registry all consecutive transplants, laws of the country permitting. If not see point b, below.

EBMT is aware that in some countries, reporting all data may not be in accordance with the laws of the countries. This may be the case in particular in China
In such a case, 1) a proposal for a specific study with a synopsis can be accepted as a substitute provided that 2) the Principal Investigator of the team (PI) provides the EBMT registry with the data existing in his or her own centre, including as many centres as possible corresponding to the study proposed, before obtaining access to the corresponding data from the EBMT registry. The PI will then be responsible for doing the study, writing the paper and have it published in a peer reviewed journal, according to the EBMT rules of publication within the two years of free membership.
Renewal of free membership for another 2-year period will then be considered.
Objective 3: As a result, welcome numerous new teams and individual members:
As can be seen on the graph below, in the past 6 years, 13 new teams have joined and the total number of members has gone up from 4244 to 5464.
In the past year, since our Annual Meeting in March 2019, 8 new team members and 23 individual members have joined.
26 teams from Asia and Latin America are EBMT members including 7 in LATAM, 5 in China and 1 in Taiwan, 5 in India and 3 in Iran.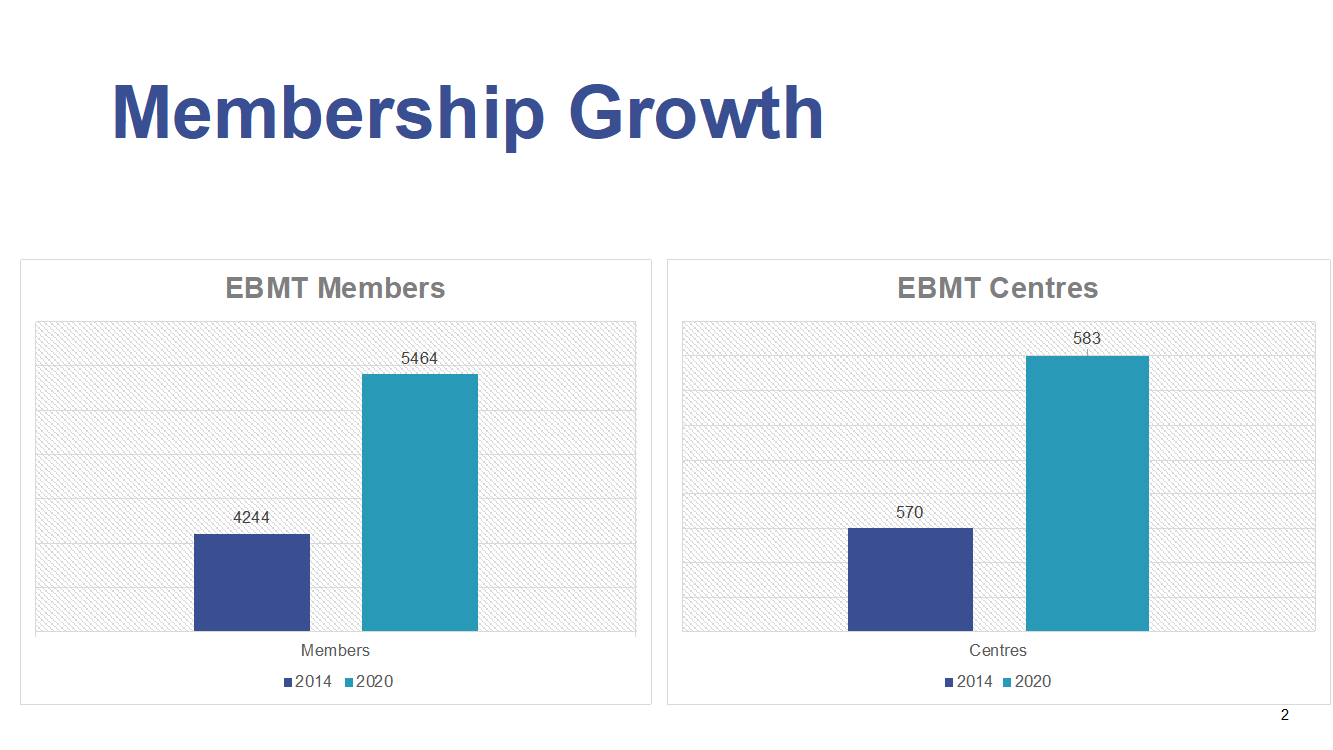 Objective 4: Improve our education through sharing experiences:
EGC has so far generated two specific scientific sessions, a first one in Frankfurt 2019 dedicated to the development of haploidentical transplantation in China, Japan, Lebanon, India and Argentina, and a second one, still to take place in EBMT 2020, dealing with the management of infection in the context of stem cell transplantation. Was this a premonition while the SRAS 2 virus had not yet come to our attention? Indeed, the first topic of this session to deal with respiratory infections will have now to also cover the SRAS-2 virus.
The EGC welcomes you to our second scientific session on Tuesday September 1st 2020.
Finally, the EGC committee wishes to draw attention to members/teams interested in joining the EBMT about the following aspects:
Restricted funding should not be an impediment: teams or members with limited ability to pay the regular fees may be given important discounts upon request.

New applicants from countries with no EBMT centers able to provide a bona fide recommendation letter can get in touch directly with the EGC chair through the EBMT Membership Coordinator by using the "Contact us" button below.

EBMT provides several scholarships to help young investigators to attend EBMT and participate to ongoing studies (see the young ambassador program).
Global Committee Team

Global Committee Chair, Chief Representative EBMT Shanghai Office
AUTO-SCT and graft composition subcommittee
Honorary member
France

EBMT 2021 Annual Meeting President
EBMT Representative to the JACIE Committee
Spain

EBMT Executive Assistant
Administrative Support to Committees
Spain
Committee Objectives
Promote the EBMT mission outside Europe, starting with Asia, i.e. particularly China, India, Korea, Vietnam.
Increase European knowledge from this experience thus far not included in the EBMT megafile, and likewise share the European experience with new joining team members.
Increase the recruitment of EBMT teams and the numbers of transplants reported to the Registry.
Enlarge the database.
Translate into all languages (Mandarin in China, as an example) the items in use in the EBMT collection and analysis software.
Promote comparisons of transplant methodologies.
Reactivate centre effect studies that would benefit from the addition of new teams with different therapeutic approaches.
Expand targets for educational meetings.  
Promote EBMT and its member teams (current and new members) through joint scientific meetings.
Increase the exchanges with young investigators and PI for retrospective studies.
Promote the exchange of nurses specialised in stem cell transplantation.
Propose JACIE program worldwide.
Activities
Organisation of the Global Committee annual or biannual meeting with worldwide members of the committee to define actions, policy and evaluate results of previous actions.
Monitoring of membership outside Europe, and specifically in Asia, for the year 2017
Ensure compatibility between registries (EBMT and national registries)
Further the development of joint meetings bringing together European and non-European teams, with a specific focus in 2018 on Asian and Latin American teams
Annual report to the Board
Strategy
In view of the growing cooperation between many Chinese and European teams and also in view of our 2018 congress in Lisbon with a record participation from Latin America, the EBMT Global Committee has decided to focus first on Asia and Latin America.
EBMT aims to federate all transplant teams willing to share and increase experience in cell therapy today and tomorrow.
Subcommittees & Members


wudepei@medmail.com.cn
China
william.hwang.y.k@singhealth.com.sg
Singapore
hujiong@medmail.com.cn
China



Member Global Committee
Post-transplant pharmacologic modulation subcommittee
Lebanon