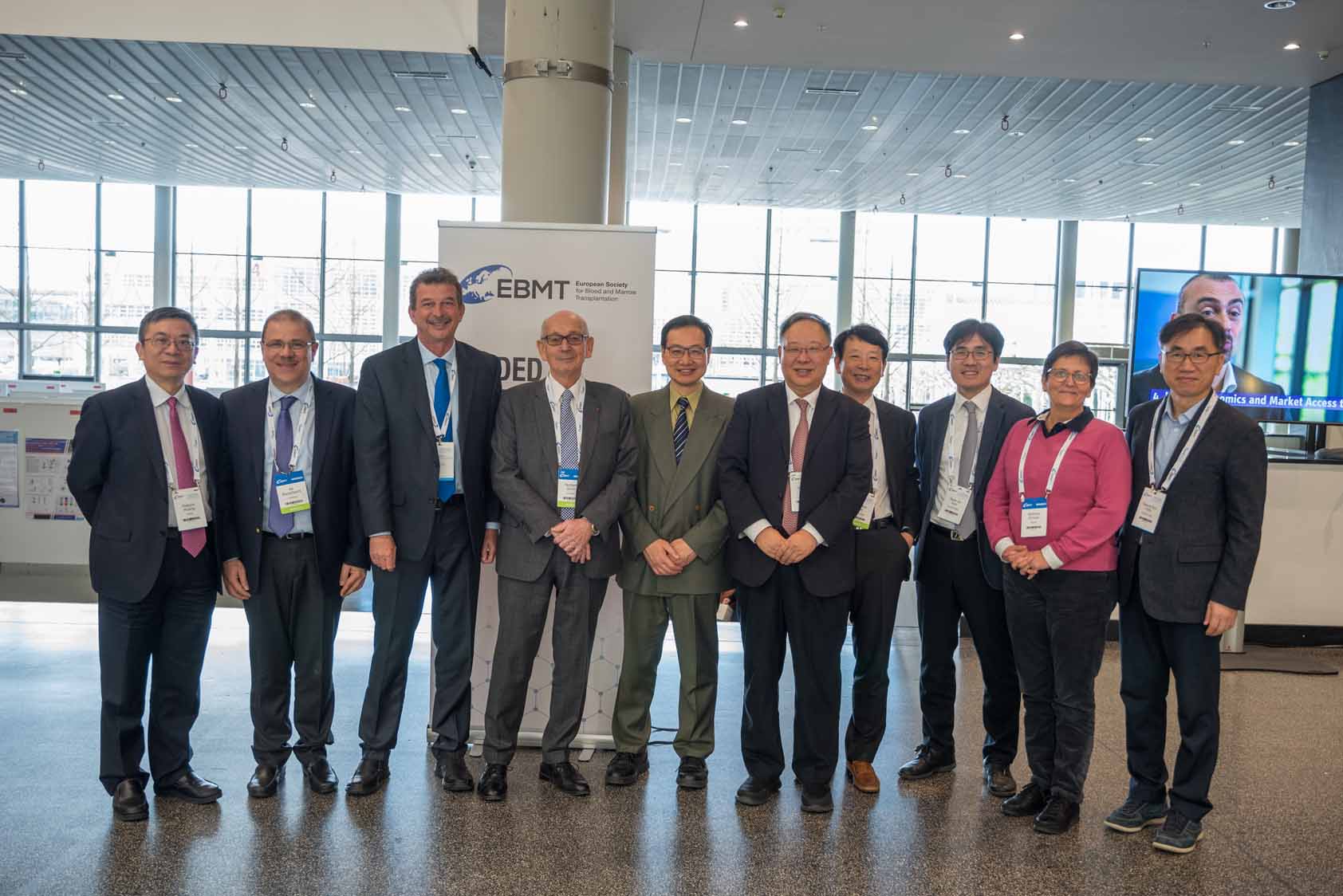 The EBMT Global Committee (EGC) has been created by the EBMT Board in October 2017 to further extend the scope of stem cell transplantation and outreach a maximum of teams outside Europe.
It was felt that the experience not only from European centers but also from Asia, India, South America and indeed everywhere would increase the power of the megafile, and also increase the diversity of therapeutic measures and experiences to be shared and compared. This will naturally lead to better patient care and timely updating of international guidelines.
The EGC was first constituted in Lisbon during the EBMT Annual Meeting in March 2018 with 16 members, including 6 colleagues from China, 1 from Taiwan, 2 from Korea, one from Vietnam, two from Latin America (Argentina and Brazil), 1 from Lebanon, 1 from Saudi Arabia (see the list and the group picture taken this year in Frankfurt).
The EGC is chaired by Prof. Norbert Claude Gorin who was historically the chair of the Working Party on autologous stem cell transplantation, then the chair of the acute leukemia working party and presently chairs the "stem cell source and autologous stem cell transplantation" subcommittee of the Acute Leukemia Working Party.
The second EGC business meeting took place in Frankfurt during the EBMT 2019. The following points were discussed:
New members

:

From 2014 to 2018, the number of EBMT members has gone up from 4,244 to 4,961 and the number of EBMT centers from 570 to 583. 22 centers represent nowadays Asia and Latin America.
During the year 2018, 4 new non EU centers have joined as well as 21 individual non EU new members.
A proposal for a new exchange program for non-EU physicians/nurses wishing training in an EBMT center was drafted in Lisbon to be presented to

the EBMT Board and Executive Committee in June 2019.

An EBMT 2019 Special Session "

The present place of haploidentical transplants throughout the world

", chaired by Prof Nicolaus Kröger and Prof Norbert Claude Gorin, took place on Wednesday March 27 in Frankfurt. This session explored the development of haploidentical transplantation in China, Japan, Lebanon, India and Argentina. (see the summary of this special session).
A second specific EGC session is already planned for the EBMT 2020 Annual Meeting in Madrid on the following topic: "Performing transplants in patients with infectious diseases". Colleagues from outside Europe with experience in this field and wishing to share their experience in Madrid are welcome and should contact the EGC.
The EGC wishes to draw attention of members/teams interested in joining EBMT on the following aspects:
Restricted funding should not be an impediment: teams or members with limited ability to pay the regular fees may be given important discounts upon request.

New applicants from countries with no EBMT centers able to provide a bona fide recommendation letter can get in touch directly with the EGC chair through the EBMT Membership Coordinator at

membership@ebmt.org
EBMT provides several scholarships to help young investigators to attend EBMT and participate to ongoing studies

(see the young ambassador program).
Global Committee Team

Chairperson Global Committee
AUTO-SCT and graft composition subcommittee
Honorary member
France

EBMT Executive Assistant
Administrative Support to Committees
Spain
Committee Objectives
Promote the EBMT mission outside Europe, starting with Asia, i.e. particularly China, India, Korea, Vietnam. Increase European knowledge from this experience thus far not included in the EBMT megafile, and likewise share the European experience with new joining team members.
Increase the recruitment of EBMT teams and the numbers of transplants reported to the Registry. Enlarge the database.
Translate into all languages (Mandarin in China, as an example) the items in use in the EBMT collection and analysis software
Promote comparisons of transplant methodologies
Reactivate centre effect studies that would benefit from the addition of new teams with different therapeutic approaches
Expand targets for educational meetings  
Promote EBMT and its member teams (current and new members) through joint scientific meetings
Increase the exchanges with young investigators and PI for retrospective studies
Promote the exchange of nurses specialised in stem cell transplantation
Propose JACIE program worldwide
Activities
Organisation of the Global Committee annual or biannual meeting with worldwide members of the committee to define actions, policy and evaluate results of previous actions.
Monitoring of membership outside Europe, and specifically in Asia, for the year 2017
Ensure compatibility between registries (EBMT and national registries)
Further the development of joint meetings bringing together European and non-European teams, with a specific focus in 2018 on Asian and Latin American teams
Annual report to the Board
Strategy
In view of the growing cooperation between many Chinese and European teams and also in view of our 2018 congress in Lisbon with a record participation from Latin America, the EBMT Global Committee has decided to focus first on Asia and Latin America.
EBMT aims to federate all transplant teams willing to share and increase experience in cell therapy today and tomorrow.
Subcommittees & Members

hujiong@medmail.com.cn
China

huangxiaojun@bjmu.edu.cn
China

liukaiyan@medmail.com.cn
China
wudepei@medmail.com.cn
China

chidungyk85@gmail.com
Viet Nam
jhwon@schmc.ac.kr
South Korea

kstwoh@skku.edu
South Korea
william.hwang.y.k@singhealth.com.sg
Singapore

gregjaim@gmail.com
Argentina

bpsimoes@gmail.com
Brazil

Member Global Committee
Post-transplant pharmacologic modulation subcommittee
bazarbac@aub.edu.lb
Lebanon

maljurf@kfshrc.edu.sa
Saudi Arabia
lalitaiims@yahoo.com
India