General Information
The EBMT is honored to announce this year`s 16th Educational Course of the Lymphoma Working Party on "Malignant Lymphomas: State of the Art with Emphasis on Cellular Therapies".
This year`s course will be held in Münster (Germany) on October 22nd & 23rd, 2020.
For the last 15 years, the course has developed into an important International Forum for young researchers and transplant physicians to closely interact with top experts in diagnostics and treatment of lymphoma focussing on transplantation and other cellular therapies.
Again, travel grants for participants from outreach countries and case report presenters will be available.
Looking forward to welcoming you in Münster!
Norbert Schmitz, Philipp Berning, Ramona Wullenkord - Local organizers
Silvia Montoto - Chair of the Lymphoma Working Party
Anna Sureda - Chair of the Educational Subcommittee
Registration

EBMT members can use their CIC code to pay the discounted early bird fee until 16th August 2020. If you are not part of EBMT yet, please consider becoming a member. For more information visit this page.
* For nurses, university students and data managers; an accreditation (ID card or letter from your department) will need to be provided during the registration process.
The fee includes entry to all sessions, educational materials, and catering in the venue during the course.
To register, please click on the "Register" button above. You can pay by credit card, PayPal, or wire transfer.
Should you need a VISA letter, you'll be able to download it after the registration process.
If you have any questions, please contact education.events@ebmt.org
Certificate of Attendance
After the event, you will receive an email with a short survey to evaluate the course. After the survey is completed, you'll be able to download the certificate of attendance.
Please click the document above to download the Scientific Programme.
EBMT - LWP Unrestricted Grants
The Lymphoma Working Party offers two types of unrestricted grants for participants which will cover the registration fee, accommodation and travel costs.
These grants are:
- 6 Outreach Grants: to be eligible for these grants, please send to education.events@ebmt.org a copy of your CV and an expression of interest letter in English before the 15th of July 2020.
- 6 Case Report Presenter Grants: to benefit from this grant, please send to education.events@ebmt.org a copy of your CV, an expression of interest letter together with a Case Report on the course topic (max: 500 words) in English before the 15th of July 2020.
Guidelines for the case presentation submission:
• Word or PDF document
• Case can be structured
• Maximum number of words: 500
• Mention all the authors
IMPORTANT:
The case presenters selected will have free registration to the course, please don't register before getting the confirmation that your case has been selected. Confirmations will be available from the 29th of July 2020.
Venue
FACTORY HOTEL
An der Germania Brauerei 5.
48159 Münster, Germany
Website: https://www.factoryhotel-muenster.de/en/
How To Arrive
Münster Airport is 25 km from the Factory Hotel - taxi ride cost approx. 50€
Düsseldorf International Airport is 128 km from Münster and it has more international direct flights available.
Düsseldorf Airport is connected with Münster as follows:
* S-Bahn train from Flughafen Düsseldorf to Düsseldorf Central Station (15min)
* Deutsche Bahn train from Düsseldorf Central Station to Münster Hauptbahnhof (1h20min)
* Bus 6 or 15 from Münster Hauptbahnhof to "Germania Campus" (16min) or Taxi ride ( 7 to 15 min depending on traffic).
Buses no.6 and no.15 stop at "Germania Campus" (next to the hotel).
Information for GPS users: Grevener Strasse 91 (some elderly software don't recognize the postal address)
Parking facilities available at the hotel at a cost of around 10 € per day.
Accommodation
Participants will be responsible for covering their travel and accommodation costs. Please see the map below for some recommendations within walking distance of the venue. Alternatively, you can check booking.com for more options.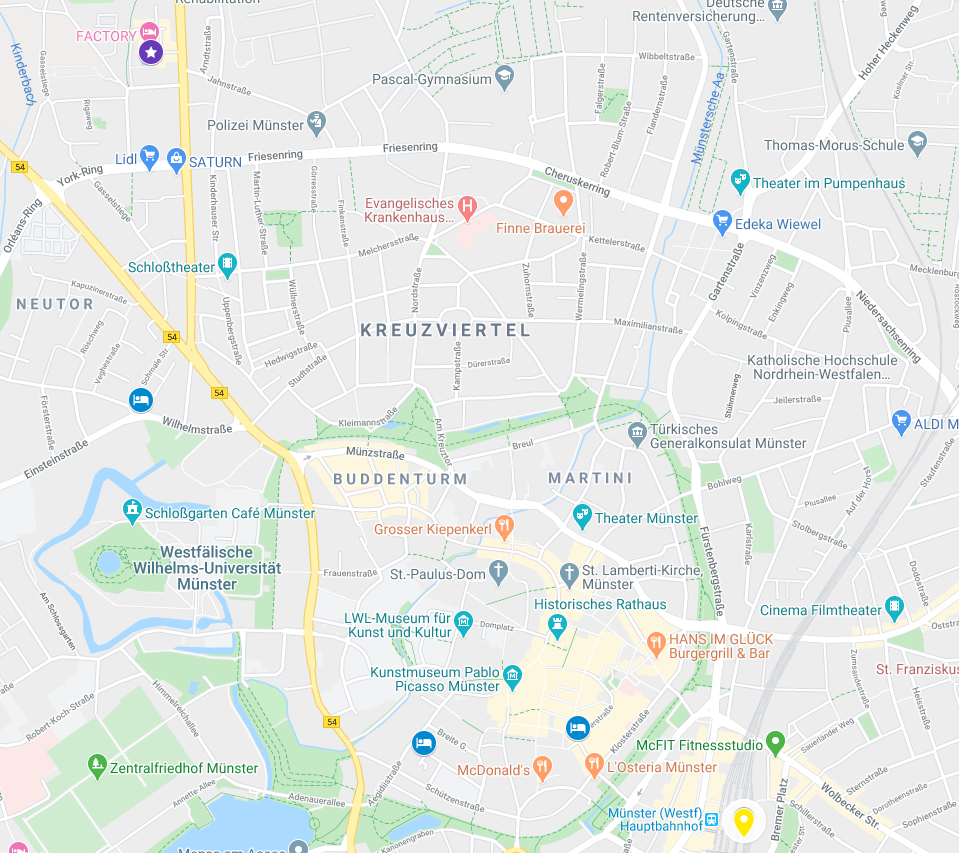 IMPORTANT:
The EBMT cannot accept liability for personal accidents or loss of or damage to private property of participants. Participants are advised to take out their own personal travel and health insurance for their trip.
Please make sure that you have a valid passport/ID to travel to Germany
We are pleased to announce that this educational course will be accredited by the EBAH-CME credits system.
In order to collect your EBAH-CME credits, we recommend you to create an EBAH-CME account by clicking on the following link. By registering to the EBAH-CME website, you'll have access to the record of other events you have already been accredited for. After the meeting, an updated attendance list will be uploaded to the EBAH-CME website.
If you already have an account, you will receive an email to evaluate the course and claim your points. If after 15 days you have not received an email regarding your credits, please contact the EBMT Educational Unit at education.events@ebmt.org
There are various opportunities to support this meeting. For more information please send an email to fundraising@ebmt.org to indicate your interest.