Legal & Regulatory Affairs Committee
Ongoing evaluation of the Tissues and Cells Directives
The current Tissues and Cells Directives dictates clinical practice for our community in many different ways e.g. for transplanters, there are many regulations that regulate with how to manage stem cell products and derivatives at collection and processing. Although this regulation is broadly considered as a major success e.g. no new outbreaks of HIV infections through blood infusions, it was also felt by many different stakeholders that the Tissues and Cells Directives needs a further modification to keep pace with many recent changes occurring in a rapidly evolving field. Therefore, almost 3 years ago, the EU launched an evaluation of the Tissues and Cells Directives and on 28 October 2019 the Stakeholders Meeting in Brussels marked the completion of the evaluation process. EBMT was invited to sit on one of the panels to provide more input on whether the Directive should be changed at all and if so, what would be important aspects to consider. EBMT was represented by Jürgen Kuball (Utrecht, NL), Chair of EBMT's Legal and Regulatory Affairs Committee (LRAC), while Eoin McGrath, EBMT employee, presented on behalf of the Common Representation of Substances of Human Origin's (CoRe SoHO), an umbrella group which includes the EBMT, European Association of Tissue and Cell Banks, European Blood Alliance and European Eye Bank Association.
Less prescriptive Directives supported by frequently updated technical Annexes – the way forward?
Panel 1 discussed the challenge of keeping legislation up-to-date in a dynamic sector with changing risk and Jürgen Kuball gave the HSCT perspective, emphasizing the need for a less detailed directive linked to more detailed regularly updated annexes to guide the community allowing for regulation that is better equipped to adapt. In addition, the role of registries in capturing outcomes for defined products was discussed.  Eoin McGrath shared the professional associations' point of view on Panel 3 which considered challenges of providing appropriate and robust oversight and advocated the need to combine regulations with other means including more actively co-opting professionals to the authorisation processes and using data and studies to guide decision-making. Furthermore, on behalf of CoRe SoHO he urged that the work already performed through EU-funded actions can be fully leveraged to support any emerging regulations such as GAPP, VISTART and EuroGTPII (see below).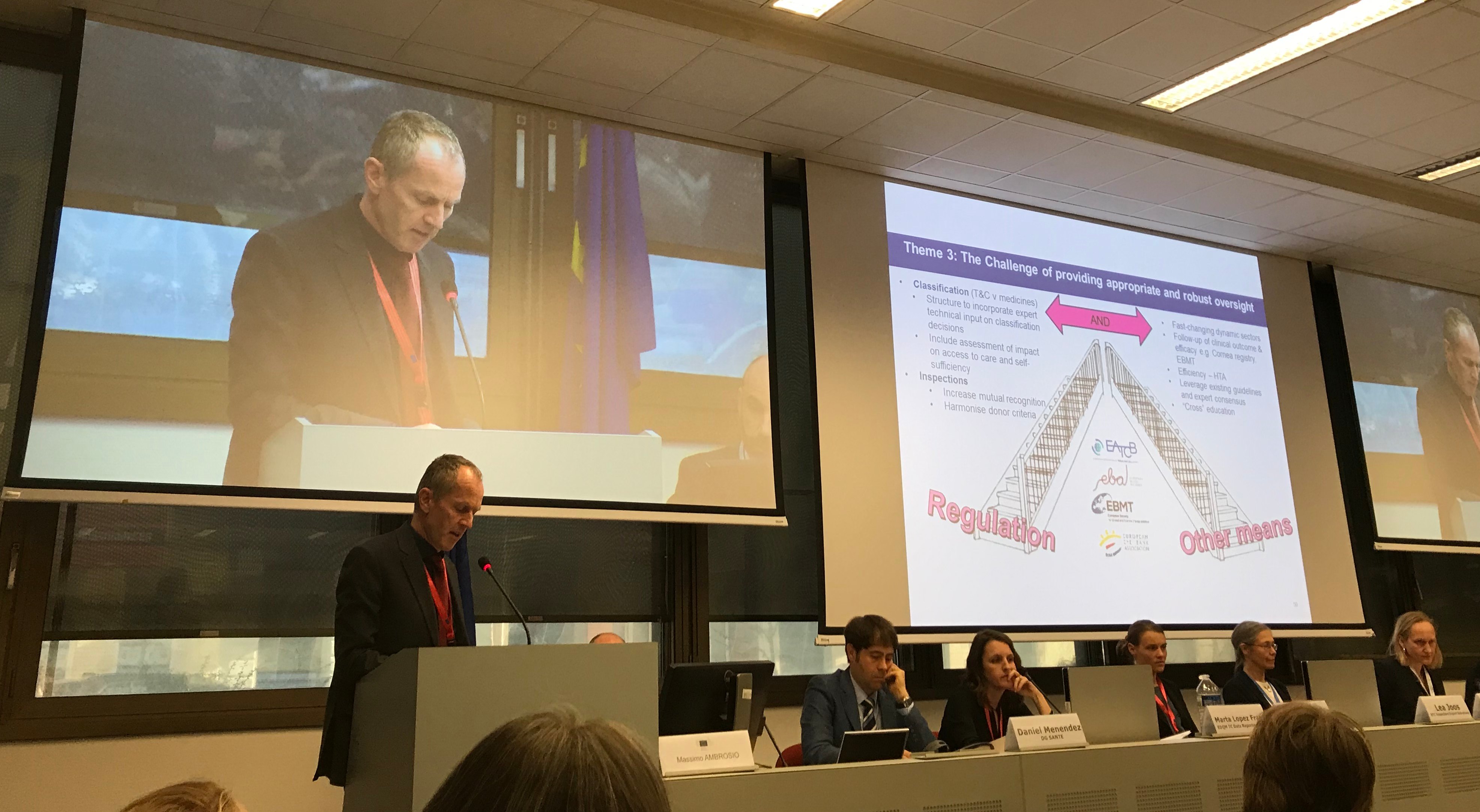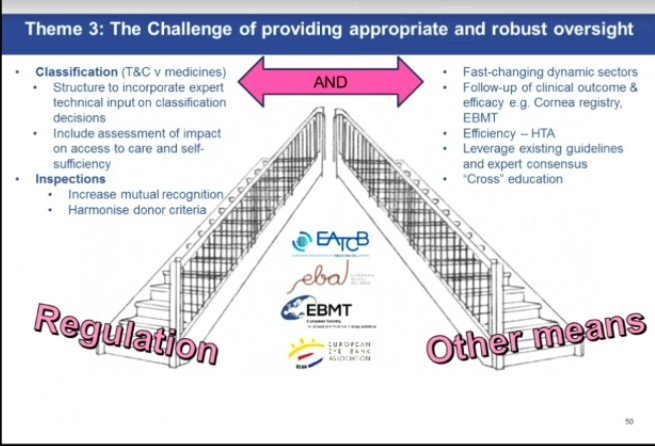 Many other participants agreed that an update of the regulations is needed with a new less prescriptive format supported by technical annexes that are developed outside of the EU's rigid legislative processes. An example is the EDQM Tissues and Cells Guides which are revised regularly by experts from the field and competent authorities and can thus keep up with changes in practice.
How to guarantee access?
Access to safe, affordable medicines was among the areas that Stella Kyriakides, the incoming Public Health Commissioner highlighted during her selection hearing on October 1st (see link) and timely access is included in the European Pillar of Social Rights. Therefore, the case was made for reviewing the classification decision-making process between Tissues and Cells and Medicines/Drugs to include assessments of how decisions can affect patient access to therapeutic products or processes. We shared our observation that in Europe the very same product may be classified differently by different member states. In particular, in our opinion classification of a product as an ATMP within the current legal framework can reduce substantially access to products in some countries. Creating a more harmonized classification would be key to improve access to defined compounds in all member states.
Harmonization of regulatory processes across Europe
Work on achieving fuller harmonisation of regulatory processes across the EU was encouraged through the EU's GAPP and VISTART Joint Actions, both of which include EBMT input. Existing accreditation schemes in the field such as JACIE or good clinical practice guidelines such as EEBA's Minimum Medical Standards were also recommended to complement the regulators' task by offering profession-led standards-based assessment processes which help to build capacity to meet regulations.
Prime time for registries to follow up on clinical outcomes
In line with the qualified opinion of EMA for the CAR T registry the follow-up of clinical outcome and efficacy for other defined products is increasingly of interest not just to the healthcare professionals but also to other stakeholders. Initiatives to allow outcome data to be incorporated into other regulatory processes were encouraged e.g. GAPP Work Package 8 and EBMT voiced support for authorities to consider already-existing resources such as the European Cornea registry or the EBMT HSCT and Cellular Therapy registry and emphasised the need to facilitate outcome data reporting to established registries. Among these stakeholders are the EU Health Technology Assessment (HTA) agencies charged with establishing the efficiency of these applications of tissues and cells.
Improving cross-fertilization between regulators and health care professionals
EBMT praised the unique opportunity to contribute views from a health care professional perspective and encouraged EU representatives to create more opportunities in which experts from the regulatory and medical fields can interact and learn from each other. The professional associations were strongly flagged as sources of expert input in a field which is changing rapidly and which represents a challenge for regulators to keep pace with e.g. faecal transplants or CAR-T cell therapies whereby stem cells become medicines rather than 'classic' transplants.
Next steps
Assuming that the recommendation is made to revise the Directives, the member states would then need to approve this step and for the process to being which may take many months or more to complete the process. We look forward to participate further in this process and may invite our colleagues to join the EBMT's LRAC during this very exciting and important process to shape a future of affordable and accessible health care to all European citizens.