The EBMT for Trainees
By Claire Horgan and Nico Gagelmann, EBMT Trainee Committee Co-chairs
The EBMT Annual Meeting 2021 gave us the opportunity to deliver the first ever special session 'The EBMT for Trainees', highlighting the aims and mission of the EBMT Trainee Committee, as well as delivering trainee-focused presentations covering a range of useful topics. We wanted to build a programme that delivered a variety of resources targeted specifically at trainees in different settings, whether they are clinical or more research-focused, as well as giving a general overview of useful tips for those starting out in the field of transplantation and cellular therapy. The session included advice on establishing a career in transplant and cellular therapy, as well as trainee-specific presentations about the clinical management of acute GVHD and VOD, commonly encountered complications in the post-transplant setting. 
We are grateful to the speakers for their time and effort in producing such excellent presentations. The session is currently viewable on the on-demand library for registered participants and it will be promoted on the "EBMT Trainees" YouTube Channel.
Moving forward, we want to represent and increase awareness of the needs of trainees in SCT and cellular therapy internationally, as well as encouraging trainees to establish themselves within the wider EBMT community. We want to build a close collaborative working relationship with the EBMT Board, Working Parties and Committees, and reach out to other associations and groups in order to provide opportunities for trainees.
Looking towards 2022, we hope to further broaden the educational opportunities for trainees with more sessions and collaborations at the coming Annual Meeting in order to increase accessibility and the scope of the EBMT community for trainees.
EBMT Young Ambassadors 2021
We asked this year's EBMT Young Ambassadors about their experience during the 2nd virtual Annual Meeting; what they learned being a part of EBMT 2021; and what was their "take home" message.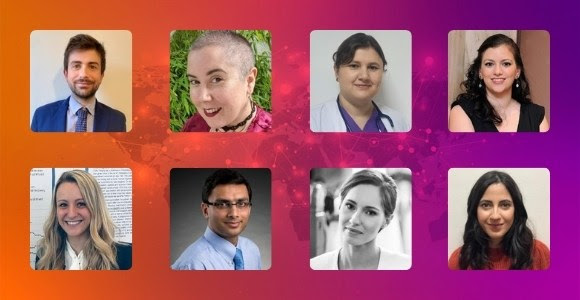 Daniele Avenoso
Consultant haematologist at King's College Hospital NHS Foundation Trust, London UK - @DaniEinthoven
Being an EBMT young ambassador was a real privilege for me. Despite the virtual location, the Annual Meeting was an excellent opportunity to improve my knowledge and listen to the most updated data about stem cell transplant and cellular therapies. 
I really enjoyed the educational sessions and acute leukemia working party meeting, and the sessions about aplastic anemia and bone marrow failures. These sessions were educational and inspiring moments: the speakers communicated the most recent findings of these topics and transmitted the passion for their job.
What I liked about the meeting was the possibility of meeting (virtually) several attendants from every part of the world. This opportunity was a unique experience to improve my knowledge and learn how to look at the same problem from a different perspective.
My "Take Home Message": being an EBMT-YA was fantastic. I had the opportunity to learn vast notions about transplant and cellular therapies and meet young colleagues who share my same interests; this is also a starting point for us to start to "grow up" together within the EBMT community.
 
Emma Chalmers
Clinical Educator for Cancer Services, Edinburgh Cancer Centre, NHS Lothian., Edinburgh, Scotland - @EmmaNurseTutor
As a first-time attendee of the EBMT Annual Meeting, I was struck by just how much work and therefore education is put into conferences of this magnitude. I was excited to see that I could tailor my days to those presentations I felt were relevant to me, or that interested by and I was particularly heartened to see patient and donor sessions.
EBMT gave opportunity for Young Ambassadors to gain some excellent insights and skills in building up careers in many different routes. In particular I found the sessions on what to avoid when writing a paper and social media in cellular therapy to be most captivating.
I always enjoy the nurses sessions at various EBMT based conferences, however the Nurses Group session on Supportive and Palliative care was my favourite- reiterating the need to have difficult but practical conversations with patients and care givers early on in the treatment programme in order to deliver the best possible patient-centred care.
My take home message is one of hope. In my few years working in a haematological setting I have seen an explosion of new treatments become available with much more opportunity for the survival of our patients. Seeing the amount of passion in my EBMT colleagues continues to give me hope for an even better future in Haematology.
Cristina Jercan
Paediatrician, Paediatric oncology - haematology – in training, PhD – student, Carol Davila University of Medicine and Pharmacy, Paediatric physician in BMT Unit of Fundeni Clinical Institute, Bucharest, Romania - @crixtina86
It has been such a difficult year, with many challenges and restrictions, so attending the EBMT 2021 Virtual Congress has turned out to be a "fresh breath". I was so honoured to be EBMT 2021 Young Ambassador in such changing times. The congress was, as usual, with great topics and extraordinary speakers. The most interesting sessions were in my opinion, Meet the Expert Sessions, and I managed to participate in quite a few.
As a young specialist, I am aware of how important this year event was for me. Despite the challenges from the ongoing COVID-19 pandemic, EBMT 2021 has turned out to be very exciting and interactive, and the fact that most of the sessions are available for two more months is more than great. This gives us, the young generation, more time to learn from all the presentations we were not able to see during the live event.
I also enjoyed the YA sessions; I found the topics very useful. I also enjoyed spending "virtual" time with my ambassador colleagues.
The take home message is to return to the basics, to science. We are living some unique and challenging times, and the only thing that will help us sail through is science. Quality science, with examples form our own work, from our studies, from our patients, from our successes and failures as well, is needed and EBMT Congress is the one that gathers them all. I am looking forward to next year meeting!
Rosamaria Nitti
2nd year resident in Hematology at the Bone Marrow Transplant Unit of the San Raffaele Scientific Institute, Milan, Italy - @NittiRosamaria
This year Virtual Annual Meeting was my first EBMT Annual Meeting experience, a very exciting one! I had the opportunity to explore precious Educational Sessions and state-of-the art Symposia, and the Young Ambassador and Trainee sessions were definitely hidden gems! I discovered the EBMT gives a 360° view on the latest scientific developments, from cutting-edge CAR-T cells to post HSCT maintenance therapies, but also on less explored areas, like the microbiome role in HSCT, cellular therapies for COVID-19 or HSCT for immune modulation of solid organ transplantation. I was particularly fascinated by the immune resetting role of autologous HSCT in Autoimmune Diseases, discussed in the ADWP Workshop.
Choosing between sessions was not easy, however, my agenda is now full of on demand content I will be watching in the next two months – a pro of the virtual format.
Being a Young Ambassador, I had the privilege to share my experience with a wide medical community via social medias, and I was astonished to see how fast and how far my messages were traveling, and how many people, all around the world, I could interact with. In spite of physical distancing, close connections are kept strong by the EBMT community and are the building blocks of scientific advances. Moving my first steps in this community, I am thrilled to collaborate with my fellow EBMT Trainees on new projects.
After this amazing Virtual Meeting experience, I am looking forward to attending to my first face-to-face EBMT Annual Meeting!
Vera Radici
4th year resident at Department of hematology and Bone Marrow Transplantation, Udine, Italy. Currently working at Saint Antoine Hospital, Paris, France - @RadiciVera
It's been an honor to be a young ambassador at the 47th EBMT Annual Meeting. It allowed me to further deepen my knowledge about transplantation and cellular therapy. Extremely useful for me, as a young haematologist, were the educational events and sessions for trainees.
It was hard to set the agenda because there were several interesting presentations that overlapped, but the virtual platform allowed me to listen and review all the sessions and even change topics with a single click. Being a YA has enabled me to share news from the scientific community using tools such as social media, which are currently extremely useful in stimulating curiosity and continuing to share scientific discoveries in real time. I mainly focused on sharing in "tweetorials" everything that I thought were most useful and I was amazed that some of my posts were viewed by more than 5000 people worldwide! Receiving thanks from some young colleagues like me also stimulated me further to share the most appealing highliths... and it was fun! I am convinced that projects such as this are fundamental in training clinicians with high-level scientific skills and in creating a network of scientific sharing.
Akshay Sharma
Transplant Physician, Clinician-Scientist at the St. Jude Children's Research Hospital, Memphis, USA - @AkshaySharmaMD
Attending a virtual conferences in the midst of a pandemic was both an interesting and a challenging experience. During a 'regular conference' overlapping sessions mean that one has to pick which sessions to attend. Virtual format and availability of recorded/on-demand sessions beyond the conference days meant that I could pace myself leisurely over several days without having to rush through as much as possible within the span of a few days. Further, being able to attend the meeting from the comfort of my home office was an added benefit which allowed me to be close to my family. While, I did miss meeting friends and having impromptu scientific discussions and sharing anecdotes with colleagues from across the world, many of these limitations were overcome by the robust #EBMT21 social media presence.
Once again, as a thriving transplant community, we have shown that we can overcome any hurdle together. The sessions covering COVID-19 in transplant recipients were a clear example of our resilience and rigor. I am very excited to share the knowledge gained during this meeting with my peers and colleagues.
Zofia Szmit
Physician, PhD, 4th year resident in Anesthesiology and Intensive Care Researcher at the Department of Pediatric Hematology, Oncology and Bone Marrow Transplantation, Wroclaw Medical University, Poland - @ZofiaSzmit
Being the EBMT Young Ambassador was a real privilege and an outstanding experience. I was glad to see that we are still passionate about our job and eager to learn new skills despite the challenging times. Numerous innovative and valuable lectures delivered at the Meeting were just clear evidence that beyond fighting the coronavirus, we are all working very hard to make constant improvements in the field of stem cell transplantations. I was genuinely inspired by the novel approaches to the treatment of acute GvHD and the latest news on CAR-T therapy. Not to mention how great it was to be a faculty member on a Nurses' Symposium about VOD- that is where you can discover the true meaning of a multidisciplinary team. Although the Meeting has come to a close, the On-Demand Library is full of interesting sessions I plan to attend in the next few weeks.
Joining the EBMT Young Community was an absolute pleasure, and I am looking forward to continued cooperation with EBMT Trainees from all over the world. The pandemics have changed a lot, but the EBMT Annual Meeting's spirit remained untouched!
I really do hope that in the next year we would meet in person.
Francesca Zeni
Nurse, Paediatric Haematology and Oncology and Haematopoietic Stem Cell Transplantation Unit, Ospedale Donna-Bambino, Verona, Italy.
I was so excited when I was chosen as Young Ambassador 2021. It was a big privilege for me and a great opportunity to represent Young Nurses in this field. I attended the EBMT Annual Meeting for the first time and it went above and beyond my expectations. Despite the virtual platform, it seemed to be in a real meeting hall with six different sessions in six different auditoriums at the same time. It was amazing! Furthermore, there was the opportunity to ask questions and discuss with experts all over the world, even though we were not face to face.
The meeting was full of interesting events and I was inspired by the Nurses Group sessions, the Patient, Family and Donor Day and the CAR-T programme: the knowledge in transplant field increase continuously and thanks to this event I had the opportunity to learn more about the best care for our patients and the various practices used around the world.
During the Young Ambassador session, experts gave us good suggestions about how to write a correct a paper and how to develop an Academic and Pharmaceutical career. It was very interesting to listen to the experts' experience and their stories gave me motivation to start building my research career. 
After this meeting, my interest in Haematopoietic Stem Cell Transplantation has increased and I am looking forward to sharing the knowledge I have gained with my community.
My take home message for the young community: if you would like to challenge yourself and improve your knowledge and your ability to take care of patients, try it!
This experience in EBMT will not disappoint you! I hope to be part to this great meeting also next year in Prague and have the opportunity to see you soon!