-

INTRODUCTION
The EBMT is happy to announce the upcoming 3rd EBMT International Transplant Course. The course will be held in Barcelona (Spain) from the 7th to the 9th of September, 2018.
The aim of the course is to bring BMT experts and young transplanters together to share their expertise and knowledge on following topics:
Diseases:
AML

MDS

MPS

ALL

NHL

Myeloma

Autoimmune Diseases

Hemoglobinopathies

SAA & Bone Marrow Failures
Immune Biology & Graft Engineering:
Cellular Therapy

CAR T Cells

DLI

Immunomodulation
HSCT
GVHD
Infection Management
REGISTRATION
The general registration fee is 300€. This fee includes all sessions, educational related materials and catering during the course.
The registration price for nurses, students and data managers is 50€ (accreditation in advance will be required).
To register for this event, please click on the button below.
If you have any questions, please contact: education.events@ebmt.org
An early bird fee of 250€ will be available for general registrants until the 8th of July, 2018.
SHARE ON TWITTER
#EBMTITC18
Please click the document above to download the Scientific Programme.
LOCATION
Barcelona is a Mediterranean and cosmopolitan city with Roman remains, a medieval quarter, and beautiful examples of 20th century Modernism and avant-garde.
Today Barcelona is one of the world's leading tourism, economic, trade fair and cultural centers, and its influence in commerce, education, entertainment, science and arts all contribute to its status as one of the world's major global cities.
We hope to welcome you to this beautiful city and offer a meeting full of education and science.
VENUE
University of Barcelona - Faculty of Medicine
Paranimf Auditorium
Address: Carrer Casanova 143, 08036 Barcelona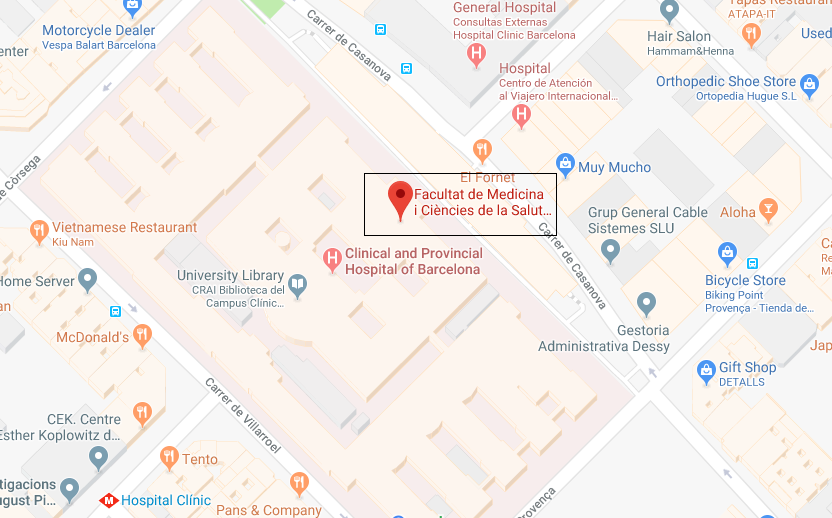 HOW TO GET TO THE VENUE
From Barcelona El Prat Terminals 1 & 2, please take the metro L9 at Airport Metro Stations to Collblanc station, change to L5 direction to Vall d'Hebron, stop at Hospital Clinic station and walk 5 minutes to the Faculty of Medicine (next to the Hospital Clinic building).
For more information about local transportation please consult the TMB website.
HOTELS
The Faculty of Medicine has many different hotel options surrounding it, and most of them are within walking distance. Please see below for some recommendations. September is still high season in Barcelona, so we recommend that you arrange your accommodations as soon as possible.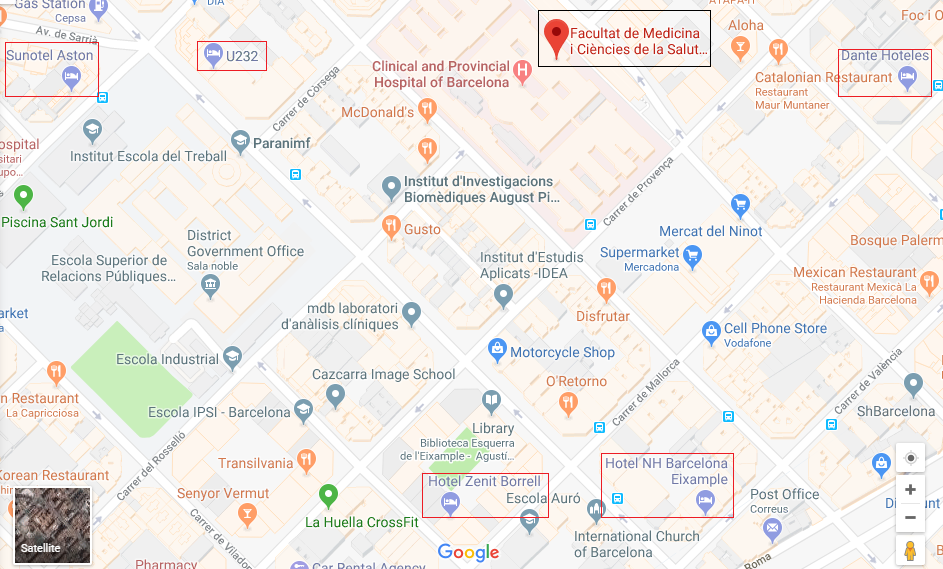 Alternatively, you can check booking.com for more options.
CASE PRESENTATIONS
The 3rd EBMT International Transplant Course is planned to be an interactive educational meeting with the participation of all the delegates. We would like to encourage you to share your case studies with us. The selected studies will be incorporated into the scientific programme with a 10-minute presentation for the person who submitted it. Please note that in the case that there are more submissions than case presentation spots available, some studies might be assigned as poster presentations.
Abstract guidelines:
*Abstracts should be submitted in English
*Your abstract can be structured (e.g. Objectives, Methods, Results, Conclusions) or unstructured.
*Maximum number of words: 250
*Abstracts will be submitted to the peer review procedure.
Please send your case study before the 29th of July, 2018, to education.events@ebmt.org to enter the selection process.
IMPORTANT:
Please don't register before getting the confirmation that your case has been selected. Confirmations will be available from the 6th of August, 2018.
We are pleased to announce that this educational course will be accredited by the EBAH-CME credits system.
In order to collect your EBAH-CME credits, we recommend you to create a EBAH-CME account by clicking on the following link. By registering to the EBAH-CME website, you'll have access to the record of other events you have already been accredited for. After the meeting, an updated attendance list will be uploaded to the EBAH-CME website.
If you already have an account, you will receive an email to evaluate the course and claim your points. If after 15 days you have not received an email regarding your credits, please contact the EBMT Educational Unit at education.events@ebmt.org.
Gold Sponsor & Lunch Symposium

---
Bronze Sponsor