//
Nursing Research Committee
Nursing Scientific Committee
Nursing Paediatric Committee
Nursing Global Education Committee
After two Annual Meetings of the EBMT that were initially planned in Madrid in 2020 and 2021 but that were held eventually virtually due to the COVID19 pandemic and the war in Ukraine, as local organizers, were eager to finally welcome everyone to the sunny Spanish capital last 28th and 29th of September for the 15th Educational Meeting of the EBMT Nurses Group.
Along with the Nursing Committee of the Spanish Bone Marrow and Cellular Therapy Group (GETH), Michelle Kenyon (Nurses Group President), Daphna Hutt (Secretary) and the Research Committee Chair, we put together an exciting program covering cutting edge topics on stem cell transplant and cell therapy.
A total of 47 faculty members, including patients, nurses, physicians, physiotherapists and engineers from academic and clinical settings, came from 13 different countries to the international event to share with their knowledge, experience and curiosity.
Seventy-three nurses, mainly from Spain, but also representing Denmark, Belgium, Argentina, Lebanon, Slovenia and Sweden, made up the keen audience for both days. Two interpreters worked hard, even raising some occasional laughter (Spanish talk fast!), providing non-stop simultaneous translation, which definitely helped to maintain the public engaged.

On the first day, there were three sessions in the morning. To start, two advanced practice nurses from Barcelona gave an overview on the expectations and challenges of advancing nursing practice in Europe, including their role in organizing and promoting HSCT patients and caregiver's immunization programs. The second session focused on showing evidence on the benefits of physical therapy over diverse health outcomes in children, AYA and adult populations suffering from onco-haematological conditions. Just before the lunch break, one of the most interest appealing sessions took place. The role of Artificial Intelligence in 2023 and beyond, covered the application of IA in healthcare. The speakers shared their own studies carried out in mental health and leukaemia.
After a nice lunch with typical Spanish tapas, two of our Belgium colleagues updated our knowledge on the new treatments for multiple myeloma, focusing on the nursing care for patients receiving CAR-T and bi-specifics therapies. With our full stomach, two really exciting and appropriate talks about Why we care and microbiota and its role in HSCT patients, made us through siesta time without blinking. To close up day one, three national nurses and physicians, refreshed our insights on how to address old complications, such as VOD, TMA and GvHD with new pharmacological approaches.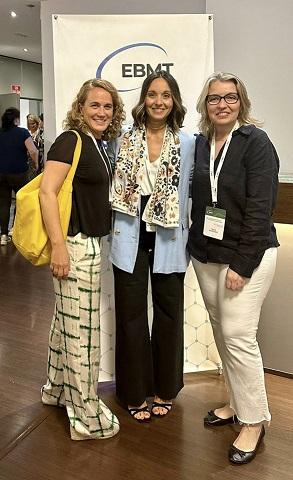 While most attendees enjoyed a relaxing time with some delicious nibbles in the garden, the National Chairs and the Working Party Members held their annual meetings, chaired by Daphna Hutt and Maaike Ruijter respectively.
Friday the 29th started early with the presentations from those nursing professionals awarded in the Nurse sessions at the EBMT Annual Meeting 2023 in Paris. It was a great encouraging session especially for young nurses in the audience. After that, two experienced clinicians gave an update on interesting topics for the day-by-day nursing practice. The first speaker, with more than 30 years of experience in myeloma, talked about peripheral neuropathy management in transplant patients. The second speaker generated quite a bit of discussion in the audience after sharing her practice on apheresis and cell therapy. 
The event was proactively "humanised" by a group of art-therapist who conducted a hands-on workshop on humanising healthcare. They showed us how to perform and easy handicraft with a CD cover and plasticine, while they provided some research evidence on the benefits of art therapy for transplant patients.
After a coffee break in the sunny garden, session IX covered the use of e-Health in the transplant setting. After a wonderful presentation on the Implementation of SMILe (an integrated care model in allo-HSCT) in Germany and Switzerland, a fantastic and brave patient came all the way from Barcelona to share her experience as a participant of a clinical trial with an e-Health app. To finish up, the closing conference made us think about how the context around us influence on the success of health interventions, such as e-Health, that we implement to ultimately improve patients' outcomes.
Recognising that clinical nursing practice, education and research are not separate, this 2023 programme has aimed to integrate all these aspects into one Education Event. This important meetings for the nursing community could never take place without the hard work of EBMT staff members, especially Nerea Lindoso and Mari Fortuño, as well as the sponsors. We thank them all for their support, as well as we thank all faculty and attendees for their interest and participation in the event. We really hope it has fulfilled the audience expectations and we wish to see you all in the 16th Education Meeting in 2024.