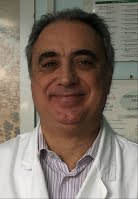 Dr. Riccardo Saccardi
Dr. Saccardi has been involved in the field of Haematopoietic Stem Cell Transplantation since his specialization in Haematology, and has worked in the clinical, laboratory and cord blood bank areas. His centre has successfully implemented both the ISO and FACT-JACIE Standards. 
In 2003, he participated in one of the first JACIE inspector training courses and since then has regularly participated in JACIE inspections, mostly in clinical facilities and often as team leader. He also regularly attends the annual courses organized by the Italian Transplant Agency (CNT) for training inspectors for the national accreditation program, based on the JACIE standards.
In addition to day-to-day haemato-oncology and HSCT practice, his main academic interest has been severe autoimmune diseases and he has led and contributed to various national and international networks, both in the clinic and in the lab, including cooperative studies for the standardisation of graft quality both in cord blood and peripheral blood stem cells. In this way, Dr. Saccardi is not only well positioned to advise on routine aspects of HSCT, but his expertise will also help develop JACIE's perspective on new cellular therapies.
He firmly believes that rules and regulations in all fields of clinical medicine must continuously evolve, updating clinical practice from experimental medicine and promoting standardization across countries. He considers that JACIE has been a very important tool both for increasing the safety of procedures and promoting the homogenisation of clinical practice of HSCT in Europe and further afield. He also believes that the development and management of regulations must be carried out through close interaction between quality management specialists and clinical professionals involved in daily practice, keeping the standards as close as possible to the field of transplantation.
Former Medical Directors

EBMT Secretary
Member JACIE Committee
United Kingdom

Former JACIE Medical Director

Former JACIE Medical Director