Scientific report 2022 of the Severe Aplastic Anaemia Working Party (SAAWP)
Major achievements
Top level publication and initiation of the RACE-2 trial:
RACE trial comparing standard immunosuppressive therapy (ATG+CsA) plus Eltrombopag vs Standard IST alone in patients with severe aplastic anemia (SAA) was published in January 2022 (Full text link). This EBMT study, supported financially by Novartis, Pfizer and Alexion, demonstrated that Eltrombopag at the top of standard hATG+CSA was associated with a better and quicker response at 3 and 6 months. At 2 years, event free survival was significantly higher for patients receiving first line the experimental treatment. Horse ATG+CSA+Eltrombopag is now the standard of care for adult patients with SAA. We acknowledge the Clinical Trial Office (CTO) of the EBMT, together with all RACE investigators and nurses for their outstanding work, as well as patients who have accepted to participate in this trial.

The RACE-2 trial has been ongoing since 2021. This retrospective study will assess the long-term follow-up of patients included in RACE which is of outstanding importance to evaluate the long-term safety of the use of Eltrombopag first line in patients with SAA. The trial began early 2022.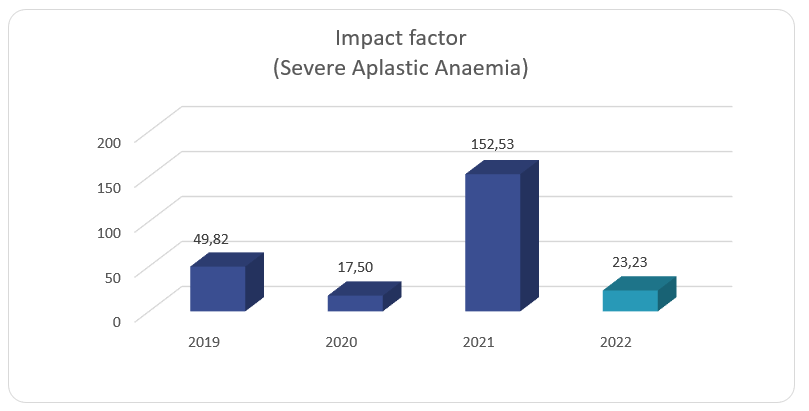 |   | 2019 | 2020 | 2021 | 2022 |
| --- | --- | --- | --- | --- |
| Oral presentations | 8 | 4 | 8 | 22 |
| Poster presentations | 1 | 6 | 0 | 2 |
| Educational events | 2 | 4 | 3 | 4 |
SAAWP Business Meeting (Virtual) - May 27, 2022
SAAWP Business Meeting (Face to face) - Nov. 17, 2022
2nd ESH-EBMT Translational Research Conference: Bone Marrow Failure Syndromes: From the cell to the cure of the disease - Nov. 18-20, 2022