Reporting is learning. By reporting data on patients treated with CAR T-cell therapies, you contribute to academic research and regulatory decision making by health authorities. Ultimately, this supports EBMT's mission to advance cellular and stem-cell based therapies and improve the lives of patients with blood-related disorders.
Data quality is fundamental to doing meaningful analyses. To ensure that we have complete and accurate data, EBMT invites centres that treat patients with commercial CAR T-cell therapies to participate in a data collection initiative to support Post Authorisation Safety (PAS) studies mandated by the European Medicines Agency (EMA). Centres that participate will be financially compensated.
How is the Data Collection Initiative set up to support PAS studies?
The data collection for PAS studies is based on the standard Registry forms and procedures, but a wider infrastructure is being set-up to support PAS studies and reimburse centres for their work. We need to overcome this startup hurdle now to benefit both the current and future PAS studies.
Background information
With the approval of the first CAR T-cell therapies, the EMA required MAHs to monitor their products in the long-term. The cellular therapy module of the EBMT Registry received a positive qualification opinion from the EMA, supporting the use of Real World Data captured in the EBMT Registry to inform regulatory decision making by health authorities.
Frequently Asked Questions (FAQs)
What are the requirements for participation in the data collection initiative?
To participate a centre must, first and foremost,

report

data on all patients treated with (commercial) CAR T-cell therapies in the EBMT Registry database as per the standard data collection forms and processes (the Cellular Therapy form in ProMISe). This does not require any additional contracts and/or regulatory approvals. Consequently this data collection is already ongoing and should continue. 

Secondly, if needed, help the EBMT Clinical Study Unit with obtaining regulatory approval for the updated informed consent form which allows patients to also consent to share the data collected in the Registry with EBMT's collaboration partners including MAHs and health authorities. 

Thirdly, (re-)consent patients on the updated informed consent form. 

Finally, help set up contracts between your centre and EBMT which allows EBMT to reimburse your site for the data management efforts. (See the question "What contracts should my centre sign?" below).
What does my centre have to do when participating in the data collection initiative?
You will need to complete the patient data in the Cellular Therapy form in ProMISe as per the standard Registry procedures. In addition we ask you to comply with data requests to ensure completeness and quality of the data.  

Data on patients treated with CAR T-cell therapies needs to be reported at the following time points:  baseline, 100 days, 6 months and then yearly up until 15 years have passed and at that time a 15 year follow up will be conducted.

Also, we ask you to consent patients with the updated patient informed consent form, which asks patients to indicate whether they allow sharing of their data with EBMT collaboration partners and source data verification of their data.

 

Only patients who explicitly consent to share their data with collaboration partners will be included in the dataset that is shared with these parties.
Why should my centre participate? What is in it for me?
Participation in the data collection initiative is important because 'reporting is learning'. The PAS studies are mandated by EMA because we lack information on the long term safety and efficacy profiles of CAR T-cell therapies.

As a prominent

European medical community we want to be in the lead of evidence generation of these very promising treatments. Collectively we can generate robust real world evidence to support regulatory decision making as well as scientific studies. 

The current protocols for the PAS studies are based on secondary use of Registry data. With this approach we prevent the creation of additional databases owned by marketing authorisation holders.

The EBMT Registry makes

data available to the scientific community and it avoids the need for centres to report data to multiple registries. By using a harmonised data collection form for cellular therapies, it will be easier to enter and compare data on different products. 

Centres will receive a generous reimbursement for their data management efforts. This money will be given for all patients treated with commercial CAR T-cell therapies who (re-)consent to sharing their pseudonymised data with MAHs for the sole purpose of the PAS studies. 

If you have a good study proposal you can submit it to the relevant EBMT Working Parties or the GoCART Work Package on Scientific Excellence. When your proposal is selected/accepted, you will not only have access to the data from your centre but (indirectly) also to data from other centres in your country or the Registry as a whole. Working Parties have dedicated statisticians, data managers and study coordinators to support the conduct of the selected proposals.
What contracts should my centre sign?
The contracts for the data collection initiative for the PAS studies are split in two parts; the Data Collection Master Agreement and the Product Specific Agreement. The Data Collection Master Agreement governs the general data collection requirements that are identical for all CAR T-cell therapies. Whereas the shorter Product Specific Agreement specifies additional requirements for the individual CAR T-cell therapies. For each new PAS study you will only need to sign a new Product Specific Agreement. 

By using this set-up, in which the Product Specific Agreements are incorporated in the Data Collection Master agreement, we aim to reduce the time needed for contract negotiations and thus reduce the start-up timelines and burden for new cellular therapy products/PAS studies.

We also remind your centre to sign the Joint Controllership Agreement (JCA)

. This document governs all data processing activities between EBMT and the centre and is thus a prerequisite but not specific for the PAS studies. The JCA should be signed by all centres, including those who do not participate in the data collection initiative for PAS studies.
What is the Joint Controllership Agreement and why does my centre need to sign this agreement and who should sign it?
Protecting patient data is of key importance to EBMT and all personal data is processed in compliance with the General Data Protection Regulation (GDPR). EBMT signs Joint Controllership Agreements (JCA) with all centres that report patient data to the EBMT Registry so that both EBMT and the reporting centre "jointly determine the purpose and means of the processing of personal data":

The common purpose of data processing is the facilitation of research and ultimately the improvement of patients' lives. 
The means of data processing is the EBMT Registry. Reporting centres voluntarily report patient data in the Registry. 

Reporting centres holding full membership to the EBMT contribute to jointly determining the purposes and means of the processing of personal data by participating in EBMT working parties that contribute to the development of the data collection forms, as well as the selection and execution of research proposals. Full members also elect EBMT Board members, EBMT Working Party Chairpersons and the President of the EBMT Nurses Group. 

The joint controllership arrangement is the preferred approach for the relationship between EBMT and reporting centres, as it describes the roles of each party in determining the reasons and the ways of using the patient data and provides transparency to the patients. This approach also provides centres and EBMT with better management and control of patient data under GDPR compliance.

The document shall be signed by an institutional representative of the center.
Will my centre be reimbursed?
Your centre will be reimbursed for all patients treated with commercial CAR T-cell therapy products that (re-)consent to allow sharing of their data with the marketing authorisation holders and health authorities for the purpose of the PAS study. You will be reimbursed when good quality data (less than 20% missings) is entered and can be used in the PAS studies. Reimbursement will be given after all data from year 1 is completed and checked and again after all data up to year 5 has been completed and checked. The specific details of the recruitment period and payment schedule is provided in each product specific agreement.

For Kymriah® this means until the recruitment target of 2500 patients globally has been reached (competitive enrollment).

For Yescarta® this means all patients treated till 23 May 2023, unless the recruitment period is closed earlier per EBMT notification. 

More products are expected to follow in the near future.
Find your country. Find your contact.
EBMT has appointed both lead study coordinators and lead investigators for each country. Please refer to the list below to identify the contact person in your country.
| Country | Lead EBMT | Country lead PI |
| --- | --- | --- |
| Austria | Guus Rijs | Philipp Wohlfarth, MD, PhD; Medical University of Vienna, Vienna |
| Belgium | Guus Rijs | Sébastien Anguille, MD, PhD; Antwerp University Hospital/University of Antwerp, Antwerp |
| Croatia | Paul Bosman | Prof. Igor Aurer - University Hospital Center Rebro |
| Czech Republic | Paul Bosman | Dr. Robert Pytlik MD, PhD - Institute of Hematology and Blood Transfusion |
| Denmark | Guus Rijs | Soeren Lykke Petersen, Consultant, MD, D. Msc. - Copenhagen University Hospital (Rigshospitalet) |
| Estonia | Jessica Lemaitre |   |
| Finland | Irene Groen | Dr. Mervi Taskinen MD, PhD - University of Helsinki, Helsinki |
| France | Jessica Lemaitre | Pr Stéphanie Nguyen -Universite Paris IV, Hopital la Pitié-Salpêtrière, Paris |
| Germany | Irene Groen | Prof. Dr. med. Nicolaus Kröger - University Hospital Eppendorf, Hamburg |
| Greece | Dilyana Georgieva |   |
| Israel | Paul Bosman | Prof. Avichai Shimoni - Chaim Sheba Medical Center |
| Italy | Paul Bosman | Dr. Annalisa Ruggeri MD, PhD - Ospedale San Raffaele s.r.l |
| Netherlands | Guus Rijs |   |
| Norway | Irene Groen | Tobias Gedde-Dahl d.y. MD PhD - Oslo University Hospital Rikshospitalet, Oslo |
| Poland | Paul Bosman | Prof. Krzysztof Kalwak - Cape of Hope, Wroclaw |
| Portugal | Jessica Lemaitre |   |
| Slovenia | Paul Bosman | Dr. Matjaz Sever MD, PhD - University Medical Center Ljubljana |
| Spain | Paul Bosman | Dr. Anna Sureda MD, PhD- ICO- Hospital Duran i Reynals, Barcelona |
| Sweden | Irene Groen | Prof. Dr. Stephan Mielke - Karolinska University Hospital, Stockholm |
| Switzerland | Jessica Lemaitre | Prof. Dr. med. Caroline Arber Barth - université de Lausanne, Centre  hospitalier universitaire vaudois, Lausanne |
| United Kingdom | Irene Groen | Dr. Andrea Kuhnl – King's College Hospital, London |
Contact us if your country is not listed at EBMT_NK01@lumc.nl
CAR T-cell treated patients registered in the EBMT Registry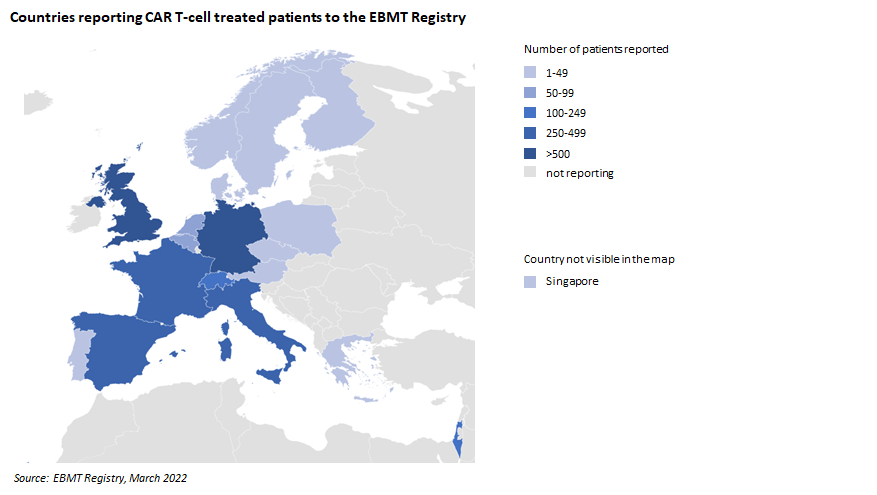 EBMT is a Non-Profit Organisation
EBMT is a non-profit organization supporting the transplant and cellular therapy community. In line with our Mission, Vision and Values, our resources are used to improve the lives of patients with blood-related disorders.
EBMT has created a level of financial reserves to be able to guarantee its independence and neutrality regarding all its scientific and educational decisions from any political and economic interest. All income to EBMT is re-invested to support our community with it scientific, registry, accreditation and educational activities.
Recent activities and outputs in CAR T include: International Training Course, GoCART Consortium, EBMT-JACIE/EHA CAR T Guidelines, EBMT-EHA CAR T Handbook and the CAR T Data Registry amongst others.
For more information about EBMT's involvement in the PAS Studies please visit the FAQs page.