The executive body responsible for JACIE activities is the JACIE Committee, composed of a chair, two EBMT representatives, two ISCT representatives, and the JACIE Medical Director.  The JACIE Committee is also responsible for overseeing the three other EBMT committees dedicated to accreditation issues: the Accreditation Committee, the Quality Managers Committee, and the Legal & Regulatory Affairs Committee. Learn more about their activities by clicking the links below.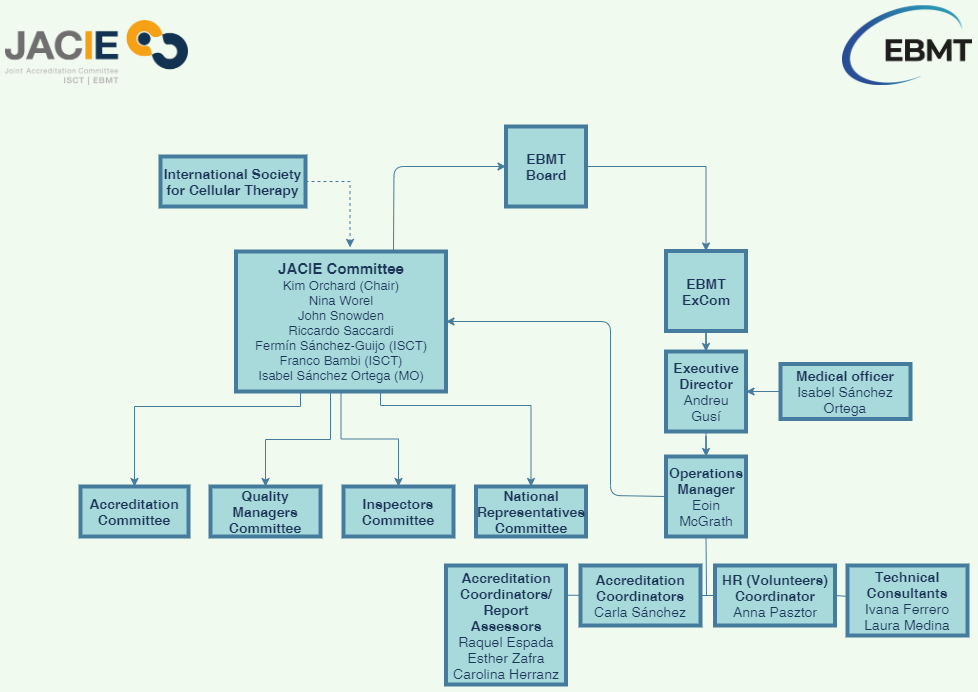 JACIE Committee Members

JACIE Committee Chair
FACT-JACIE Standards Steering Committee member
United Kingdom

EBMT Secretary
Member JACIE Committee
United Kingdom

Donor Outcomes Committee Chair
EBMT Representative to the JACIE Committee
FACT-JACIE Standards Steering Committee member
Austria

ISCT REPRESENTATIVE TO THE JACIE COMMITTEE
Italy

ISCT REPRESENTATIVE TO THE JACIE COMMITTEE
Spain
National & Sectoral Representatives
Most participating countries and some regions/sectors have representatives who are an excellent source of information about how quality guidelines and the JACIE standards should be implemented in their particular area. Contact your country representative for background information or if you have any particular questions about the process.
Inspection Report Assessors
The Inspection Report Assessors' tasks are to check the Inspection Reports, clarify any issues with the inspectors, and present the reports to the Accreditation Committee. The Assessors also contribute to training courses and discussion on the interpretation of standards.

Inspection Report Assessor
Italy
Accreditation Office
Located in Barcelona, Spain, we share an office with the EBMT Executive. The JACIE office manages applications and general enquires, and also organizes a number of workshops, training, audit and information courses.

Advocacy & Quality of Care Director
Barcelona,
Spain

Accreditations Coordinator
Barcelona,
Spain

Accreditations Coordinator
Barcelona,
Spain

Accreditations Coordinator
Barcelona,
Spain

ACCREDITATIONS COORDINATOR
Barcelona,
Spain

JACIE Volunteer's HR Coordinator
Barcelona,
Spain
JACIE Accreditation
EBMT Executive Office
Banc de Sang i Teixits
Passeig Taulat, 116
08005 Barcelona, Spain
Tel.: +34 93 453 8570
Fax: +34 93 451 9583