Welcome
Dear Colleagues and Friends,
Following the great success of the first edition held in Paris in February 2019, the European Society for Blood and Marrow Transplantation (EBMT) and the European Hematology Association (EHA) are teaming up again to bring to preclinical and clinical investigators from Europe and beyond, the 2nd edition of this European CAR-T Cell Meeting. The two professional associations are dedicated to raising awareness of the potential value of this new class of therapeutics, as well as to foster European preclinical and clinical initiatives
The recent approval of the first CAR T cell treatments in Europe presents a great opportunity to fight hematological malignancies, but also poses serious challenges given the peculiar nature of the treatment. Patients, physicians, nurses, hospitals and whole health systems need to learn how to select the right treatments, handle specific toxicities, organize treatment units and cope with the increasing costs connected with CAR T therapy.
This meeting will build on the knowledge and experience shared at the first joint meeting and will see the return of a number of key opinion leaders to give updates on the rapid developments in this exciting therapy. The program will include a comprehensive outlook on the current research efforts in Europe, the USA and China to increase access to CAR T cell therapies, evaluate new targets, improve efficacy and safety profiles, with input from basic researchers as well as representatives from the industry.
The target audience is hematologists, oncologists, physicians, nurses, data managers, supply chain managers and patient organization representatives and advocates.
We look forward to seeing you in Sitges (Barcelona), Spain this coming January for this noteworthy and influential Meeting dedicated to CAR T Cell therapies.
Yours sincerely,
Prof Christian Chabannon
Chair, EBMT Cellular Therapy & Immunobiology Working Party
and EBMT Scientific Council Vice-Chair
Prof Hermann Einsele
Chair, EHA-SWG on Immune Therapies for Hematologic Disorders
Programme
The program will cover various CAR T Cell related topics, presented from perspectives in Europe, the USA and Asia. Topics and full program will be announced shortly.
Registration
Online registration is now open.

Early registration fee deadline: 11th November 2019
The registration closes on the 26th January 2020
Please keep in mind that data managers, nurses and students (medical residents are not considered to be students) will need to provide proof of their status, in the form of an ID or a letter from their institution during the registration.
If you are not part of EBMT yet please consider becoming a Member. For more information visit this page.
Venue
The meeting will take place at Melia Sitges Hotel:

Carrer de Joan Salvat Papasseit 38
08870 Sitges
Barcelona, Spain
Accommodation
Participants will be responsible for covering their costs of travel & accommodation aswell as a recommended travel insurance.
The Organisation cannot accept liability for personal accidents or loss of or damage to private property of participants. Participants are advised to take out their own personal travel and health insurance for their trip.
Some additional information will be given upon registration.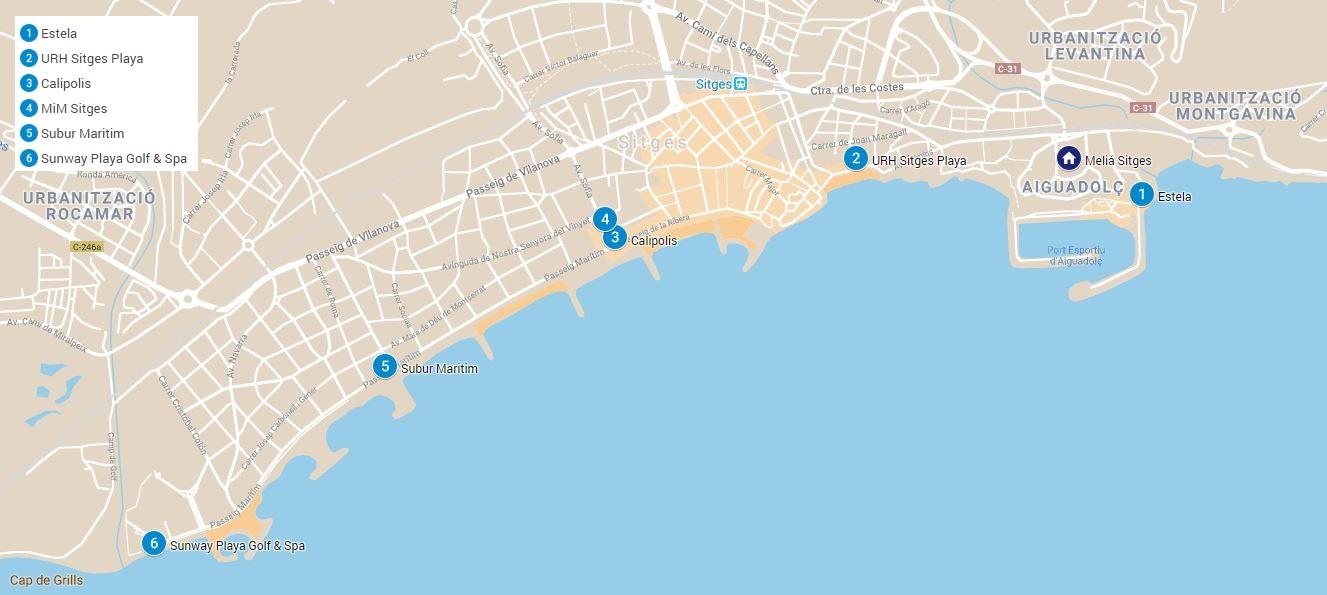 EBAH-CME Accreditation
Continuing Medical Education (CME) is widely accepted to encourage individual practitioners to maintain and develop professional knowledge and skills keeping up-to-date with latest developments within the field. The meeting will be accredited by the EBAH system.
Participants of this meeting are eligible to receive one Continuing Medical Education (CME) credit point for every hour of accredited activity from the EBAH system.
Sponsorship
There are various opportunities to support this meeting. For more information please send an email to fundraising@ebmt.org to indicate your interest.