//
Global Committee
Nursing Research Committee
Nursing Scientific Committee
Nursing Paediatric Committee
Nursing Global Education Committee
Summary report written by the EBMT Shanghai Office
On the occasion of the 17th National Haematology Academic Conference of the Chinese Medical Association, the 2022 EBMT- China Nursing Forum (in-person and online) was successfully held on 24 September 2022 at the National Exhibition and Convention Center (Shanghai). This forum the first China-Europe academic feast of haematological nursing, which will initiate a new mechanism of mutual learning between Chinese and European Haematological Nursing Communities, deepening the exchange and cooperation in nursing between China and Europe. This Nursing Forum is an in-person and online event, and gathered many experienced head nurses and young nurses from China and many European countries.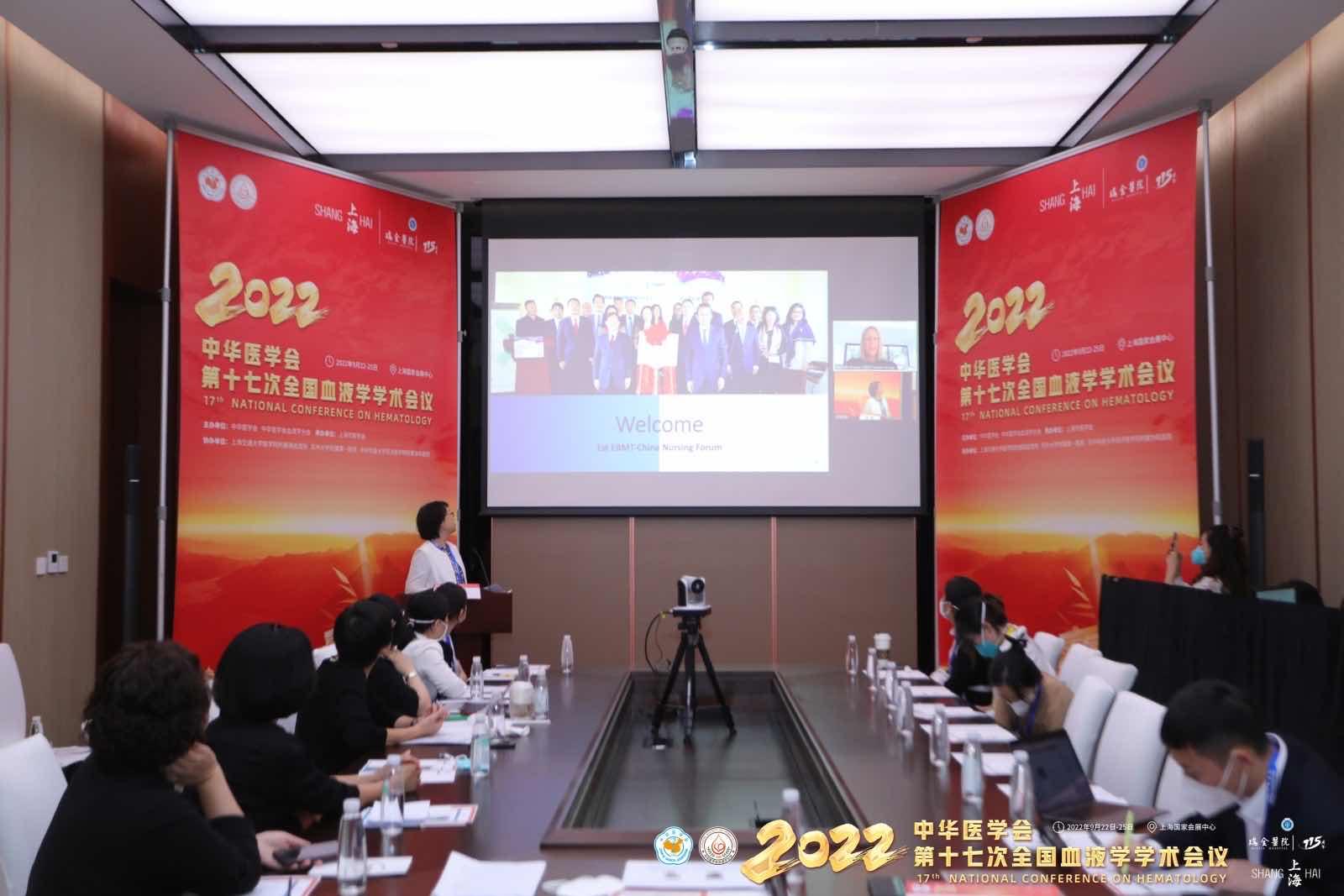 At the opening ceremony, Michelle Kenyon, the EBMT Nurses Group President, shared the branding and mission of the EBMT Nurses Group, and welcomed all the Chinese nurses for they participation. And she hoped to continue to strengthen the haematological nursing cooperation between China and Europe to jointly serve patients and their families. Yan Xia, Chairwomen of the Chinese Haematological Disease Nursing Branch, expressed her support for the China-Europe haematological nursing mechanism exchange platform established by the EBMT Foundation Shanghai Office, and through this platform, she also hoped to promote the nursing level in China and in Europe, and to overcome difficulties and work together to solve the problem of clinical nursing problems for patients with hematologic malignancy.
With a focus on advanced topics such as the current status of HSCT Nursing in China and Europe, GVHD nursing of Intestine and Cutaneous, Complication Nursing of HSCT, Patient Follow Up and Psychological Intervention for HSCT Recipients. Participants exchanged the management concepts and practical experience of innovative nursing between China and Europe through in-depth interaction and case studies.
At the end of this Forum, Daphna Hutt, EBMT Nurses Group Secretary, expressed that each haematology center has its own characteristics, and although we have different cultures and nationalities, it is committed to improving the nursing level for our patients and she hoped that we can have more opportunities to exchange and discuss our nursing topics in the future.
We wish that more nursing professionals can share and communicate with each other through "EBMT- China Nursing Forum" in the future, and join hands to promote the vigorous development of international haematology nursing career!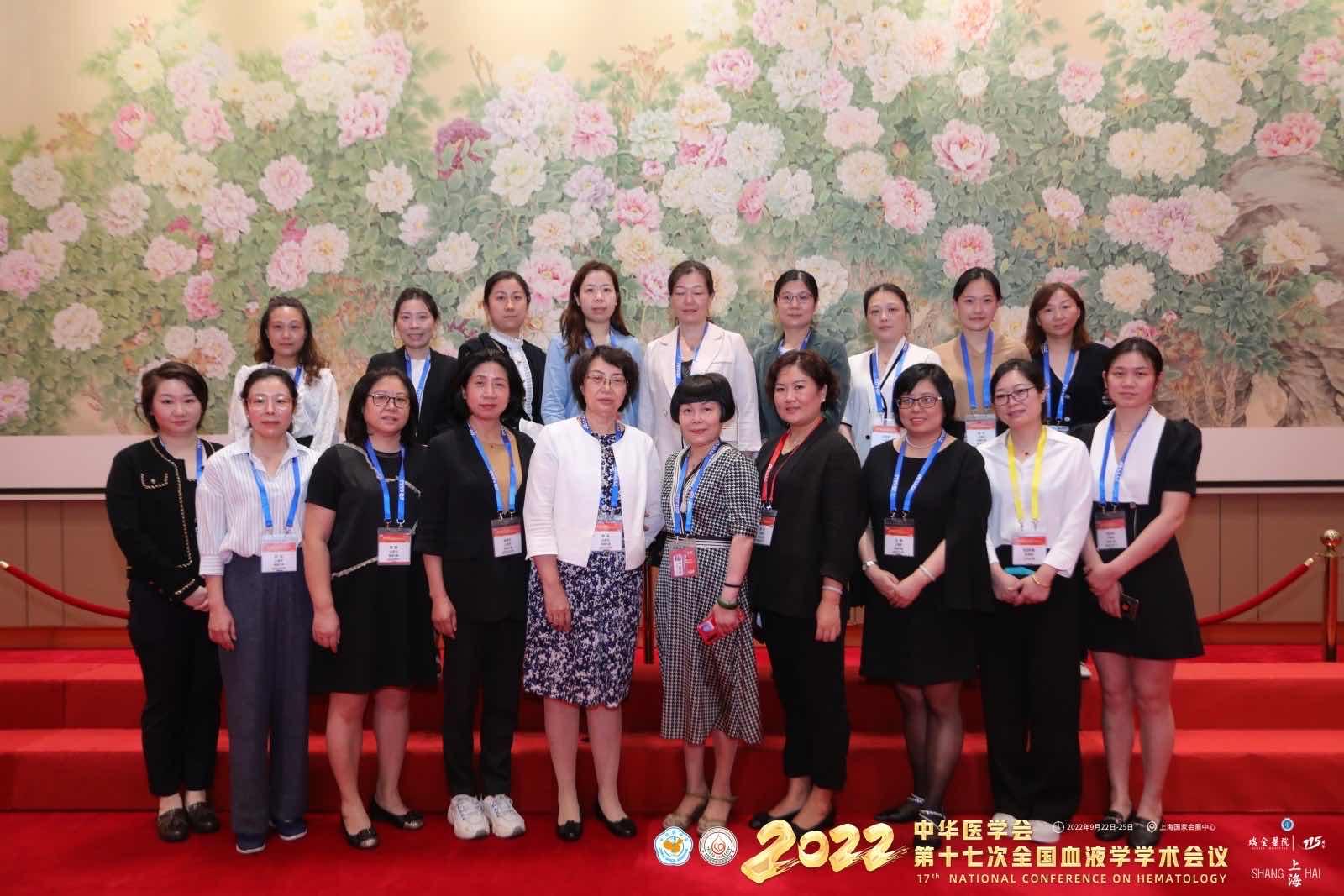 ---
2022 年度EBMT-中国护理论坛"圆满落幕
时值中华医学会第十七次全国血液学学术会议之际,由欧洲血液和骨髓移植协会(荷兰)基金会上海代表处、中华医学会和中华医学会血液学分会共同主办的2022年度 EBMT-中国护理论坛于9月24日在上海国家会议中心成功召开。本次论坛是中欧首场围绕血液学护理的学术盛会。论坛的举办开创了中欧血液护理互学互鉴新机制,引领深化护理学领域的交流与合作。论坛采用线上线下相结合的方式,云集了中国及欧洲多国经验丰富的护士长和年轻一代的护士们。
开幕式上,EBMT护理团体主席米歇尔(Michelle Kenyon)分享了EBMT护理团体的目标和使命,欢迎来自中国的护理工作者共同参与。期望继续加强中欧血液护理合作,共同为病患和家属服务。中国血液病护理分会主任委员颜霞对EBMT基金会上海代表处所搭建的中欧血液护理机制化交流平台表示支持,并希望通过这个平台来促进中欧的护理水平,攻坚克难携手解决恶性血液病患者临床护理难题。
论坛聚焦中欧造血干细胞移植护理现状、肠道和皮肤移植物抗宿主病的护理、造血干细胞移植并发症护理、造血干细胞移植患者的随访和心理干预等前沿课题,深入互动和病例分析,交流中欧创新护理管理理念与实践方法。
会议最后,EBMT护理团体秘书戴菲娜(Daphna Hutt)表示每个血液科中心有自己的特色,虽然有着不同的文化和国籍,但都在致力于提高病患护理的水平,希望在未来进行更多的专题讨论。
希望未来更多护理工作者能通过"EBMT-中国护理论坛"共享交流、共叙友情,携手共促国际血液科护理事业的蓬勃发展!