//
Infectious Diseases Working Party (IDWP)
Nursing Research Committee
Nursing Scientific Committee
Nursing Paediatric Committee
Nursing Global Education Committee
Marta Canesi, 

Infectious Disease Working Party Nurse
The 49th Annual Meeting of the EBMT in Paris was an exciting opportunity to gather together again, in person, after a long time. The congress offered many interesting insights on different issues related to patients undergoing HSCT and staff in the Units.
To me this was the first meeting as the Infectious Disease Working Party Nurse, the role I cover since October 2022.  I was involved with the Nursing Scientific Committee to give a talk about new infectious diseases and new drugs. My talk focused on regionally endemic infections with a link to climate change and global warming. During the congress I attended the IDWP meeting and I have been very well welcomed by the committee: the Working Party has several ongoing studies and many ideas rising. I do hope to implement training and education opportunities in the infectious disease field and give my contribution in developing nurse-led research in the field.
I would like to collaborate also with the Global Education Committee as Low- and Middle-Income countries nurse in BMT could benefit from these initiatives.
I would be happy to support EBMT nurses and being available for proposals or discussions in the field of infections which is complex, critical but fascinating as well.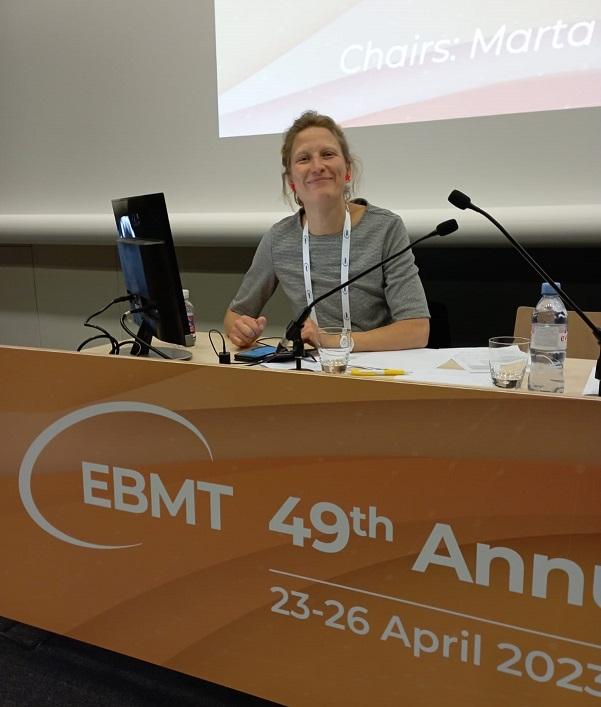 ---
Angela Leather,

EBMT UK NAP Group 

Vice-Chair
Having recently returned from a fabulous EBMT Annual Meeting in Paris, the UK NAP team are motivated to improve networks with both international and national nursing and allied health professionals. Through the educational grant provided through the EBMT UK NAP group, four health care professionals were able to attend this prestigious face to face meeting to share their work.
The UK, as always, had several abstracts accepted at this year's EBMT Annual Meeting. There was good attendance from around the country, allowing us all to meet for the first time in 3 years and share practice and challenges to which we have all faced in the recent months and years.
The EBMT UK NAP group has tried very hard to develop links with our allied health professionals. We welcome our new committee members from physio and occupational therapy and dietetic groups, all feeding back to their area of speciality and having a national voice alongside the nurses in the UK.  
We are working to update our website further to reflect these new developments including a forum for discussions, in the members area. Membership is free and we are actively promoting this resource. We have reignited our digital presence on social media by actively tweeting to gain a bigger following and improved engagement.
The committee is working hard in establishing speciality forums including AHP, Education, Apheresis and Cell Therapy groups.  
We're aiming to develop a central platform for apheresis networks across the UK, as it is apparent that this specialised group often does not fit into other training opportunities or have opportunity for discussion outside of their own trust. Through this group we hope to deliver training /education and also provide resources for other centres and colleagues to utilise. We held the first meeting at the beginning of June and had great attendance via virtual platforms, the enthusiasm for the group was clear to see and we hope that great new ideas and policy development will develop and help the nurses in this area to have colleagues to call upon for guidance and support.
As the EBMT UK NAP board, we met at the beginning of June to plan for the year ahead, and this was the first time that many had met in person. The meeting was engaging, motivating and a great opportunity to plan for an exciting year ahead and a stimulating agenda for our annual meeting on 13th October, this will once again be held as a virtual meeting, to allow good attendance. Registration will open shortly via our website  www.ebmt.co.uk 
Following a meeting with international colleagues and other national group chair and representatives, we are striving to identify the similarities and also the differences and challenges as international nurses we all experience, and delighted to be part of this interesting study to which we hope to share findings at the 50th Annual Meeting of the EBMT in 2024.
A reminder that the 50th Annual Meeting of the EBMT will be held in 2024 in the beautiful Scottish City of Glasgow, where our own local nurse and board member will be delighted to welcome you.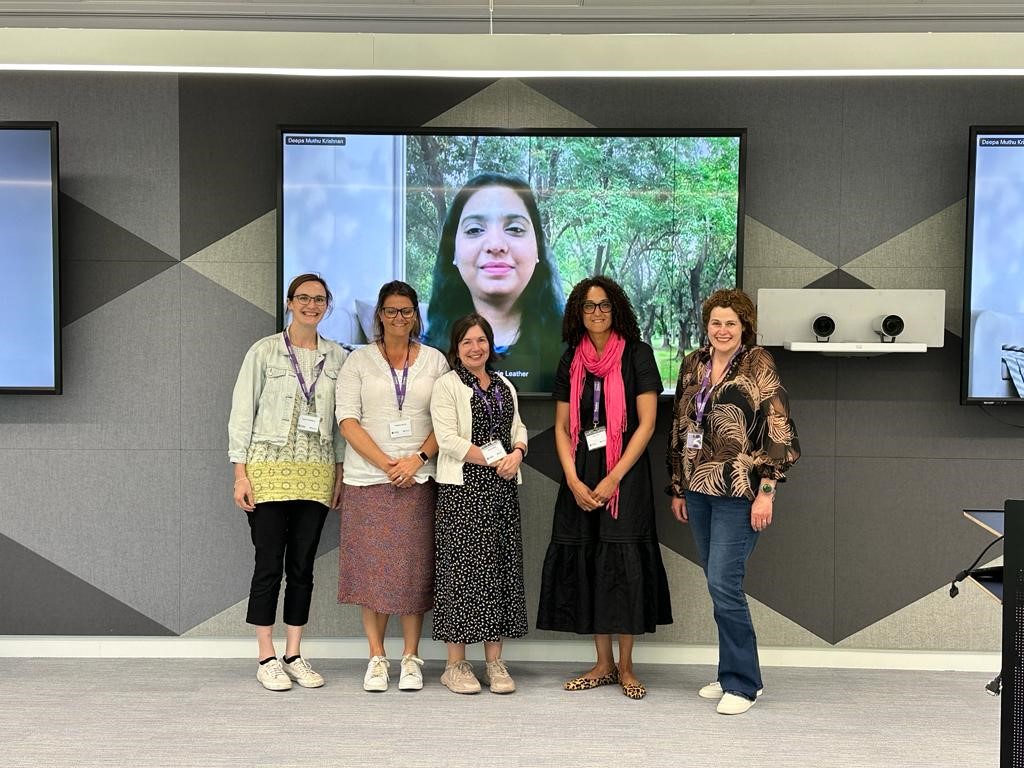 ---
Grant Recipients Testimonials
Esra Bayrak, Turkey Stem Cell Transplantation Nursing Member
I am one of the lucky people to attend this year EBMT Annual Meeting. I have been working as a bone marrow transplant nurse for 12 years and participating in EBMT was very meaningful for me. In the 2020 Annual Meeting which was supposed to take place in Madrid, my research was chosen as one of the finalists for oral presentation. Due to the pandemic, I attended the Congress virtually.
 Being here with you was a very different experience for me.
I am a part of the EBMT Turkey Nursing Group's Working Group, and we are carrying out many activities to improve the quality of care in bone marrow transplantation nursing and to standardise care in Turkey. During the Annual Meeting, I saw that we provided care at international standards, which made me very happy.
I always think that stem cell transplant nurses are very special people because it requires a special talent to be at the center of such a complex task and coordinate many things. Being in the same environment with colleagues from many different countries made me feel how special we are.
When I returned to Turkey, I shared my excitement and experiences with my team members and they were very impressed.
We will be prepared to do good work to be with you at the next EBMT Annual Meeting.
I would like to thank the EBMT Nurses Group for giving me the opportunity to experience these beautiful experiences and emotions. It was so nice to be here.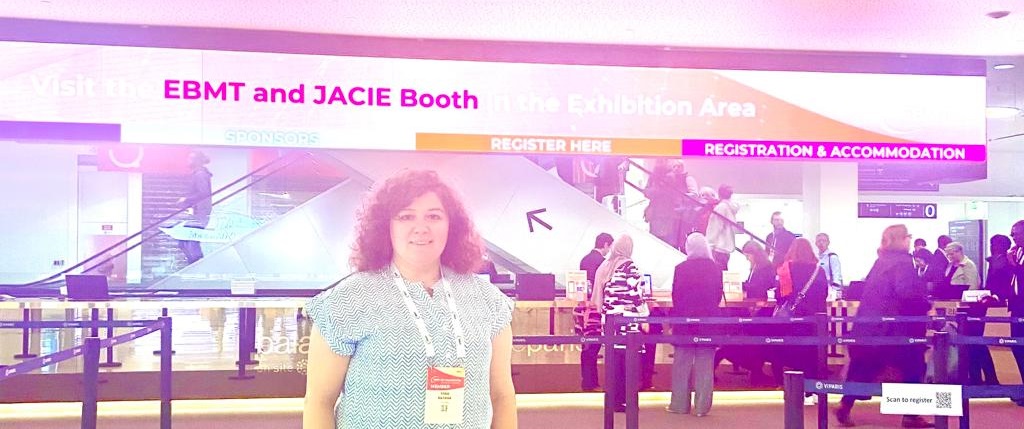 ---
Emma Chalmers, Clinical Educator specialising in Haematology and Oncology, Edinburgh, Scotland
This was the first time I had been able to attend an Annual Meeting of the EBMT face to face and I was in for a shock! The sheer size of the venue, and the number of people in attendance left me feeling almost insignificant. I had previously attended a virtual meeting due to the pandemic and it was easy to underestimate how much the Annual Meeting has to offer. And it really did offer it all!
Obviously, as a nurse I made it a point to attend the nurses group sessions. The program was so comprehensive, I could pick and choose the sessions that I felt most interested me or were most relevant to me. I took copious notes and can see that I was particularly awe struck by Bipin Savani, Zoe Schaedel, Tessa Kerre and Daan Dierick. The subjects covered by these professionals were wide, from secondary cancers after transplant to gynaecological issues to bispecific antibodies and other novel agents that augment transplantation. As cohost for the nurses group podcast (Blood Matters- a podcast for nurses), I have so many new ideas for podcast topics- something that I only gained through attending the Annual Meeting and speaking to other colleagues who had attended too.
The Annual Meeting also gave me greater clarity in how the various groups and committees within the EBMT work due to there being open vacancies. I was able to see how each branch worked along with others in order to make the EBMT the powerhouse that it is. So, the Annual Meeting was not just educational content for me. I was able to network with people and I picked up so many business cards for new links around the world!
One thing that I do need to mention too is the nurses' group grants that were given out. I was one of the lucky recipients of this grant and I would not have been able to attend the Annual Meeting without it. The grants are for up to 1000 Euros and allow those that perhaps come from a hospital without an education fund to come along to these meetings. I am truly grateful to have been selected and it means I can share my learning and experiences with colleagues at my hospital, who will hopefully themselves then apply to attend the annual meeting next year, or one of the smaller but no less informative meetings happening throughout the year.
---
Victoriia Galytskaya,

Kyivv Bone Marrow Transplantation Center, Ukraine
I made the decision to become a nurse at the age of 15. The key point for the decision was that the patient should receive warmth, understanding and qualified assistance. I can also help my family, friends and relatives.
I have been a nurse for over 24 years. Since 2000 I have been working at the Kiev Center for Bone Marrow Transplantation. I got a lot of experience in Brazil (Curitiba) where I had a 9-month internship in the "Hospital de Clínicas".
I also adopted and applied my experience in the scientific center in Minsk (Belarus). 
I like this profession, I love my job. I try to improve my level of knowledge whenever possible. Each time I am convinced that I made the right choice.
I'm glad my Lead Sibirina Korenkova insisted on my attendance to the 49th Annual Meeting of the EBMT in Paris. 
Very systematic, organised and inspiration the level of expertise and knowledge of the presenters are excellent. In addition, I appreciate their positive attitudes, willingness to explain, clarity of visual aids and handouts, and opportunities to ask questions.
 Many thanks you all!