Bethany Colton, a nurse and clinical educator from the Royal Hallamshire Hospital in Sheffield, UK, was awarded the "centre visit educational scholarship" from the EBMT Nurses Group in 2018. She spent some days at the University College London Hospital (UCLH), where she had the great opportunity to observe the administration of CAR-T cells, one of the highlights of her visit. She also visited the St Bartholomew's Hospital (London) where she had the chance to expand her late effects knowledge and get guidance from a JACIE Quality Manager. 
According to Bethany, networking has been a huge advantage during this scholarship. You can read her full article below.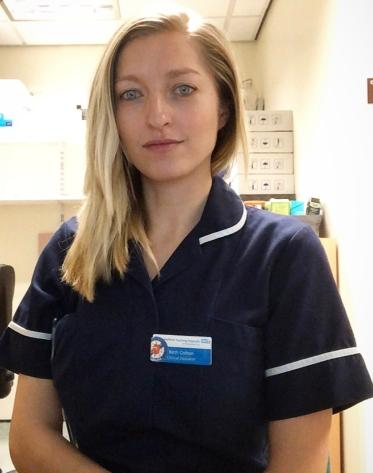 Each year the EBMT committee provides an educational scholarship for nurses. This creates an invaluable opportunity where nurses are able to visit another blood and marrow transplant centre. I was delighted to be awarded an educational scholarship this year. I am a clinical educator from the Royal Hallamshire Hospital in Sheffield, my sole intention when applying for the scholarship was to improve transplant care within my Haematology department.
The main aims of my visit were:
To investigate Mucositis care.
Explore educational programmes.
Research and hopefully observe CAR-T cells administration.
The first half of my visit was spent at University College London Hospital (UCLH). UCLH has become the largest blood diseases treatment centre in Europe with 79 inpatient beds and a comprehensive day care service. I spent my first day with a fellow clinical educator Rebecca Davies. I was lucky enough to observe the administration of CAR-T cells, a trial treatment we don't currently perform within my trust.
Over the last two decades we have witnessed the evolution of cancer treatment. Whilst still highly relying on its more established therapies such as surgery, chemotherapy and radiotherapy we now consider the inclusion of alternative treatments such as targeted therapies e.g. Imatainib and blinatumomab. In addition to these targeted therapies we are now seeing clinical trials for immunotherapies. Adoptive cell transfer (ACT) is the method of engineering Patients' Immune Cells to recognise and destroy cancer cells. Chimeric antigen receptor (CAR) -T cells appears to have advanced the furthest in clinical development and target an antigen found on B cells called CD19. The therapy has so far produced impressive results in treating patients with B-cell malignancies.
Until my time at UCLH I only had theoretical knowledge of CAR-T cells. Observing administration and having the opportunity to discuss with nurses and medics involved with the clinical trial was incredibly useful. They also informed me of potential toxicities and nursing considerations. Cytokine release syndrome and neurological toxicity being one of their main concerns. Infection and tumour lysis syndrome were also to be considered and also the importance of avoiding steroid use. Administration didn't come without its challenges; the volume of cells was minimal, less than 2mls. A volume this small and precious could prove difficult to draw up without avoiding any loss.
After a practical morning of CAR T-cell administration I had the pleasure of spending the afternoon with a very knowledgeable Haematology clinical educator Rebecca Davies, her role was very akin to my own and we were able to share learning materials and training ideas. I feel my time with her was incredibly beneficial as it gave me direction within my own role, especially in relation to our induction programme.
I also got acquainted with the central venous access team, this is a nurse-led service who insert permanent and temporary central lines for cancer treatment. They also provide support, education and advice to both patients and staff. Every staff member at UCLH was incredibly professional and passionate. I hope our networking relationship between education departments will continue for a long time to come.
The second half of my scholarship was spent at St Bartholomew's Hospital, it is a very striking hospital just a stone's throw from St Pauls cathedral. I spent time shadowing both the JACIE quality manager Sarah Knight and Anthony Nolan late effects nurse Debbie Anderson. Both nurses were incredibly knowledgeable and gave me some great guidance on techniques in how to include Standard Operating Procedures into my educational programmes. My discussion with Debbie really expanded my late effects knowledge and I look forward to sharing this back on the unit. I also got to see the hospital's Maggie's centre. Maggie's offers free, practical, emotional and social support to people with cancer and their families and friends. It is a drop-in center that provides services such as Yoga, mindfulness, cancer support, tai chi, benefits advice and much more. It was a beautiful building that provided an escape for patients experiencing difficult times.
I also had the opportunity to attend several meetings such as the transplant, quality, mortality and morbidity (M&M). This was very valuable as I was able to meet some of the CNS team and Medical staff. Networking has been a huge advantage during this scholarship. The M&M meeting also confirmed to me that as transplant units we often face the same challenges despite geographical location. There was also the opportunity to discuss upcoming trials, St Bartholomew's is about to embark on a CAR- T cell trial in January, and also an imminent Multiple sclerosis (MS) trial. We have performed transplants in MS at Sheffield Teaching Hospitals for some time. I therefore felt I was able to share my knowledge and experiences around this from a nursing and education perspective.
On my last day of the scholarship I was able to spend time with two very knowledgeable and experienced haematology nurses, Ward Manager Debbie Spencer and Sister Kelly Marie Beck. I had a long discussion with Debbie around several training aspects and specifically inquired about their mucositis care. Including assessment, treatment and education for both staff and patients. As we know, in transplant care injury to the mucosal membranes is one of the most detrimental side effects for patients to cope with. It reduces oral intake, prevents the ability to take oral medication and can cause the patient severe pain and nausea. An aim of this scholarship was to improve our assessment of mucositis and update our current oral assessment charts. I feel that after my time at St Bartholomew's Hospital I am equipped to accomplish this. Lastly, I was able to observe while Sister Kellymarie Beck administer autologous stem cells, I myself administer cells in Sheffield so I was very pleased to see that we conduct administration in nearly identical ways. This has actually become a theme throughout my visit to both of the Hospitals. I feel this may be down to JACIE standards and the accreditation programme. I personally find it very reassuring that although certain trusts are performing diverse trials, we are providing the same rudimentary care. The only minor difference I noted was in relation to administration technique. St Bartholomew mainly use PICC lines when giving cells meaning they hand bolus their cells, using a three way tap. We often use Hickman lines in my clinical areas which means we are able to give our cells via gravity sets.
In conclusion, I feel this scholarship opportunity has been unrivalled in its ability to give me new perspective, knowledge and goals as well as provide excellent networking opportunities. Being able to observe the administration of CAR-T cells was one of the highlights of my visit. I have thoroughly enjoyed every minute and would like to thank all the staff that aided me on this journey.