In terms of activity, 2019 was very busy with 101 applications received, by far the highest number ever received. With 71 inspections, 2019 was JACIE's second-busiest year while the 78 awarded accreditations established a new record.
43 applications received in 2019 included Immune Effector Cells in the scope of their accreditation processes.
Following the first two joint JACIE-FACT inspections performed in Latin America in 2018 and 2019, a further 8 centres from the region have presented themselves to be inspected during 2020-2021. This 'step-wise' format is being piloted in collaboration with the Latin American Group for Bone Marrow Transplantation (LABMT).
Since 2000, 473 transplant programmes and facilities in 34 countries in Europe and beyond have applied to JACIE and 737 inspections (first-time and reaccreditation) have been performed. 345 applicants have achieved accreditation at least once with practically all centres repeating the process after completing the first accreditation cycle. There are over 300 registered inspectors, all volunteers drawn from the HSCT and cellular therapy field.
Applications
101 applications received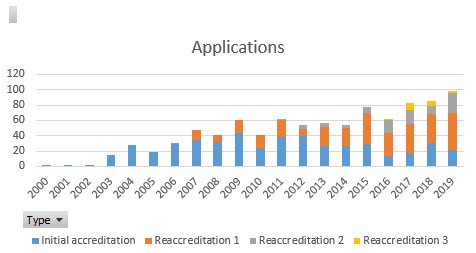 Inspections
71 inspections performed

Accreditations
78 accreditation awards

8th Edition of FACT-JACIE Standards
The process to prepare the 8th edition of the FACT-JACIE Standards kicked-off in mid-2019. The sub-committees commenced their review during the last months of 2019 and will complete their work in early 2020. The first draft will be opened for public consultation in April 2020 during 3 months.
AZ Sint-Jan Brugge-Ostende AV, Brugge, Belgium; Hôpital Erasme, Brussels, Belgium; Centres Hospitaliers de Jolimont, Haine Saint Paul, Belgium; UZ Leuven, Leuven, Belgium; ULICE (Centre de Thérapie Cellulaire – Université de Liège), Liège, Belgium; Institute of Haematology and Blood Transfusion, Prague, Czech Republic; University Hospital Motol, Prague, Czech Republic; Helsinki University Central Hospital, Helsinki, Finland; CHU Grenoble, Grenoble, France; CHRU de LILLE & Etablissement Français du Sang (EFS) - Nord de France, Lille, France; Institut Paoli-Calmettes, Marseille, France; CHU de Nantes, Nantes, France; Hôpital Necker Enfants-Malades, Paris, France; Centre Henri Becquerel, Rouen, France; Institut de Cancérologie Lucien Neuwirth, Saint-Priest, France; Cellex Collection Center, Cologne, Germany; Universitätsklinikum Köln (AöR), Cologne, Germany; Universitätsklinikum Essen, Essen, Germany; University of Duisburg-Essen, Essen, Germany; Hannover Medical School, Hannover, Germany; Institute of Transfusion Medicine, Kiel, Germany; University Hospital Schleswig-Holstein, Campus Kiel,, Kiel, Germany; University Hospital Giessen and Marburg, Campus Marburg, Marburg, Germany; Klinikum Oldenburg AOR, Oldenburg, Germany; DRK-Blutspendedienst West gGmbH, Zentralbereich Stammzelle (ZBST), Ratingen, Germany; Universitätsklinikum Regensburg, Regensburg, Germany; Aghia Sophia Children's Hospital, Athens, Greece; G. Papanicolaou Hospital, Thessaloniki, Greece; Blood Bank Landspitali University Hospital, Reykjavik, Iceland; Children's Health Ireland at Crumlin, Dublin, Ireland; Hadassah University Hospital, Jerusalem, Israel; Hadassah University Medical Center, Jerusalem, Israel; U.O.C. Ematologia, Ospedale C.e G. Mazzoni; Ascoli Piceno, Ascoli Piceno, Italy; Oncoematologia Pediatrica – Ospedale dei Bambini – Centro Trapianti Midollo Osseo Monica e Luca Folonari, Spedali Civili di Brescia, Brescia, Italy; Ospedale Santa Maria Goretti, Latina, Italy; Ospedale San Raffaele S.r.l., Milan, Italy; Azienda Ospedaliera Universitaria Maggiore della Carità, Novara, Italy; AOR VILLA SOFIA CERVELLO, Palermo, Italy; Ospedale Civile di Pescara, Pescara, Italy; Centro Trapianti Midollo Osseo "Alberto Neri", Reggio Calabria, Italy; Arcispedale Santa Maria Nuova IRCCS Reggio Emilia, Reggio Emilia, Italy; Azienda Ospedaliera S. Giovanni Addolorata, Rome, Italy; Fondazione Policlinico Universitario A. Gemelli - Università Cattolica S. Cuore Roma, Rome, Italy; OSPEDALE PEDIATRICO BAMBINO GESÙ, Rome, Italy; AOU Città della Salute e della Scienza di Torino, Turin, Italy; AOU Città della Salute e della Scienza di Torino, Ospedale Infantile Regina Margherita, Turin, Italy; VU Medical Centre, Amsterdam, Netherlands; University Medical Centre Groningen, Groningen, Netherlands; Leiden University Medical Centre, Leiden, Netherlands; Leiden University Medical Centre, Leiden, Netherlands; St Antonius Ziekenhuis, Nieuwegein, Netherlands; Haga Hospital, The Hague, Netherlands; King Faisal Specialist Hospital & Research Centre, Riyadh, Saudi Arabia; Blood Services Group, Health Sciences Authority, Singapore, Singapore; Netcare Pretoria East Hospital, Pretoria, South Africa; Hospital Universitari Vall d´Hebron, Barcelona, Spain; Hospital Infantil Universitario Niño Jesús, Madrid, Spain; Hospital Universitario 12 de Octubre, Madrid, Spain; Hospital Marques de Valdecilla & Banco de Sangre y Tejidos de Cantabria, Santander, Spain; Klinik Hirslanden, Zürich, Switzerland; Klinik Hirslanden Zürich, Zürich, Switzerland; University Children's Hospital Zürich, Zürich, Switzerland; Erciyes University Medical Faculty, Kayseri, Turkey; NHS Blood and Transplant, Birmingham, United Kingdom; University Hospitals Birmingham NHS Foundation Trust, Birmingham, United Kingdom; Addenbrookes Hospital, Cambridge, United Kingdom; NHS Greater Glasgow & Clyde, Glasgow, United Kingdom; Scottish National Blood Transfusion Service, Glasgow, United Kingdom; Alder Hey NHS Foundation Trust, Liverpool, United Kingdom; St Mary's Hospital, London, United Kingdom; The Royal Free London NHS Foundation Trust, London, United Kingdom; The Royal Marsden NHS Foundation Trust, London, United Kingdom; Newcastle upon Tyne Hospitals NHS Foundation Trust, Newcastle upon tyne, United Kingdom; Sheffield Children's NHS Foundation Trust, Sheffield, United Kingdom; Sheffield Teaching Hospitals NHS Foundation Trust, Sheffield, United Kingdom; University Hospital of North Midlands, Stoke-on-Trent, United Kingdom; South Warwickshire NHS Foundation Trust, Warwick, United Kingdom;
Full list available at www.ebmt.org/jacie-accredited-centres