By Marie Waller, Haematology Advanced Nurse Practitioner, Manchester Royal Infirmary, Chair of the UK EBMT Nurses and Allied health Professionals (NAP) Group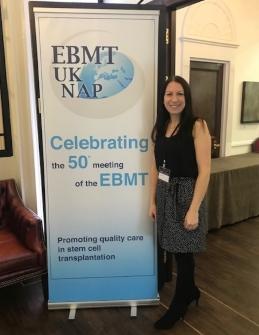 "I am proud to be chair the EBMT UK nurses and allied health professional group (EBMT UK NAP), which has been established for many years. We have members active in the United Kingdom (UK) and within the main EBMT Nurses Group including Working Parties. Our aim is to provide education and networking for those working in stem cell and cellular therapy in the UK. COVID-19 continues to bring challenges despite the initial onset of the pandemic being two years ago. We have adjusted to new ways of working including reducing the risk of infection and complications of COVID-19 to our patients with screening, vaccinations and a move to remote or virtual appointment where possible.
We have continued to increase our workloads including new treatments such as CAR-T in myeloma and there are many transplant centres in the UK undertaking clinical trials in transplant looking to improve outcomes by reducing the risk of relapse, complications and graft versus host disease (COSI trial, MOTD trial and Amadeus trial). Throughout 2022 there has been a move back to using fresh donor stem cell for infusions rather than cryopreserved cells as the cases of COVID have reduced.  There has been ongoing work in various UK centres looking at the benefits of prehabilitation pre transplant and CAR-T therapy- this has been a collaboration, but a lot of work led by our physiotherapy and occupational therapy colleagues.
We have recently updated our EBMT UK NAP website to include a new 'members' section, the aim is to improve collaboration, networking and to continue to build a community for those working in transplant and CAR-T in the UK by allowing a free membership system. It has become clear that access to funding and leave for study and education has been difficult although there has been a move towards virtual study days, and these have been well attended. The members only area of the website will include pre-recorded educational materials and topics will include mucositis, VOD, GVHD, nutrition and CRS. We will also include presentations on JACIE. Our website now links to our twitter page where we share any updates or educational opportunities to our followers.
Our committee has been exploring ways to improve output and collaboration with our allied health professional colleagues by growing our network. We have developed some new forums or subgroups to help support those who work in isolation within the UK and bring everything transplant and CAR-T in to one accessible place. This includes our new practice educator forum, dietician subgroup, therapist subgroup and collaboration with our well-established UK paediatric BMT group and CAR-T group.  These groups will soon have an accessible page on our website.
Our annual UK educational meeting in 2021 was virtual with a good attendance, our 2022 meeting will be on the 14th of October and will be virtual with an aim of face to face meeting next year. From a national perspective we have been working in collaboration with BSBMT-CT on a national staffing survey looking at current staffing levels and requirement of nursing, medical, stem cell and apheresis in the UK.
Despite the challenged we have faced it has been another busy year of ongoing education and building networks as well as our day-to-day task of ensuring patients have safe and effective quality care.  As chair of the UK EBMT nurses and allied health professional group I am proud of our UK haematology, transplant and CAR-T nurses and allied health professionals who have continued to deliver safe, effective and cutting-edge care to our patients throughout and beyond the global pandemic."
Website: www.ebmt.co.uk
Twitter: @EBMTUK_NAP