//
JACIE Committee
Inspector Committee
Accreditation Committee
Quality Managers Committee

It is now 25 years since EBMT formed the Joint Accreditation Committee of the International Society for Cellular Therapy better known by the acronym, JACIE. Its goal – to harmonise and continually improve quality control standards in cellular therapy, initially across Europe, and now, beyond.
Since 2003 JACIE has carried out 878 inspections in 32 countries. Of these, 48% have been initial inspections and 52% are reaccreditations.  Currently there are 227 accredited centres in 24 countries in total – however this number should be much higher as many centres that had formerly been accredited have had their accreditation lapse due to the COVID-19 pandemic, and are awaiting reaccreditation.
Professor Nina Worel, Department of Transfusion Medicine and Cell Therapy, Medical University Vienna, Austria, is a member of the JACIE Committee and a JACIE Inspector, and here she reflects on its mission, its many achievements, and how she herself became involved.
Q: For delegates who do not know you well Nina, please tell us about yourself?
A: I am based at the Department of Transfusion Medicine and Cell Therapy, Medical University Vienna, Austria. When I started here in April 1994, we performed a lot of allogeneic transplantation and also allogeneic bone marrow harvests and I was very interested in all those procedures and further processing steps. It became clear for me at the very beginning that written "recipes" or "standards" are of the utmost importance to be able to provide the best quality of care to each donor and patient.
I became involved with JACIE in 2002, when Prof. Hildegard Greinix, our lead transplant physician at that time asked me to join a "course on how to achieve good quality in stem cell transplantation". We were immediately captivated, and at the end realised that we had attended an inspectors training course!
Currently my areas of expertise are cell and tissue procurement (including bone marrow) and processing of tissues and cells but also manufacturing ATMPs (including CAR-T cells) and therapeutic apheresis. I am the medical director of our collection and processing facility and head of ATMP manufacturing.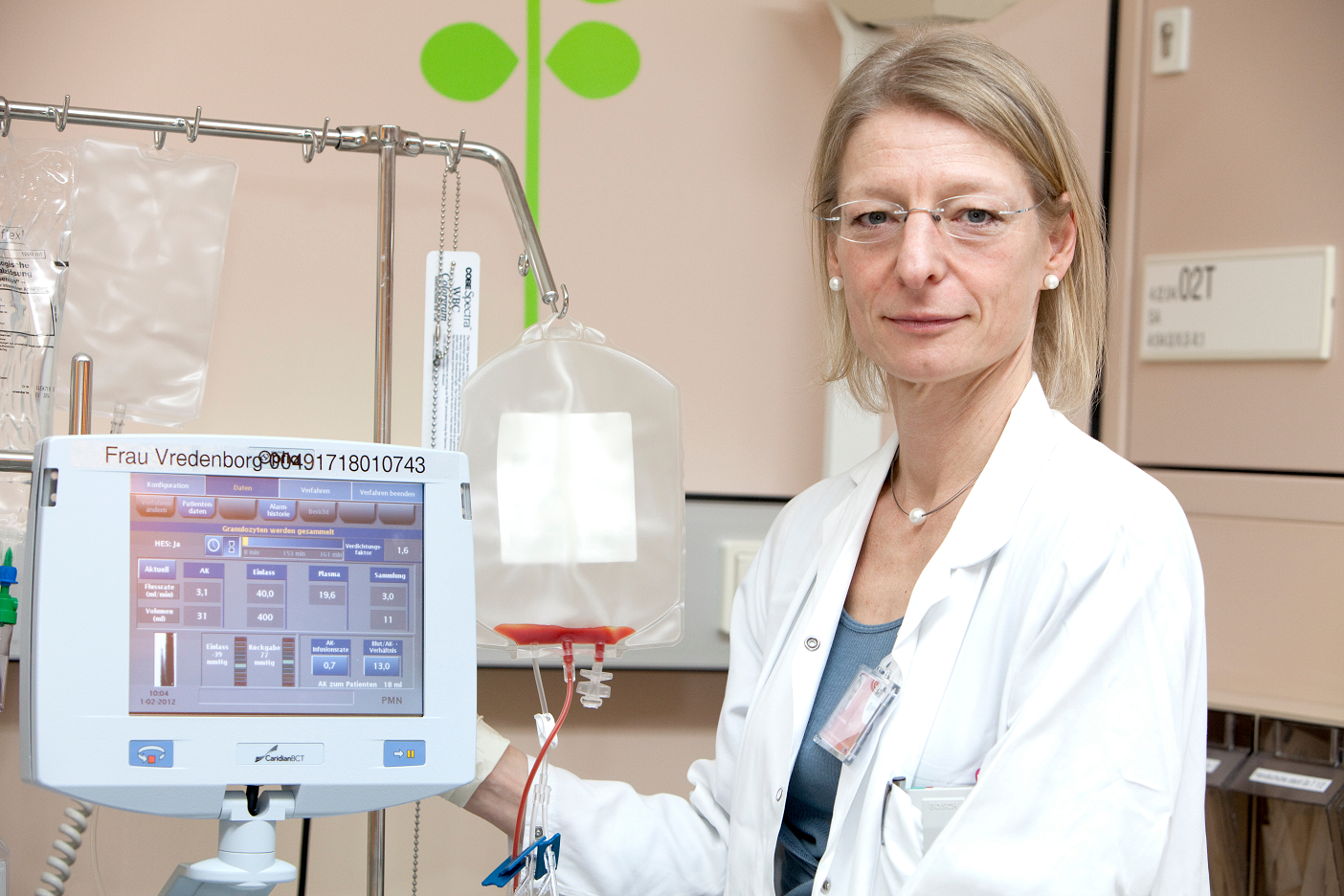 Q: What were the reasons behind JACIE's creation in 1998 - why was it felt that EBMT/the haematology community needed JACIE?
The Foundation for the Accreditation of Cellular the Therapies (FACT – the US equivalent of JACIE) was formed in 1994, and JACIE followed in 1998. There were several important issues to confront: to prevent difficulties in importing and exporting tissues across international boundaries, which could occur if there were differences in standards adopted in different countries but also to protect unrelated and related donors and to provide the best quality of care for patients. Therefore, FACT-JACIE standards are revised in regular intervals and more or less harmonised, with few exceptions.
Q: How would you explain the work of JACIE to a member of the public?
A: JACIE is an accreditation scheme for stem cell transplant and cellular therapy programmes. The main aim of the scheme is to improve and standardise the quality of care in the transplant programmes across Europe and even further afield ultimately improving the outcomes for patients.
Q: What are the day-to-day activities of JACIE? Is the work of accreditation/re-accreditation a constant stream that fills the committees work?
A: Operationally the day-to-day activities are managed through the JACIE office based in Barcelona. The accreditation co-ordinators will liaise with the centres ensuring that the centres have submitted the relevant pre-inspection documents and follow the centre through the process until all the deficiencies have been addressed and the centre receives their accreditation. The co-ordinators work closely with the HR/Volunteer co-ordinator who is responsible for pulling the inspection teams together. Once the inspection has been completed, reports are reviewed by the Accreditation Committee which is currently getting through 10-12 reports per month.
In addition to the Accreditation Committee there is an Inspector Committee who represents our inspectors and provides inspector training, and also a Quality Management Committee.
Q. Can you explain a little the positive impact JACIE has had on survival outcomes?
A: This is similar to other quality systems. However, the most important result is patient outcome and this improves in accredited centers compared to patient outcome before accreditation and is already changing during the preparation for accreditation.
Several factors are involved in the positive change, including standards in education and training, validation of procedures and following standard operating procedures, analysing deviations and implementation of a corrective and preventive action plan.
Q: What are some good (and simple!) examples of the quality improvement areas the JACIE has implemented?
A: By meeting the JACIE standards the transplant programmes commit to implementing a quality management system (QMS) in their centres, which has over the years really raised the quality bar in the accredited centres. Whereas this is something that has been embedded in laboratory practice for a long time, it was a fairly novel concept in clinical practice before JACIE.
As a result of introducing QMS, you will find standard operating procedures (SOPs) in all JACIE accredited centers which explain how the centres manage clinical and laboratory procedures. This has helped to standardise the practice in the centres and also makes it easier to train any new staff joining the transplant team.
Similarly, JACIE accredited centres are required to audit their practices. Some of the audits are specified in the standards, but the centres are encouraged to audit and identify areas for improvement regularly to ensure that they are continuously looking for opportunities to improve the patient outcomes and the patient experience.
JACIE standards have embedded outcome analysis as part of the routine work in the accredited centres and has developed the benchmarking methodology using the EBMT Registry data to further help centres to understand how they perform.
Lastly, JACIE Standards require centres to have robust criteria not only for the initial training of staff working in their transplant programme, but also to ensure that staff has access to training as they continue their work. They are also required to ensure that the staff are trained and competent before any new processes or procedures are introduced to ensure patient safety and standardisation of care.
Q: JACIE's aims include "development of Europe-wide risk-adjusted outcome benchmarking through the EBMT registry and further extension beyond Europe, including goals to facilitate access for BMT programmes in in low- and middle-income economies (LMIEs) via a 'first-step' process."
How much progress has JACIE made with these goals?
Benchmarking
Benchmarking initiative started in 2016 as a collaboration between JACIE and the EBMT registry in order to provide EBMT members (transplant centres) with a means of quality-assuring the HSCT process and meeting FACT-JACIE requirement to review and benchmark 1-year survival outcomes. The first phase of the project was launched 2019 which enabled us to test the acceptability of the model covering the autologous and allogeneic HSCT outcome data for 2013-2016. The second phase delivered the data for participating centres in July 2021 for 2015-2019 period. The participating centres receive a report for their individual centre. So although there has been good initial progress in terms of number of participating centers and data completeness, many challenges remain in refining the benchmarking system and how it can be best delivered across all participating EBMT members. The experience so far has been published in March 2023:
Saccardi, R., Putter, H., Eikema, DJ. et al. Benchmarking of survival outcomes following Haematopoietic Stem Cell Transplantation (HSCT): an update of the ongoing project of the European Society for Blood and Marrow Transplantation (EBMT) and Joint Accreditation Committee of ISCT and EBMT (JACIE). Bone Marrow Transplant (2023). https://doi.org/10.1038/s41409-023-01924-6
First Step programme
'First- Step' programme is a joint JACIE – FACT initiative aiming to facilitate access to accreditation in low- and middle-income countries. Central to this approach is dividing the accreditation into 2 (initially 3) steps enabling the centres to build knowledge and experience in introducing the QMS over time with support from the two organisations. The initiative has focussed and has had particularly interest in the Latin America, where more than a dozen centres have expressed interest in going through the First – Step process.
To date 4 centres have been inspected with one centre achieving certification with another couple of centres expected to have completed their first step imminently.
Progress on this pilot initiative has been slow due to the COVID pandemic, but there is an increased interest from the Latin America and we are working with FACT to develop and improve the model further.
Q: JACIE is a very close team. Tell us a bit about some of your colleagues (we know you cannot name everyone!)
A: For me, JACIE was always linked with the name Eoin McGrath but after he left (after working 19 years with us) Tuula Rintala, who took over the position of Eoin, is for me just as linked with the name. And so are John Snowden, Kim Orchard, Riccardo Saccardi and many, many more. JACIE is like a family for me which is growing bigger and bigger. And this is important because there is still lots of work to do.
Q: Thank you Nina – enjoy the congress and congratulations to you and the team on the 25th birthday of JACIE.
---
Quality Management Sessions during the 49th Annual Meeting of the EBMT
Tuesday, April 25, 09:00 - 10:15
QM1 Quality Management 1 - Center Session
Tuesday, April 25, 11:00 - 12:30
QM2 Quality Management 2 -Challenging Standards
Tuesday, April 25, 14:30 - 16:00
QM3 Quality Management 3 - How I manage …?
Tuesday, April 25, 18:00 - 19:00
QM Meet the Expert Sessions 
---