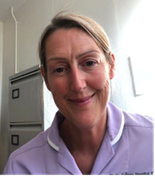 Michelle Kenyon is the incoming president of EBMT's Nurses Group, and will now take over from John Murray at the EBMT Annual Meeting 2021. Here she tells us about what inspired her to become a nurse, and what she hopes to achieve as president. She is based at King's College NHS Foundation Trust in London, UK.
Q: Of course, the COVID-19 pandemic has affected all of us. How has it affected the hospital where you are based, have elective surgeries been able to start up again?
A: Yes, like many of our hospitals in London, we saw a high number of COVID-19 positive patients admitted to our wards and intensive care unit. We are steadily increasing the general footfall in the hospital and are slowly increasing the numbers of transplant patients that we are bringing into our unit.
Q: For our delegates who do not know you, tell us a little about your background. What first inspired you to become a nurse?
A: Put very simply, I wanted to be able to make a difference. I trained in Liverpool in 1988 and was allocated to the haematology ward just before I qualified. I felt very daunted at the prospect but when I met the patients on the ward I knew immediately that I'd found my calling. I felt then, as I do today, very fortunate, privileged and inspired to care for this group of patients and their families.  
Q: How has your career progressed to become a specialist transplant nurse, and what are some of the unique challenges (and rewards) that come with the speciality?
A: I knew from a fairly early stage in my career that I wanted to specialise in the field of transplant. I worked as a staff nurse for a number of years in Liverpool before relocating to London and landing my dream job as a Transplant Co-ordinator Clinical Nurse Specialist (CNS).
This was a completely new role in my hospital at that time, and it was enormously challenging to put the processes into place that were needed. Not long after I started the role, we performed the first combined liver and stem cell transplant and very quickly established our Reduced Intensity Condition (RIC) programme. To be able to safely offer transplants to people with comorbidities, or who were older or had received previous transplants, was really transformational. One of the greatest challenges was around the 9/11 bombings and trying to retrieve stem cells that had been harvested in Washington DC. In those days, we didn't have the same access to email or the internet so communication with the time differences was very difficult. The cells needed to be frozen and then flown to us on a private jet a week later. The cells were infused, and the patient engrafted without any additional complications which was a huge relief from such awful circumstances.
When I took up the role of post-transplant CNS, we were really starting to look at how we could improve the transplant experience and the lives of our patients during their immediate and longer-term recovery. Having a key point of contact during this time of huge change and uncertainty is very meaningful for patients and their families. Since transplant patients can rapidly become very unwell or can experience many chronic complications, having a CNS that understands and gets to know the patient and their caregivers well is beneficial to many aspects of their care.
It was during this time, that I first started to work with the EBMT Nurses Group as a member of the Scientific Committee. I have to admit, I had no idea how much work goes in to designing the various educational events that we offer to nurses and allied health professionals working across our transplant community but we have fantastic support from the EBMT team and I have enjoyed every moment!
As the first UK Consultant Nurse in Transplant, I have been able to further develop my passion for improving patient experience throughout the entire transplant journey.  I lead a team of brilliant, enthusiastic transplant CNS and work alongside our excellent haemato-oncology psychological therapy and allied health professionals as part of a large multi-professional team. I have been instrumental in the development of our long-term follow-up service and now lead our weekly late effects clinic. To be part of this service has been incredibly rewarding and a great learning experience.
Of course, as transplant nurses, we experience many challenges, but the challenges are far greater for our patients and their loved ones. We are privileged to be able to work so closely with them throughout their entire pathway, offering guidance, support and reassurance even when the outcome is not the one we hope for. To work collaboratively with a multiprofessional team towards the same common goal is hugely satisfying but to see our patients moving forward with their lives is the ultimate reward.
Q: What are some of the highlights on this year's Nurses Programme?
A: 2020 is the WHO Year of the Nurse. We have much to celebrate in 2021 that we have not been able to celebrate so fully in 2020. Nurses and nursing have been critical to the global COVID-19 response. We have demonstrated professional flexibility, our willingness to go above and beyond to provide care and support, our bravery at the frontline and our compassion for others. Never have I been more proud to be a nurse.
I'm looking forward to our education day. The focus this year is on steroids such a simple but important drug for transplant care, but they are not without their issues. 
Our opening session today (NG04) features a lecture on nursing and lockdown. This promises to be an excellent session and will bring together our shared experience of COVID-19 across the whole transplant nursing community.  Other highlights that have caught my eye are the 'care for caregivers' session. Such an important area and one that we may not focus on as much as we could. I'll be attending as many sessions as physically (or virtually!) possible including the closing session to catch the highlights from the Physician Programme as well as the 'best of the best' with abstract awards from the Nurses programme.
Q: What are some of the most exciting developments in the field from a nurse's perspective?
A: Now is the time to be a nurse in this field. We have a pivotal role at the bedside – the eyes and ears of the rest of the team, deploying a range of basic as well as specialist skills. We have many opportunities to develop our roles as ward nurses as well as clinical nurse specialists, practice facilitators and advanced practitioners.
Transplant nursing has always been dynamic and new treatment advances such as CAR-T, other immunotherapies and targeted treatments are exciting developments. Additionally, newer transplant indications such as autoimmune disease and adult sickle cell as well as developments in ambulatory and supportive care settings offer up even more opportunities for us to learn, influence and deliver patient care.
Q: John Murray is now going to hand over the Nurse's Group Presidency to you at next year's EBMT meeting in Madrid. What are some of the things you would like to achieve when your Presidency begins?
A: The position of President Elect offers the chance to contribute my experience and energy to this role as well as my knowledge as a Board member to drive forward our agreed goals. In addition to continuing all aspects of our current EBMT activities, I will ensure that we also have focus on our changing landscape to make certain that we remain flexible and adaptable to future developments. Our continually evolving field in transplantation and cellular therapies coupled with our dynamic healthcare systems bring fresh challenges and opportunities for success. This role is important in safeguarding our EBMT Nursing Board activities and not only reflect change but also put transplant nursing at the forefront of transformation. 
My priorities are:
To develop an annual report of the Nurses Board and Committee accomplishments and performance communicated effectively through internal and external channels

To promote the Nurses Group overall aims and objectives and ensure these continue to reflect the ideas and suggestions of its members

 In collaboration with our committees, develop a 5-year strategy incorporating activities such as projects and research outputs and identify funding streams to support these.

To continue to strengthen and develop internal communication between the EBMT Nursing Board, Nursing Committees, National Groups and Regional Forums as well as the Main Board and Executive Office

To review and update where necessary the Nursing Board constitution to ensure it represents the current rules and principles and is sufficiently aligned with the Main Board

To develop further opportunities for collaborative working reflecting our common interests and harnessing the breadth of experience and skill of our community of EBMT Nurses.  
Thank you Michelle, and we hope you enjoy EBMT 2020!