OPENING SESSION
VAN BEKKUM AWARD to German MDS Study Group and Cooperative German Transplant Study Group for their abstract entitled AZACYTIDINE (5-AZA) INDUCTION FOLLOWED BY ALLOGENEIC STEM CELL TRANSPLANTATION VERSUS CONTINUOUS 5-AZA IN ELDERLY MDS PATIENTS (55-70 YEARS). A PROSPECTIVE RANDOMIZED STUDY (VIDAZAALLO STUDY)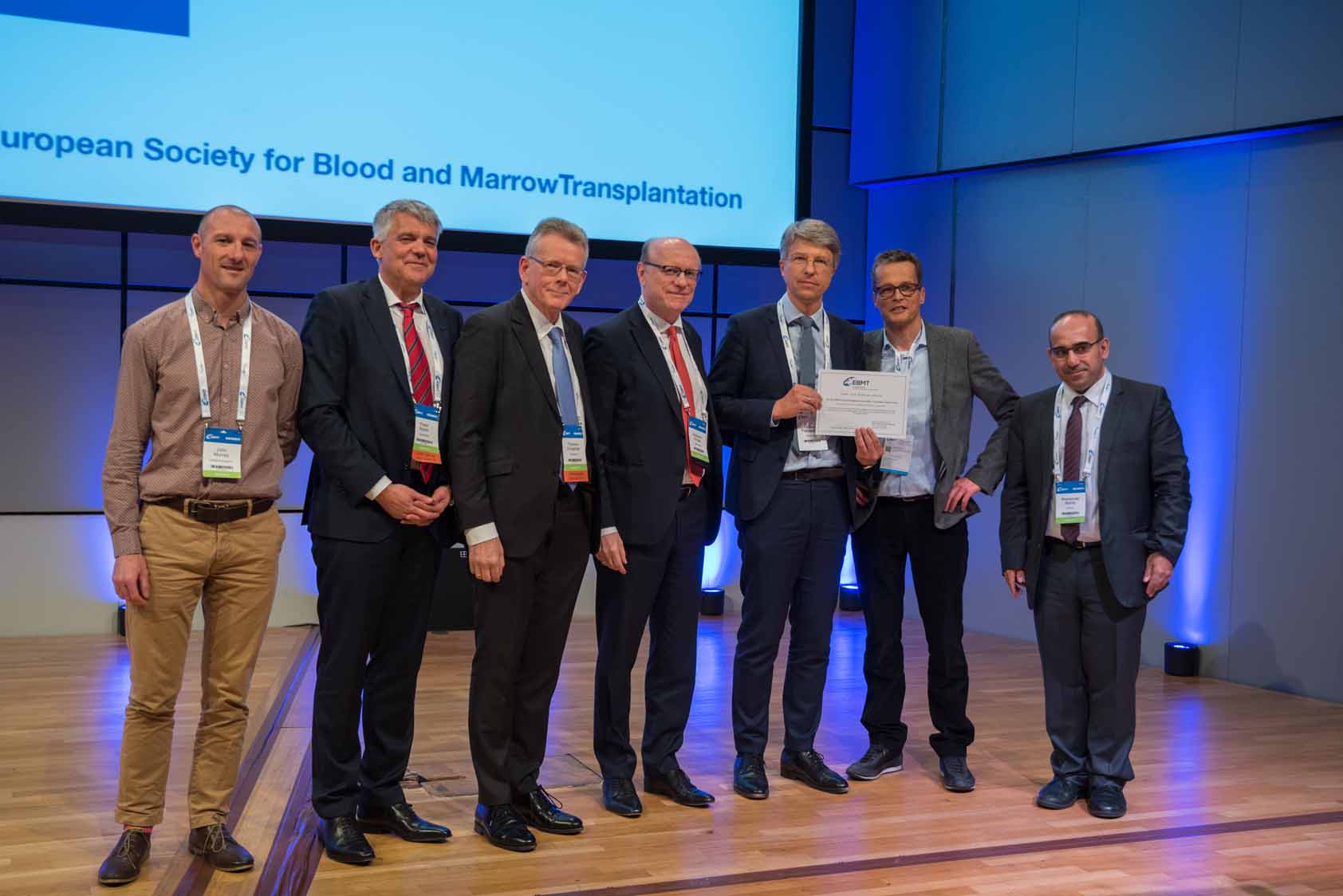 BASIC SCIENCE AWARD to Melody Smith for her abstract entitled INTESTINAL MICROBIOME ANALYSES IDENTIFY BIOMARKERS FOR PATIENT RESPONSE TO CAR T CELL THERAPY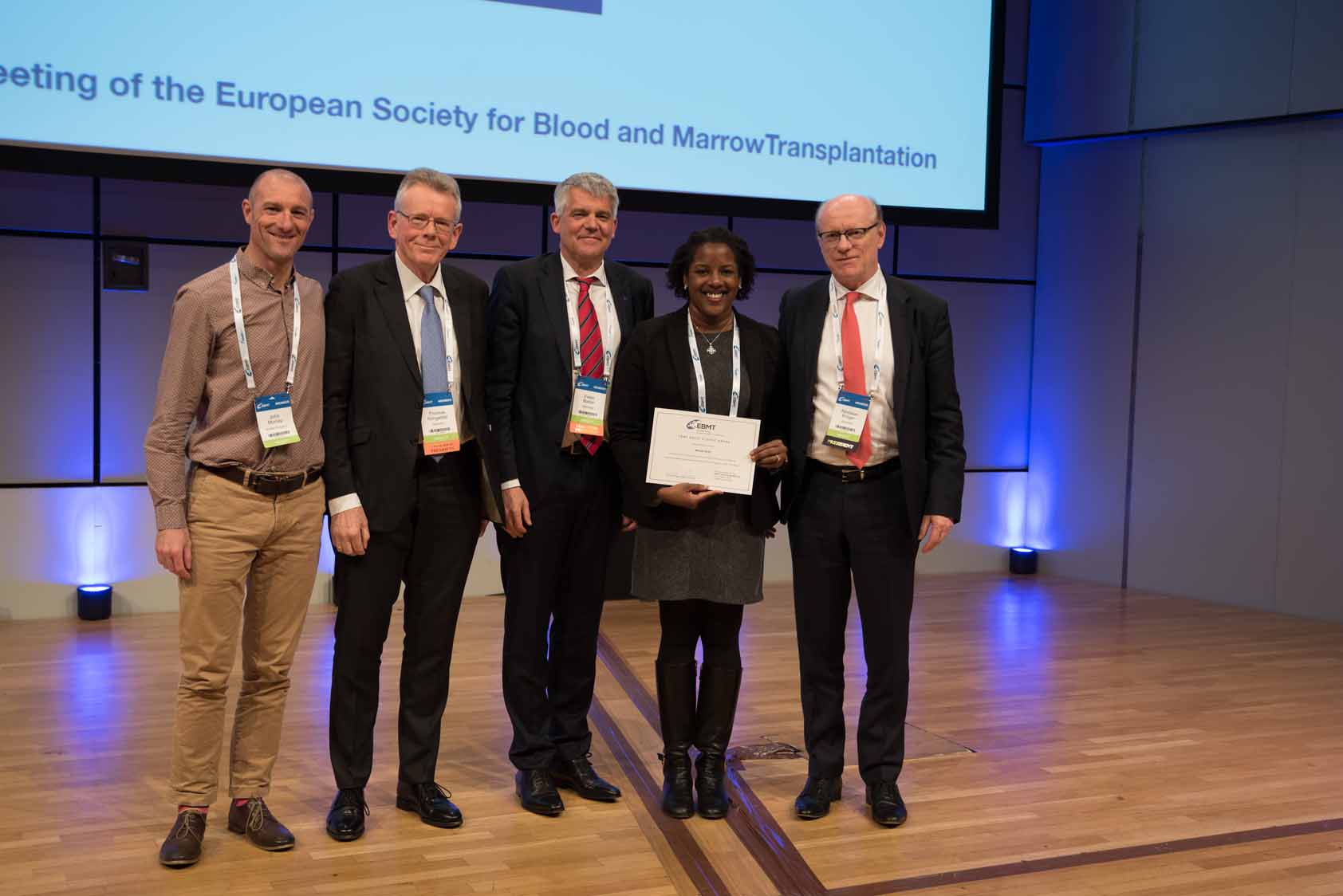 Watch the EBMT TV Opening Ceremony - Van Bekkum and Basic Science Winners
PRESIDENTIAL SYMPOSIUM
HONORARY MEMBERS
Per Ljungman (Sweden) and Mauricette Michallet (France)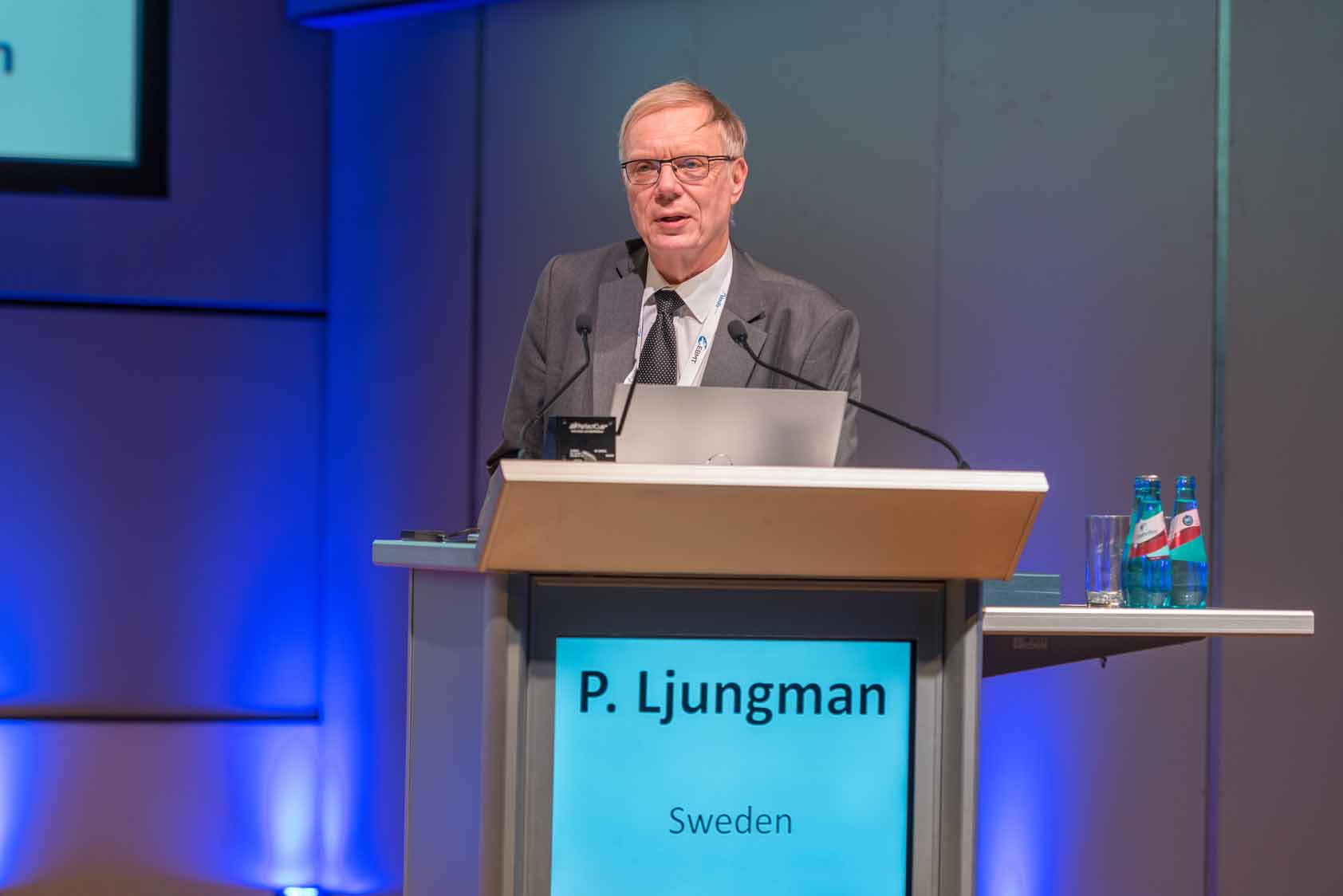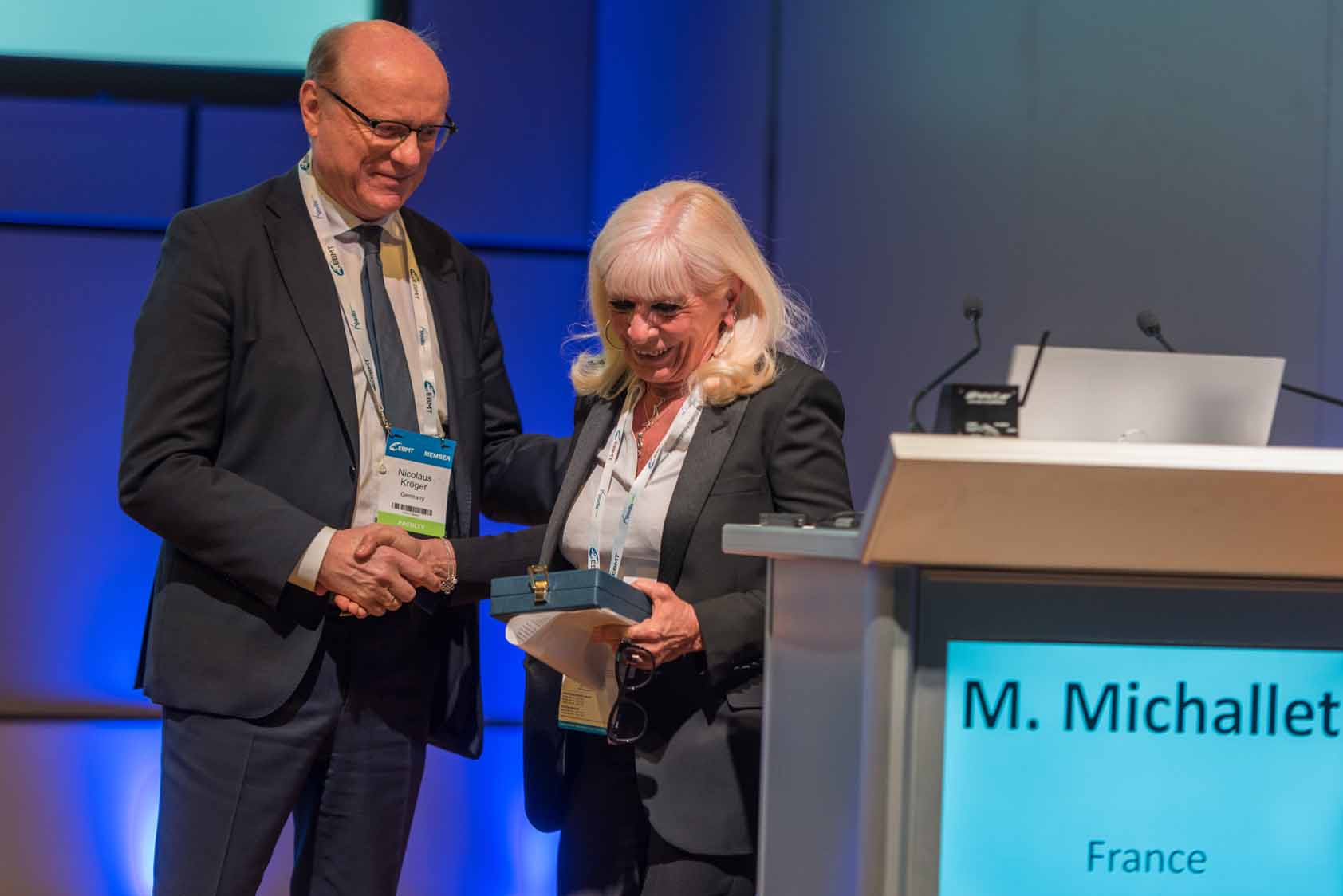 CLINICAL ACHIEVEMENT AWARD
Wiesław Jędrzejczak (Poland) and James Biggs (Australia)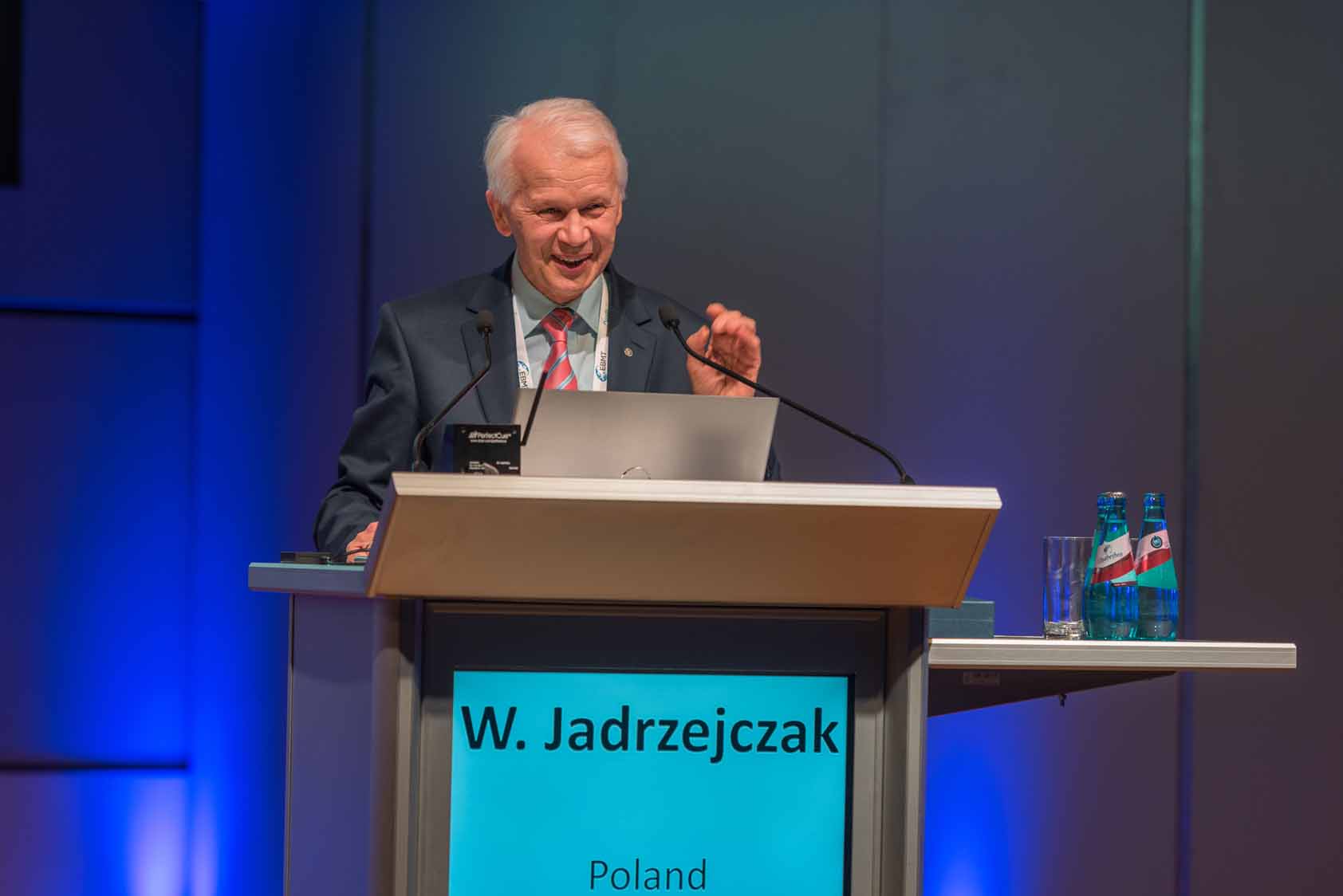 Watch the EBMT TV Presidential Symposium - Honorary Members and Clinical Achievement Awards
LYMPHOMA WORKING PARTY SESSION
JIAN-JIAN LUAN AWARD to Chiara De Philippis for her abstract entitled: CHECKPOINT INHIBITOR TREATMENT BEFORE HAPLOIDENTICAL TRANSPLATATION IN RELAPSED OR REFRACTORY HODGKIN LYMPHOMA (HL) PATIENTS IS ASSOCIATED WITH HIGHER PFS WITHOUT INCREASED TOXICITIES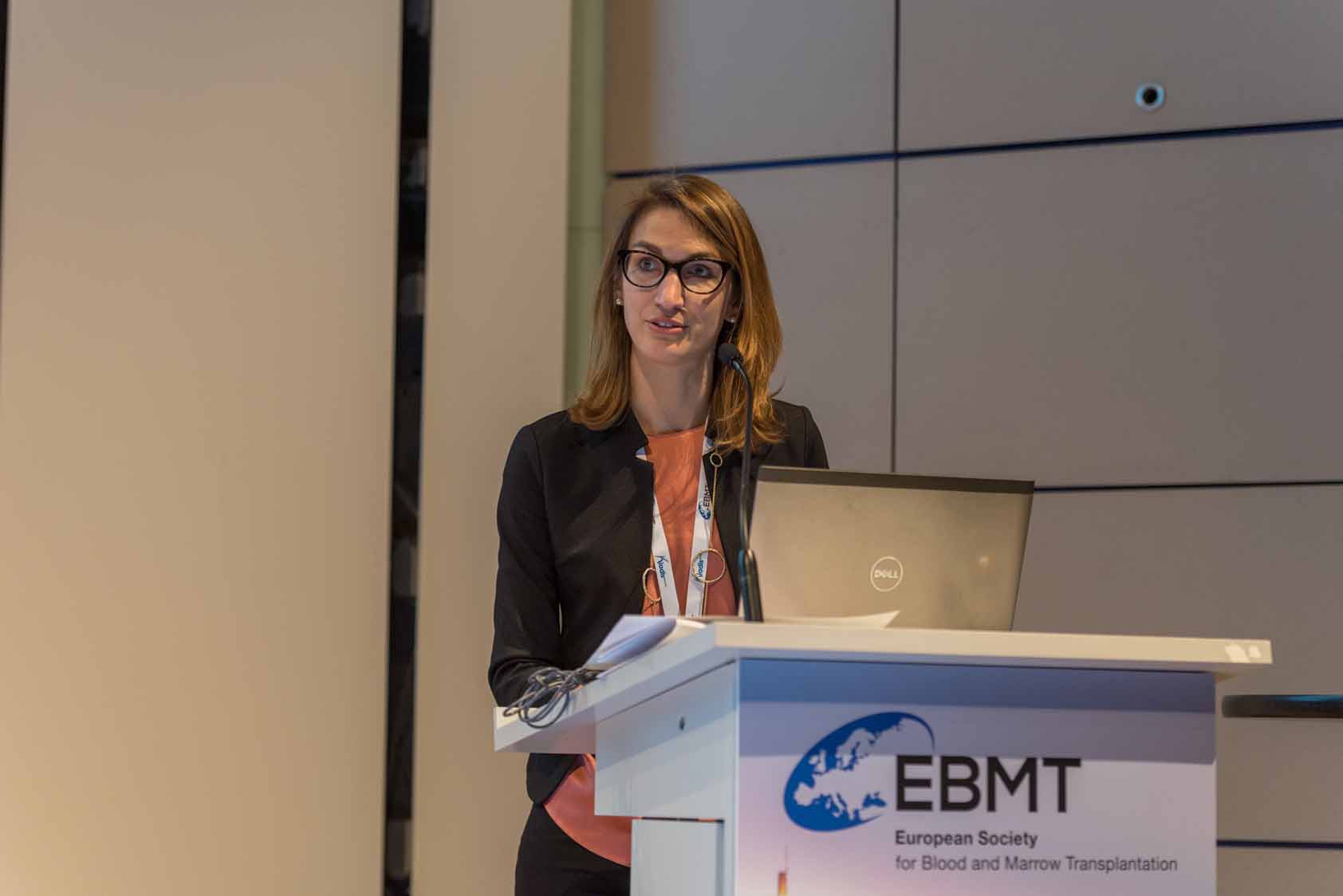 Watch the EBMT TV Jian Jian Luan Award
CELLULAR THERAPY & IMMUNOBIOLOGY WORKING PARTY SESSION
JON J. VAN ROOD AWARD to Itauá Leston Araujo (Brazil) for his abstract entitled: Human thymopoiesis is influenced by a common genetic variant within the TCRA-TCRD locus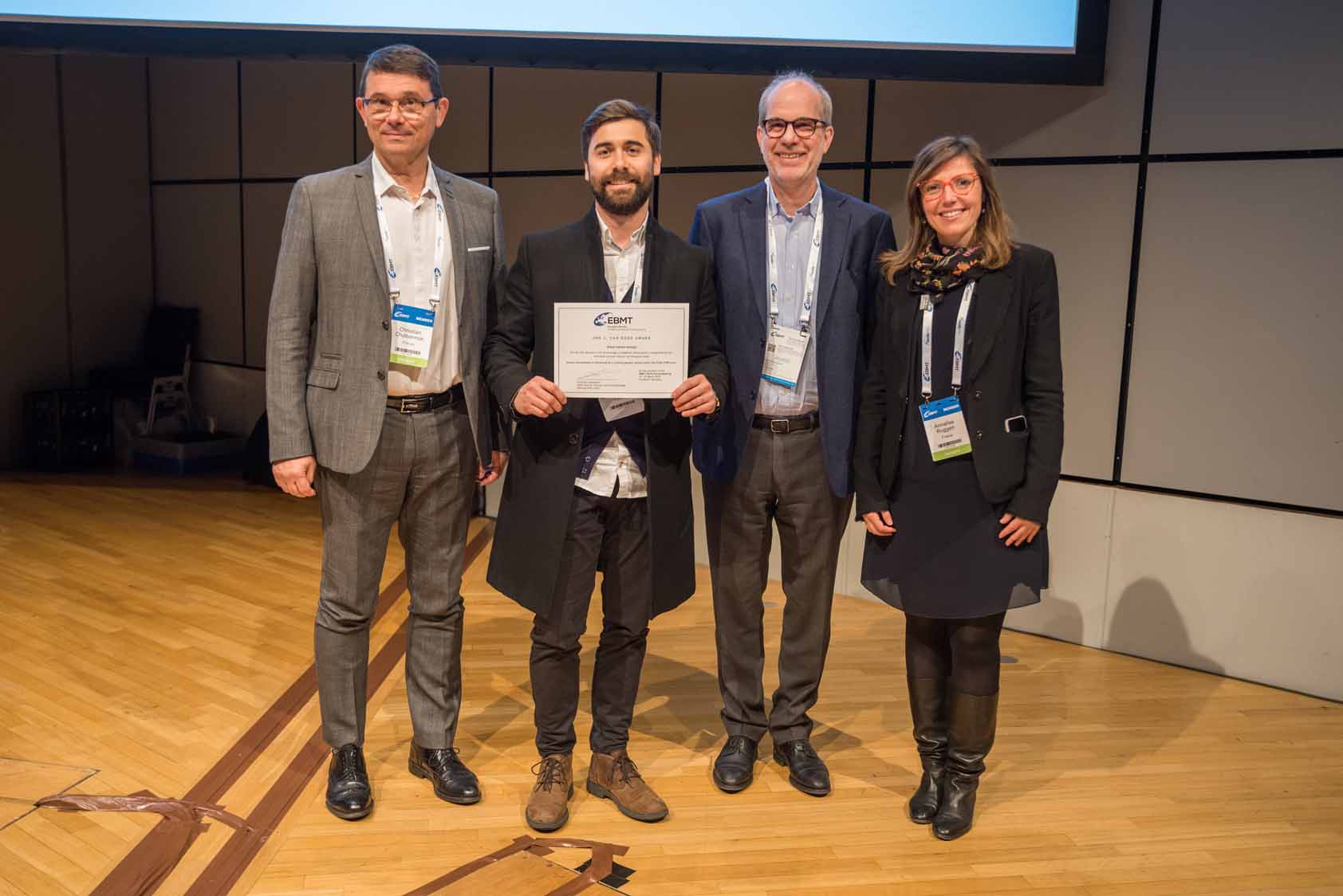 Watch the EBMT TV Jon van Rood Award
2nd POSTER SESSION - BEST YOUNG ABSTRACTS
10 BEST YOUNG ABSTRACT AWARDS
5 BEST YOUNG POSTER AWARDS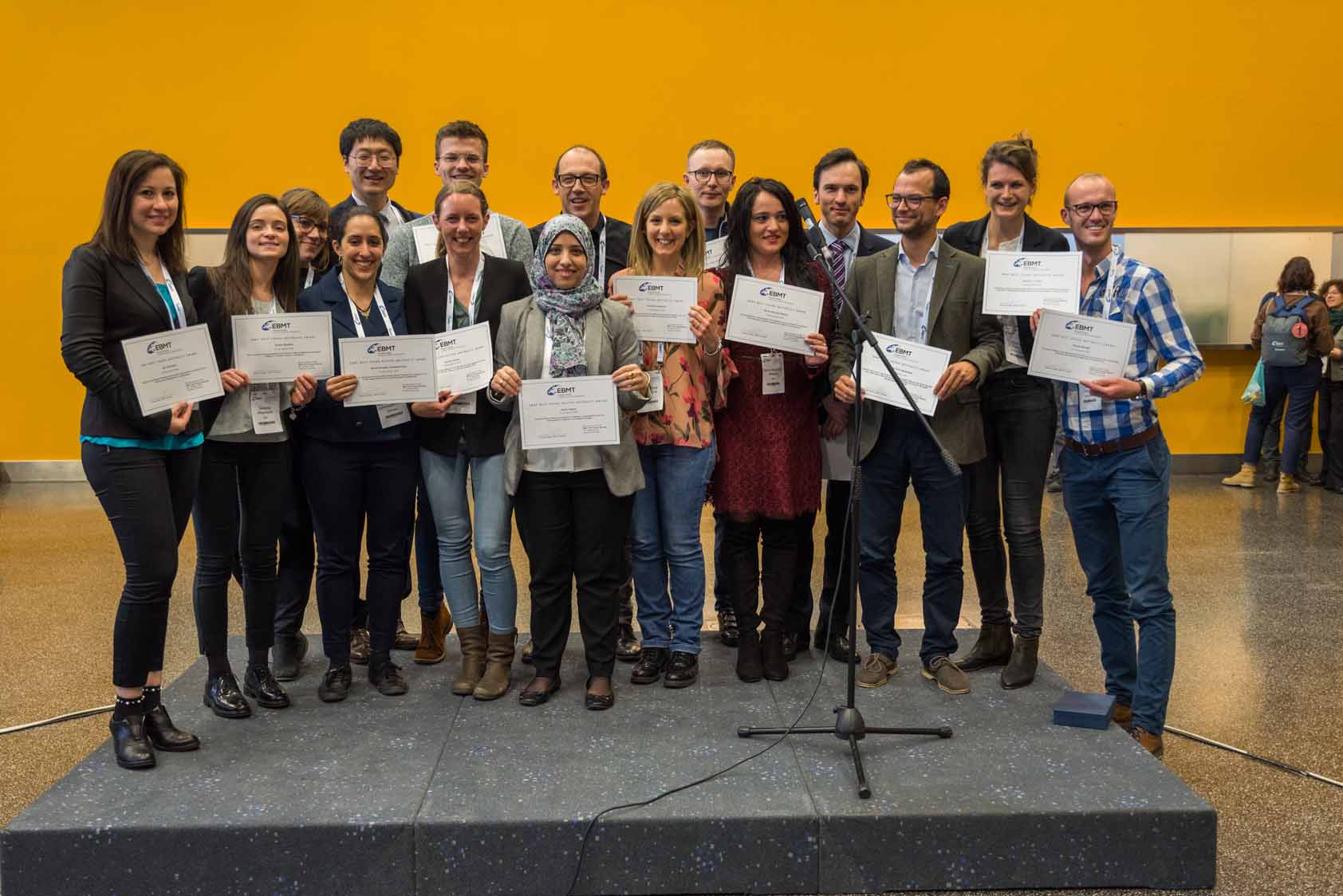 Watch the EBMT TV The Next Generation - Young Award Winners
CLOSING CEREMONY
SPRINGER NATURE POSTER AWARDS
The Best Clinical Poster Award, sponsored by Springer, was presented to Eliana Ruggiero for her poster entitled: Longitudinal tracking of WT1-specific T cells allows to generate a library of WT1-specific T cell receptors (TCR), for TCR gene editing of acute leukemia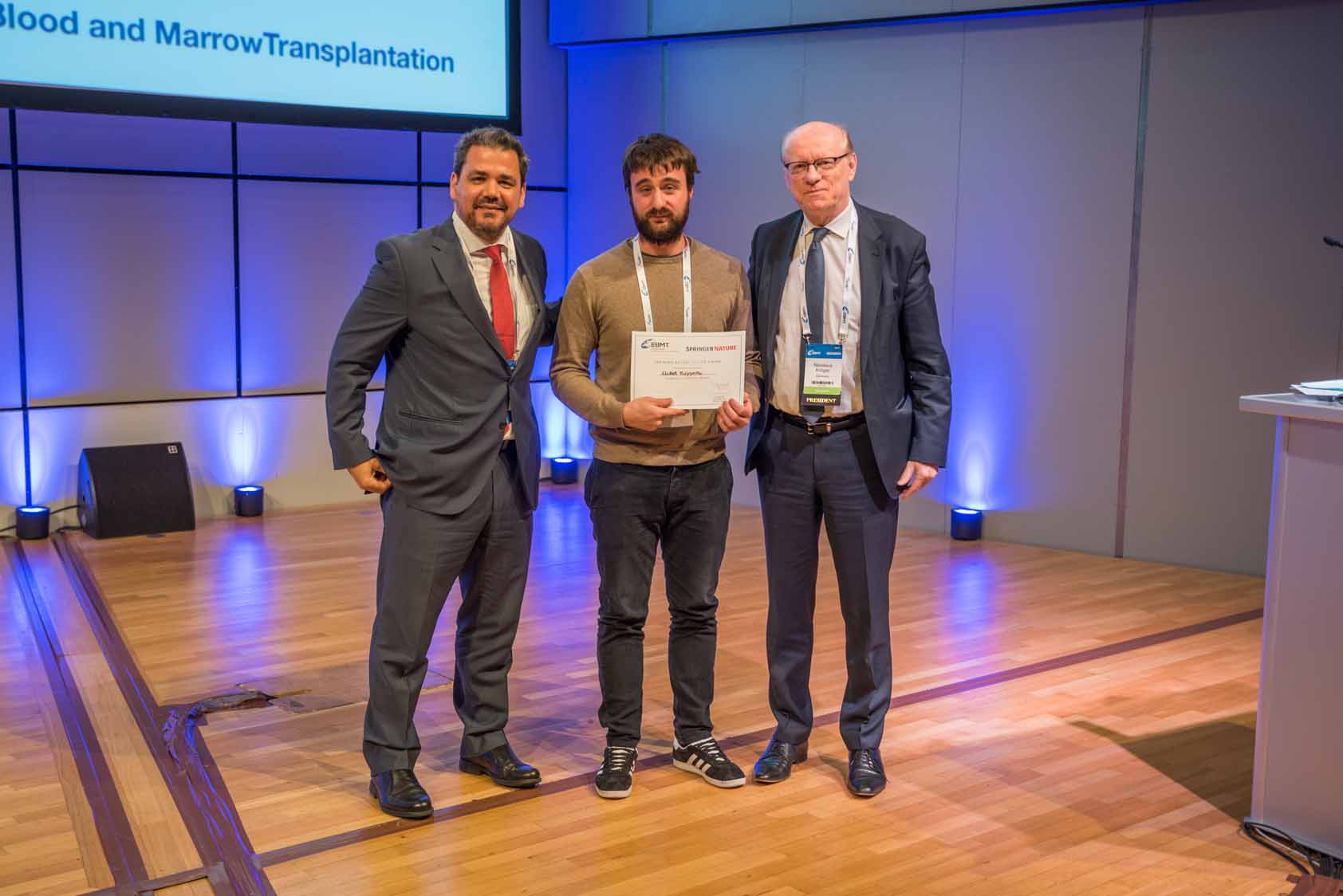 The Best Science Poster Award, sponsored by Springer, was presented to Johannes Schetelig for his poster entitled: Does Donor KIR-Genotype Impact Outcome After Unrelated Hematopoietic Stell Cell Transplantation for Myelodysplastic Syndromes or Secondary Acute Myeloid Leukemia?
EBMT Research Fellowship Grant in the field of "haematopoeitic stem cell transplantation in acute leukaemia" was presented to Mirjam Belderbos for her research on tracing the clonal dynamics of single HSCs in human hematopoietic stem cell recipients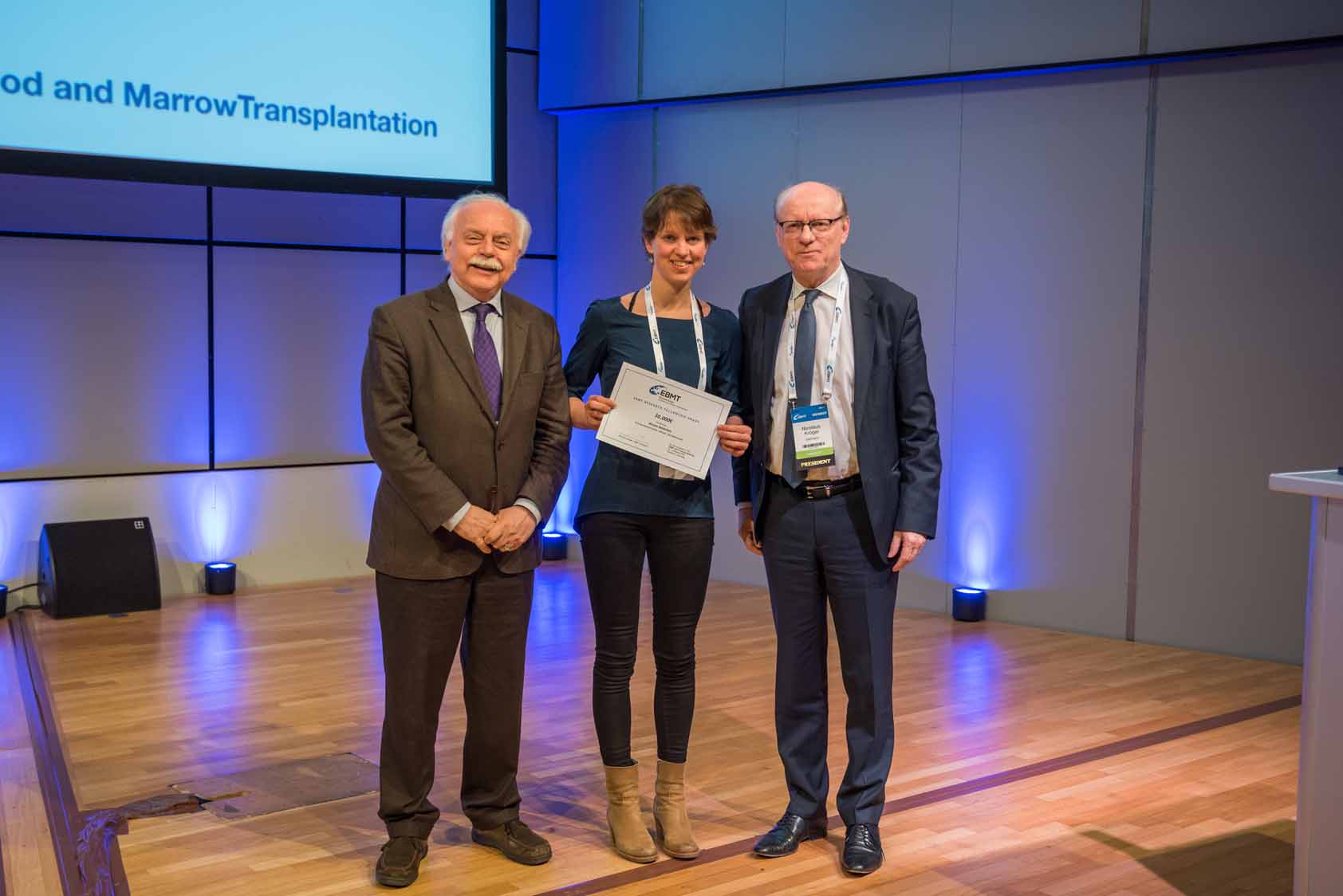 Watch the EBMT TV Research Grant
EBMT NURSES GROUP AWARDS
DISTINGUISHED MERIT AWARD to Aleksandra Babic for her services to the EBMT Nurses Group. Aleksandra has held positions on the Scientific Committee, Global Education and President of the EBMT Nurses Group. She has worked tirelessly and with huge energy and dedication to the EBMT Community. Her many achievements include launching the Global Education Committee with a huge impact on the training and education of the nursing workforce in LMICs India, China and Myanmar supporting the opportunity for JACIE step 1 accreditation. She has also developed an online accredited JACIE competency course and most recently co-Edited the EBMT Textbook for nurses which was published in 2018. She has been a real inspiration and influence for many nurses and transplant colleagues within the EBMT and globally.
BEST RESEARCH ABSTRACT ORAL PRESENTATION to Cristina Canaleta Ros for her abstract entitled PERCEPTION OF PATIENTS ABOUT THE INSERTION OF CENTRAL VENOUS CATHETER: PREPARATION, FUNCTIONALITY AND BODY IMAGE - STUDY PRELIMINARY RESULTS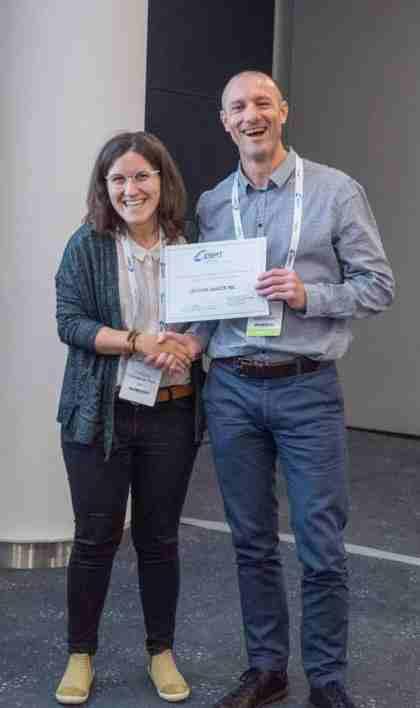 BEST ORAL PRESENTATION to Sabine Valenta for her presentation entitled RE-ENGINEERING FOLLOW-UP CARE AFTER ALLOGENEIC STEM CELL TRANSPLANTATION: PATIENTS' AND CLINICIANS` PERSPECTIVES OF EHEALTH ENHANCED SUPPORT CARE - THE SMILE STUDY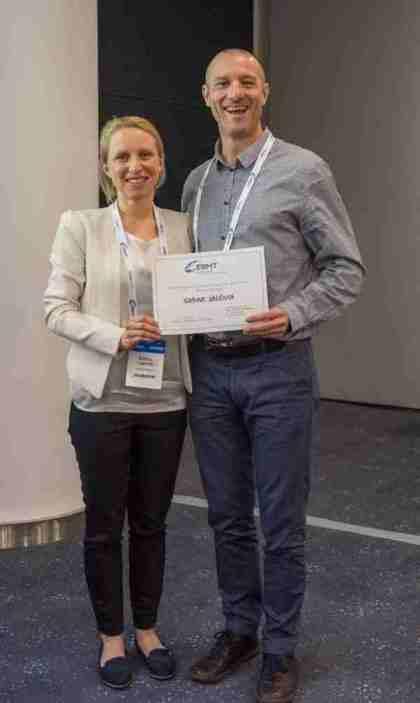 BEST POSTER to Stéphanie Schmitt for her poster entitled "GREFFÉ & GOURMET": CREATION OF A RECIPE BOOK FOR TRANSPLANT PATIENTS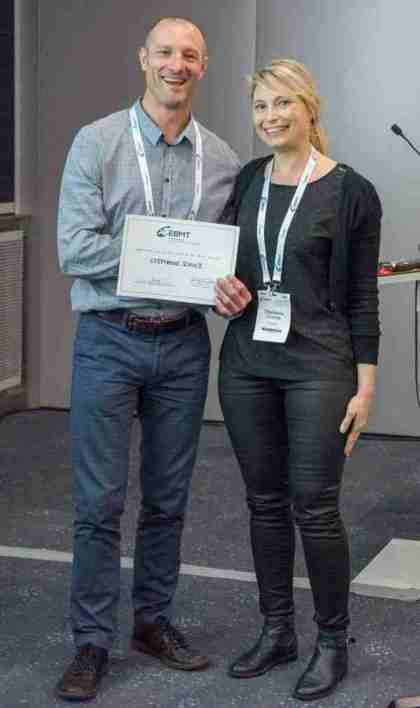 BEST PAEDIATRICS ORAL PRESENTATION to James Evans for his presentation entitled GASTROSTOMY FEEDING REDUCES THE NEED FOR PARENTERAL NUTRITION IN CHILDREN UNDERGOING ALLOGENIC BONE MARROW TRANSPLANTATION
BEST PAEDIATRICS POSTER PRESENTATION to Julie Guest for her poster presentation entitled INCREASING THE IMPACT OF MEANINGFUL PATIENT RESEARCH - BUILDING A DEEPER UNDERSTANDING OF THE LIFEWORLD AND BURDEN OF ILLNESS IN A CHILD AND ADOLESCENT CLINICAL APHERESIS COMMUNITY