PLEASE NOTE: Registration for the 2021 Annual Meeting is now closed. Stay tuned for when EBMT opens registration for the 2022 Annual Meeting.
WARNING: There is an increasing number of fraudulent websites that impersonate the EBMT 2021. We would like to alert all our members and delegates to be aware of possible scams and to strongly advise that anyone attending EBMT Congress use only the official EBMT 2021 online registration form.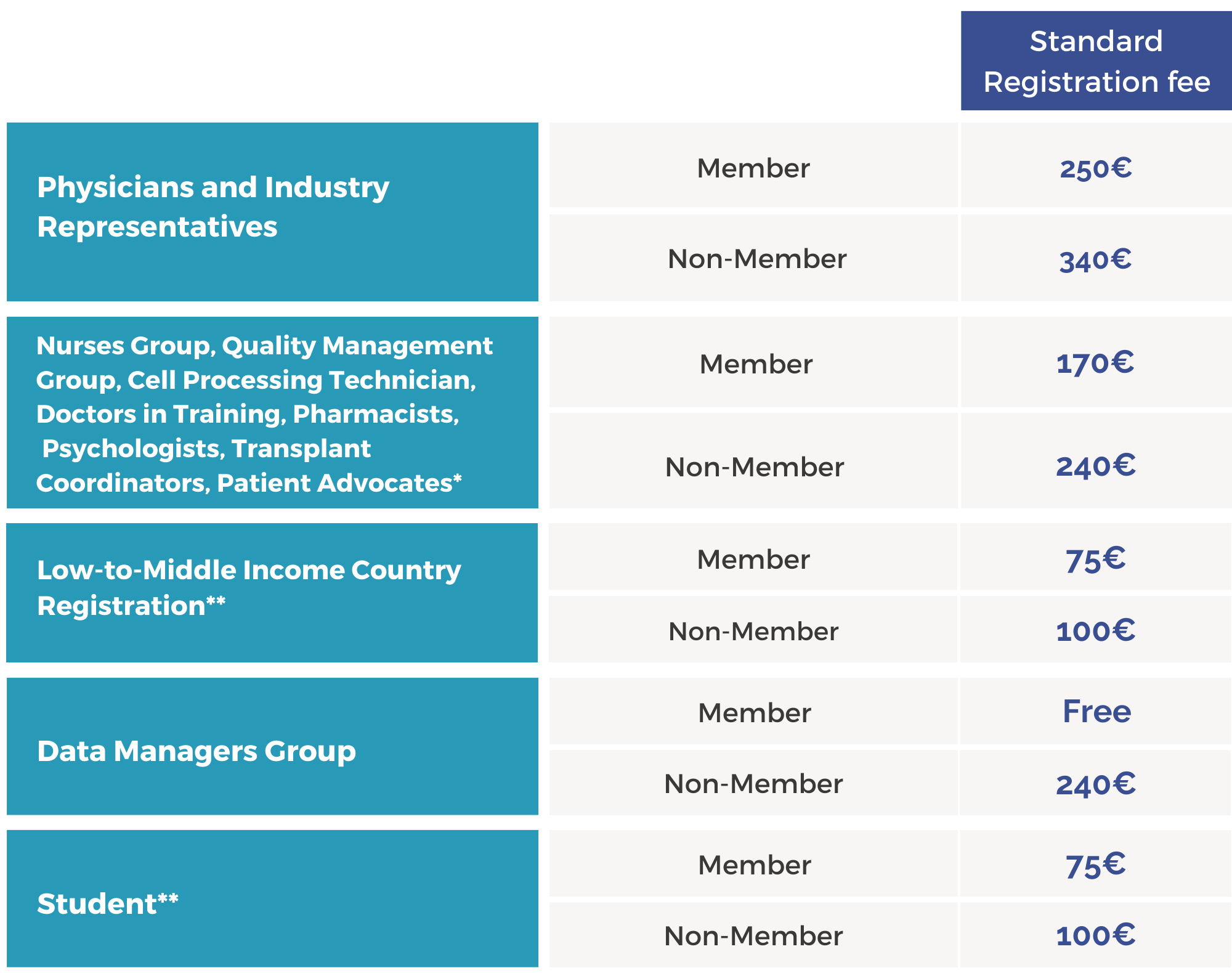 NOTE: Registration will close at the end of the last day of the Meeting: 18:00 CET, 17 March, 2021.
Full registration for the Virtual Annual Meeting includes access to all Meeting sessions, as well as access to all sessions for 2 months afterwards on the virtual event platform.

* Patient Advocates Special Offer: For the Virtual Annual Meeting 2021, EBMT will be offering free full congress registration to 30 Patient Advocates.
If you are a Patient Advocate and are interested in attending the full EBMT Annual Meeting (March 14-17, 2021), in addition to Patient, Family and Donor Day, please APPLY by sending your CV and Letter of Intent to registration@ebmt.org. Once 30 applications have been received and approved, no further applications will be accepted.

** Proof of your status as a Postgraduate student, Low-to-Middle Income Country (LMIC) residence, or Student status will be requested and is required during the registration process.


Other Special Registration Offers
One free Nurse registration is available per EBMT Member transplant centre in Spain. In order to register for this, please contact registration@ebmt.org. Please note that proof of your employment will be requested.

Free registration for 1 physician and 1 nurse per EBMT Latin American Centre.
Note: The Database Entry training sessions will be fully virtual and will take place on different dates. Please check the Data Management Registration page.
Registration for the virtual event includes:
Participation in scientific sessions and satellite symposiums during the live event days, access to the virtual exhibition, access to e-Posters, access to online networking opportunities, access to all recorded content for two months after the meeting live dates.
Cancellation Policy (for individual booking only)
All registration cancellations must be electronically mailed. Refund of registration fees will be as follows:
Postmarked before January 12, 2021 - 100% refund (minus €50 handling and transaction fees).
Postmarked from January 13, 2021 - 50% refundable minus transaction fees.
No refund on cancellations sent after March 1, 2021.
Refunds will be processed in April 2021 following the completion of the EBMT Annual Meeting.
Cancellation for accommodation bookings previously made for the face-to-face meeting in Madrid:
All hotel room bookings will be refunded in full minus 50€ for administration and transaction fees, per room

Should you have any questions about your refund for your accommodation booking, please contact accommodation@ebmt.org
Invitation letter
In order to generate a letter in case you need it to be able to attend the EBMT Annual Meeting, please fill in this form: https://www.ebmt.org/annual-meeting/invitation-letter
Payment
Payment of registration fees can be made through this website using a credit card or by sending the Secretariat a bank transfer. In the case of payment by bank transfer, all transaction fees should be paid by the sender.
Liability
The Meeting Secretariat and Organizers cannot accept liability for personal accidents, and/or loss of and/or damage to private property of participants, either during or directly arising from the EBMT Annual Meeting 2021. Participants should arrange their own health and travel insurance for their trip.
Contact for any inquiry regarding registration and/or accommodation
CME Congresses
On behalf of EBMT 2021
+44-2032899552
registration@ebmt.org
accommodation@ebmt.org