Frankfurt Convention Bureau
The EBMT wishes to acknowledge the Frankfurt Convention Bureau in thanks for their support and hosting of the 2019 Annual Meeting in Frankfurt!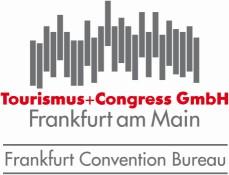 Key dates
| | |
| --- | --- |
| 1 March, 2019 | Standard registration deadline |
| 24 March 2019 | 1st day of the Annual Meeting |
| 27 March 2019 | Last day of the Annual Meeting |
Opening Ceremony & Welcome Reception
All registered participants are invited to the Annual Meeting Opening Ceremony on Sunday 24 March, at 6:30 pm in Harmonie Hall A+B+C. The Opening Ceremony will be followed by the Welcome Reception.
Registration Opening Hours
| | |
| --- | --- |
| Sunday, March 24 | 07:30 - 20:00 |
| Monday, March 25 | 07:00 - 19:00 |
| Tuesday, March 26 | 07:00 - 19:00 |
| Wednesday, March 27 | 07:30 - 14:00 |
Exhibition Opening Hours
| | |
| --- | --- |
| Sunday, March 24 | 09:30 - 18:30 |
| Monday, March 25 | 09:30 - 17:30 |
| Tuesday, March 26 | 09:30 - 17:30 |
Lunch and Coffee Breaks
Lunch and coffee will be served at the Exhibition Hall for all Meeting participants according to the official Meeting breaks as listed in the timetable.
Language and Simultaneous translation
The official language of the EBMT Annual Meeting is English. Simultaneous translation will be available in the following sessions:
Patient Family and Donor Day, Sunday, 24th March (English <-> German)
Nurses Education Day, Sunday, 24th March (English <-> German)
Psy Day, Monday, 25th March (English <-> German)
Photo and audio/video recording privileges
EBMT reserves exclusive rights to photograph and/or record (audio and video) all event proceedings and participants for use in marketing materials, presentations, and course content reproductions (online or other). Photography and/or recording by individuals is not permitted in the scientific, educational and business meetings during any EBMT event, unless specifically pre-authorized by EBMT. Individuals granted such privileges shall be properly registered at the event and issued the proper proof of privileges (press badge or other).
EBMT Blackout Policy
Industry is welcome to organize evening events during the dates of EBMT 2019 provided these start after the conclusion of the Scientific Programme of that day, including the Poster Sessions.
No meetings or events are to be scheduled on the evening of Tuesday, March 26, 2019, when the EBMT Networking Event takes place.
No meetings or events are to take place during the EBMT 2019 Opening Ceremony and Welcome Reception on Sunday, March 24, 2019.
Cancellation and Refund Policy
All cancellations must be electronically mailed. Refund of registration fees will be as follows:
Postmarked before January 8, 2019 – 100% refund (minus €50 handling fee).
Postmarked from January 9, 2019 – 50% refund.
No refund on cancellations sent after March 4, 2019.
Refunds will be processed in April 2019 following the completion of the EBMT Annual Meeting.
Certificate of attendance
Following the completion of the EBMT 2019 Annual Meeting, all registered participants will receive a survey to complete. At the end of the survey, you will be able to download your certificate of attendance.
Visas
To enter Germany you need a passport that is valid for at least four months from your date of arrival. For citizens of EU countries a valid identity card is sufficient. EU citizens do not require a visa. Citizens of all other countries will generally need a visa, with the exception of some countries for which the European Community has abolished the visa requirement. Nationals of those countries do not require a visa for visits to Germany lasting no longer than three months in a six-month period.
Currency and exchange
The official currency is the EURO (€, EUR). It is not common to pay with 100, 200 or 500€ banknotes. If you need foreign exchange, cash or traveler's checks, you will find ATMs, Currency Exchanges and Tax Free Services everywhere in Frankfurt.
Liability and insurance
The EBMT 2019 Congress Secretariat and Organizers cannot accept liability for personal accidents or loss of or damage to private property of participants. Participants are advised to take out their own personal travel and health insurance for their trip.