EBMT Exam 2021 - Online
The EBMT Exam will take place on 14 March, 2021, online via the EBMT e-learning platform.
The Exam results will be sent on Wednesday 31 March 12:30 CEST from elearning@ebmt.org. 
**The 2020 Exam was postponed until 2021 -- if you were registered for the 2020 Exam, your registration has automatically been carried over to the 2021 date.
EBMT Exam Infographic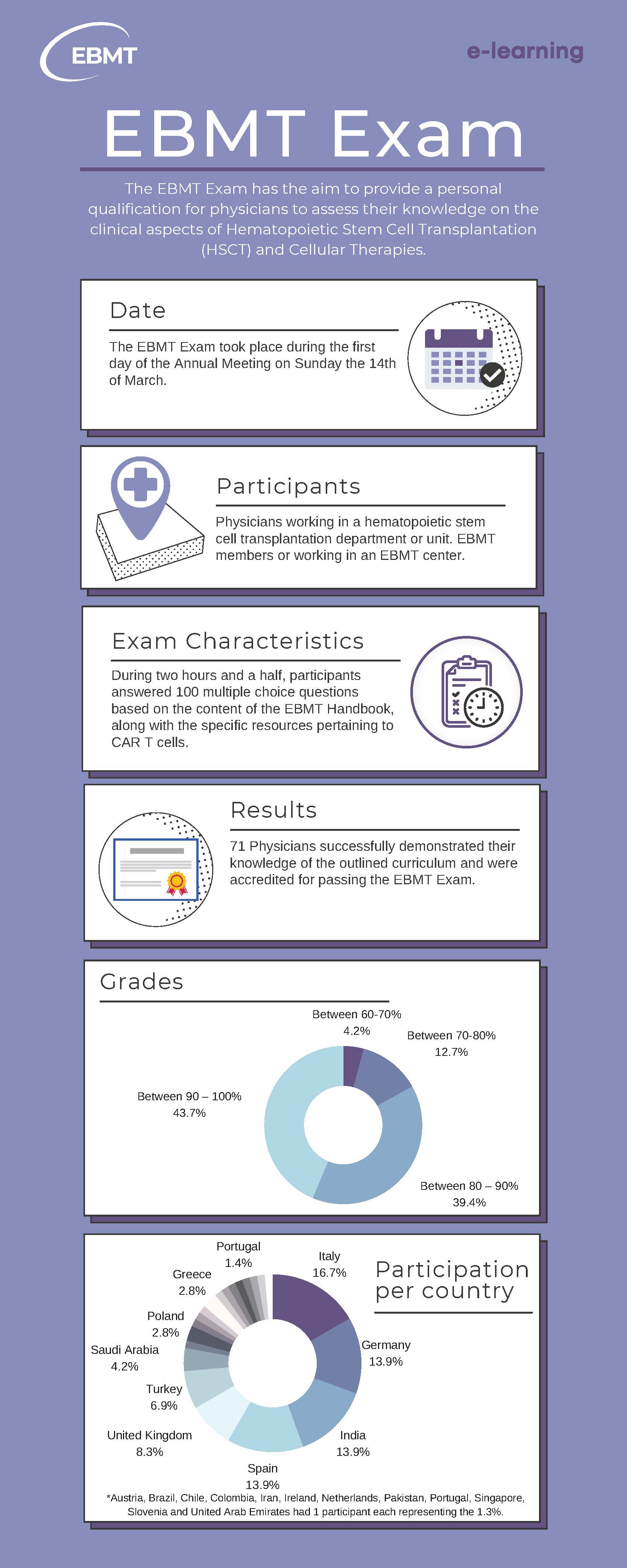 About the Exam
The EBMT Exam has the aim to provide a personal qualification for physicians to assess their knowledge on the clinical aspects of Hematopoietic Stem Cell Transplantation (HSCT) and Cellular Therapies.
Successful candidates will be certified for five years. After five years, the certification can be continuously prolonged/renewed by earning CME credit points on the EBMT E-learning platform (coming soon) or by taking the Exam another time. 
The required knowledge to pass the exam is listed in the table of contents of the EBMT Handbook with additional questions about CAR T cells. All questions on the Exam will be based on the content of the Handbook, along with the following resources pertaining to CAR T cells: 
Prerequisites
Physicians working in a hematopoietic stem cell transplantation department or unit. 
The applicant must be an EBMT member
OR
The applicant must work in a center member of EBMT.
The applicant must have a degree in medicine and a certification in either haematology, paediatrics, immunology or medical oncology according to the national rules. If there is no specific certification, the attendee should provide a legal national document which allows her/him to practice haematology / paediatrics / oncology.
Format
When?
During the EBMT Virtual Annual Meeting on Sunday 14th of March, 2021 from 9:00 to 11:30 am.
Where?
Online
Due to the COVID-19 pandemic, the EBMT 2021 Annual Meeting will be fully virtual, and thus the EBMT Exam will be administered fully online as well. It remains a closed-book exam, and using external resources is strictly prohibitied. The Exam will be administered via the EBMT e-learning platform. 
How?
Registration
The registration is closed. If you were already registered to the 2020 edition, your registration will automatically be carried over to 2021.
Registration for the Exam will close on Sunday, 7 March 2021 at 23:59 CET.
There will be no limit on the number of applicants accepted to sit the exam
Price of the exam:

100 € (if registered for the Annual Meeting)
250€ (if not registered to the Annual Meeting)
Characteristics of the online exam
EBMT will provide login access to the EBMT e-learning platform for the participants to do the online Exam. Participants will not be able to use any external resources
Duration: 2.5 hours
100 multiple choice questions with four possible answers, only one can be correct
60% of the questions must be answered correctly in order to pass the Exam