Data Management Sessions
Two in-person sessions will be held on Monday, 24 April, in the afternoon. Another two sessions will be available at the on-demand virtual library. 
The Data Management programme consists of Educational Sessions.
The Data Management Education sessions (presentations by clinical experts) will be in-person but also virtual and are open to all. You can find the full programme here.
New EBMT Registry Introduction
There will be also a special in-person session, "New EBMT Registry Introduction", which will take place in Salle Passy, 1st floor, on Monday, 24 April, from 9:00 to 13:00, and the same content in the afternoon, from 14:00 to 18:00, that way you can choose which time suits you better.
You can check the agenda below: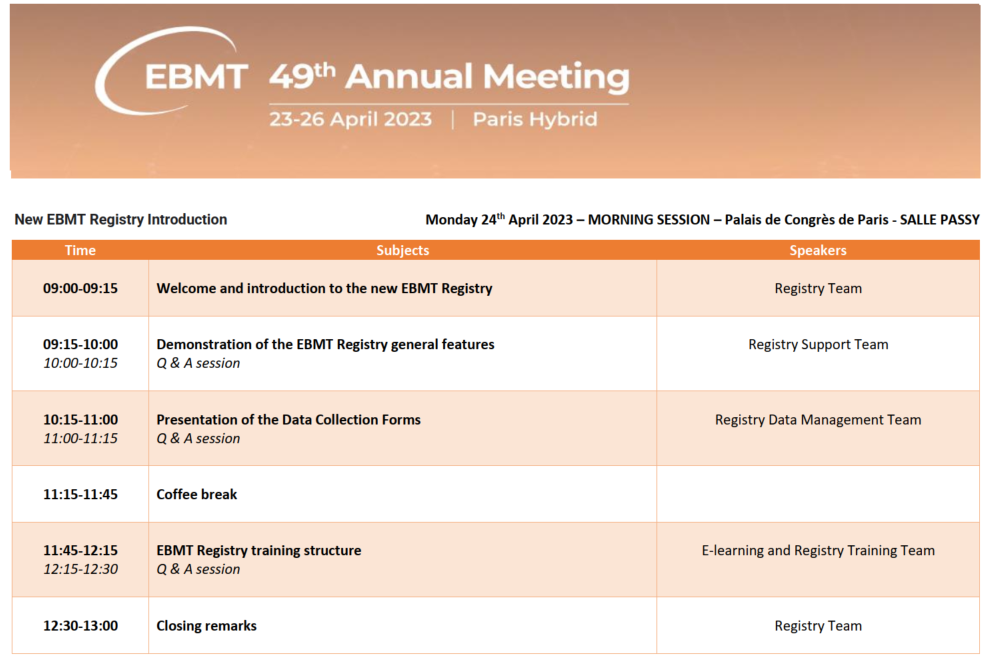 IMPORTANT: This session is free of charge and will grant you access only to this session, if you want to attend other EBMT Annual Meeting sessions you will have to purchase either a day ticket or a full ticket. This session will NOT be live-streamed or displayed on the virtual congress platform. 
Please note that spaces are limited and registrations will be taken on a first-come-first-served basis. If you're unable to come please make sure you cancel your registration so someone else can benefit from the training.
Register for the 
"New EBMT Registry Introduction" session
HERE.