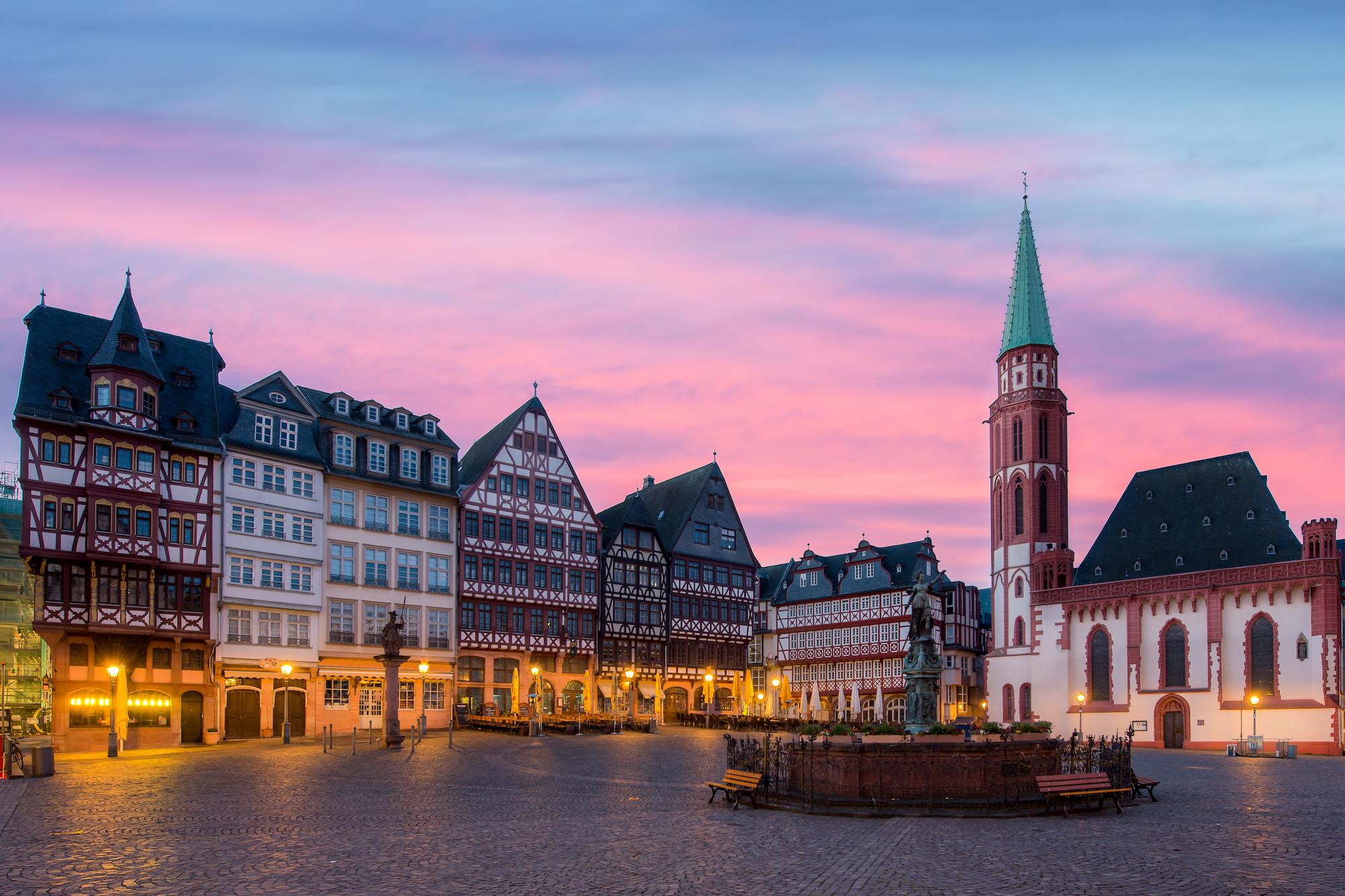 Conveniently located in the heart of Europe, Frankfurt is a city of great colour and diversity. It is a place where tradition meets modernity, commerce meets culture and activity meets tranquillity. "Mainhattan" is known to be Europe's smallest metropolis, a reputation it gained thanks to its international orientation. The trade fairs, global corporations, cultural establishments and the city's international airport all play a leading role in their respective fields and industries. Expanding year after year, the Frankfurt skyline is unmatched in all of Europe. Most of the high-rises are used as office buildings, housing major national and international banks. Frankfurt is also home to Germany's leading stock exchange, the German Federal Bank and the European Central Bank. Frankfurt's city history goes back over 1,200 years, when the Emperor Charlemagne called representatives from across the continent to "Franconofurd" to take part in an imperial synod, a conference of pan-European significance. It was Frankfurt's geographical location near the confluence of the Main and Rhine rivers in the former dominion of Franconia that gave the city its name – "the ford of the Franks".
Frankfurt has always been a city of great political significance, never more so than during the revolution of 1848. Frankfurt Cathedral hosted the elections of German kings from 1356 onwards. Some 200 years later, the cathedral became the scene for coronation ceremonies of German emperors. The festive banquets celebrating the new emperor were traditionally held in the Kaisersaal (Emperor's Hall) at nearby the Römer. The three-gabled façade of Frankfurt's present-day city hall has become Frankfurt's official city symbol.
Trade fairs, meanwhile, took place in the Römerhallen (Roman Halls) and on the Römerberg as early as the Middle Ages. Today, the Römerberg is the beating heart of the historical old town, a popular meeting place for locals and visitors alike. This historical part of Frankfurt has just got a facelift. The old town has been reconstructed between the Römerberg and Frankfurt Cathedral. It is a highlight to stroll through the picturesque laneways of this historical quarter as in days long gone by.
Frankfurt has indeed much to offer fans of history, but there is also plenty for art enthusiasts to discover. The city's unique museum embankment underlines the importance of the Main metropolis in matters of art and culture. This impressive series of exhibition venues combines first-class cultural offers with well-conceived architectural development. Several of the 19th-century buildings have had their cores removed and been given a new interior. Their façades, however, continue to characterise the riverside as in the years prior. The Städel Museum and the Museum of Modern Art are two of the more internationally renowned museums along the River Main.
Frankfurt's most famous son is Johann Wolfgang von Goethe. Goethe has lent his name to many places, none however more influential than Frankfurt's premier institution of tertiary education, the Goethe University Frankfurt. Founded in 1914, it was Germany's first "citizens' university", a place of learning founded and funded by private individuals. Known to be Germany's most famous author and poet, Goethe was born in Frankfurt on 28th August 1749 and also spent much of his youth here. His birthplace, known simply as the Goethe-House, ranks among Frankfurt's most popular sightseeing attractions.
MyZeil, Goethestraße, Brückenstraße and Kleinmarkthalle are four names every visitor keen to do a bit of shopping should remember. Over the years, Frankfurt has gained an excellent reputation as a shopper's paradise. In fact, the Zeil is known to be Germany's most profitable shopping promenade. All leading international labels as well as up-and-coming designers and exclusive brands are represented here.
Having concluded their shopping sprees, visitors may want to refresh themselves at one of the traditional apple wine pubs situated in the going-out district of Sachsenhausen.
Looking for a bit of rest and relaxation? Then head to one of the city's many parks and gardens or, alternatively, down to the River Main. Frankfurt Zoo and the Palmengarten, which have been attracting visitors for a brief respite for over 140 years. And then there's the Frankfurt GreenBelt, which encircles the inner city on a 70-km band, offering myriad opportunities for get back to nature, either on foot, on skates or by bicycle.
For general interest, please visit https://www.frankfurt-tourismus.de/en
Weather
Overall, Frankfurt has a warm and temperate climate with westerly winds. Extreme fluctuations in temperature are rare. Rain falls throughout the year.
The latest weather information can be found at www.dwd.de/EN.