Presenters / Organizers :
Arjan Lankester, Régis Peffault de Latour, Selim Corbacioglu, Hilda Mekelenkamp
General Information
Dear colleagues,
The EBMT is very happy to announce the upcoming 1st EBMT Midterm Focus Meeting on Non-Malignant Diseases that will take place in Leiden (The Netherlands) from 25 to 27June 2020.
The format of the meeting provides clinicians, scientists, nurses, young investigators and health care providers to share their experience and knowledge though keynote lectures, breakout and joint sessions and discussions. The general aim of the meeting is to provide, for each topic covered, first a joint, general session on the currently accepted standard of care for each disorder, followed by a breakout session to delve into experimental and alternative treatment options, as well as nurse specific topics.
This mid-size event will cover several topics such as sickle cell disease, Fanconi anemia and DBA; immune dysregulation, non SCID PIDs, inherited metabolic disorders, complications and outcomes, overlap of bone marrow failure and PID, and thalassemia, as well as a special keynote lecture on hemochromatosis and iron metabolism.
The faculty includes key experts and represents the leaders in their respective fields.
We invite you all to attend this exciting meeting and look forward to seeing you in Leiden!
Arjan Lankester - IEWP Chair
Régis Peffault de Latour – SAAWP Chair
Selim Corbacioglu- PDWP Chair
Hilda Mekelenkamp – Nurses Local Chair
John Murray – Nurses Group President
Registration

EBMT members can use their CIC code to pay the discounted early bird fee until 21 June 2020. If you are not part of EBMT yet, please consider becoming a member. For more information visit this page (https://www.ebmt.org/become-member).
* For nurses, university students, data managers and low-to-middle income countries participants an accreditation (ID card, letter from your department, university or hospital...) will need to be provided during the registration process. Countries eligible for LMIC Registration fee can be found at this webpage. This registration price will only apply to individual registrations, and not for group registrations.
The fee includes entry to all sessions, educational materials, and catering in the venue during the course.
To register, please click on the "Register" button above. You can pay by credit card, PayPal, or wire transfer.
Please note that if you pay by wire transfer, you'll be required to send proof of payment to education.events@ebmt.org before 14 June 2020, or your registration will be automatically cancelled.
Should you need a VISA letter, you'll be able to download it after the registration.
If you have any questions, please contact: education.events@ebmt.org.
Certificate of Attendance
After the event, you will receive an email with a short survey to evaluate the course. After the survey is completed, you'll be able to download the certificate of attendance.
Abstracts
The Midterm Focus Meeting on non-Malignant Diseases is an interactive educational meeting with the participation of all the delegates. For this meeting in particular, we would like to encourage all young investigators (<35 years), as well as nurses to submit their abstracts.
The selected abstracts will be incorporated into the scientific programme as a 10 minute presentation. Please note that due to the limited spots, some abstracts might be selected as poster presentations.
Guidelines for abstract submissions:
- Abstract as a Word or PDF document. PowerPoint presentations will not be accepted.
- Must have a title
- Must list ALL authors.
- The abstract has to be structured using the IMRaD format (https://en.wikipedia.org/wiki/IMRAD) or following a medical case report guideline such as this one (https://www.ncbi.nlm.nih.gov/pmc/articles/PMC5686928/).
- Maximum number of words: 250
Please send your abstract to education.events@ebmt.org before 23 April 2020 (23:59 CET) to enter the selection process.
Abstract topics:
- Thalassemia
- Fanconi anemia and DBA
- Immune dysregulation
- Non-SCID primary immunodeficiencies
- Overlap of bone marrow failure and PID
- Inherited metabolic diseases
- Sickle cell disease
IMPORTANT:
Selected oral abstract and poster abstract presenters must register for the meeting.
Please don't register online before getting the confirmation that your case has been selected.
Should your abstract be selected, we will offer you a discount code to register with the Early Bird fee.
The results of the selection will be available from 15 May 2020.
Grants
Nurses willing to join this meeting are encouraged to send your applications with CV and motivation letter to education.events@ebmt.org before 21 April 2020.
The results of the selection will be available from 15 May 2020.
Programme
Please click the document above to download the Scientific Programme.
Leiden University Medical Center (LUMC)
Building 3 / Gebouw 3
Hippocratespad 21
Leiden, Zuid-Holland 2333 ZD
The Netherlands
Accommodation
Participants will be responsible for covering their travel and accommodation costs.
The Organization cannot accept liability for personal accidents or loss of or damage to private property of participants. Participants are advised to take out their own personal travel and health insurance for their trip.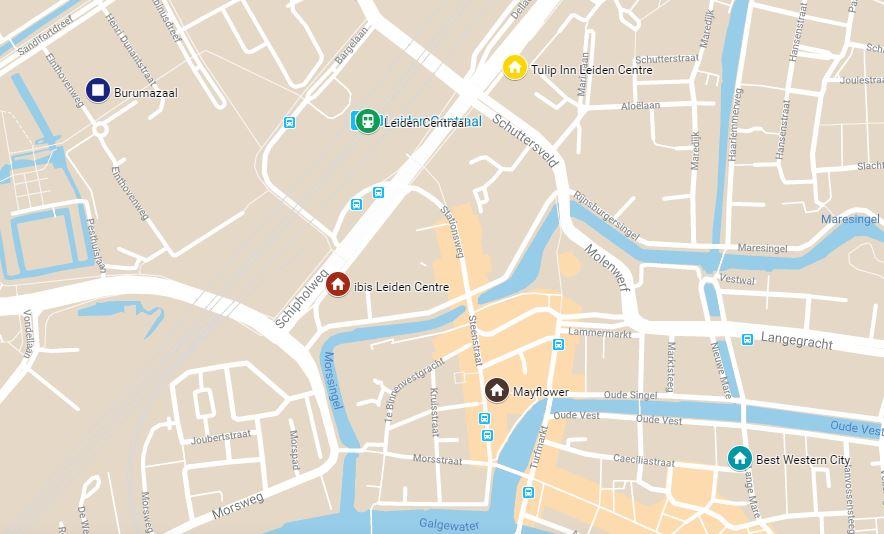 EBAH-CME Accreditation
We are pleased to announce that this educational course will be accredited by the EBAH-CME credits system.
After the meeting, an updated attendance list will be uploaded to the EBAH-CME website.
If you don't have an EBAH-CME account, we recommend you create one by clicking here.
If after 15 days after the event you do not have your EBAH-CME credits in your account, please contact the EBMT Educational Unit at education.events@ebmt.org.
There are various opportunities to support this meeting. For more information please send an email to fundraising@ebmt.org to indicate your interest.