-

GENERAL INFORMATION
The French EBMT Nurses Group (FNG) was established in 2011, aiming to improve our practices and to share our experiences within the field of Hematopoïetic Stem Celles Transplantation (HCST).
The EBMT and the French EBMT Nurses Group is happy to announce the upcoming 10th EBMT Nurses International Study Day & the 2nd Nurses Research Study Day.
This autumn International Educational Study Day and Research meeting ​​will take place, for the first time, in France, in Montpellier.
The International Study Day is the first of a 2 days event on the 4th and 5th October 2018 and we will be attracting senior nurses from across Europe.
The International Study Day will be followed on Friday 5th October by our 2nd Research Nursing Study Day where our Research Committee will deliver an exciting agenda 'celebrating nursing research in HSCT'. We will highlight the valuable contribution of nursing research to the body of knowledge, showcasing examples of such work and provide support and education to those aspiring to undertake research in this field.
The educational and research study days aim to inform, inspire and stimulate nurses to improve the care provided to their patients. Knowledge informs practice, and these study days are an invaluable contribution to this. Additionally, they create opportunities to share best practice and foster joint-working throughout Europe.
We are looking forward to welcoming you in Montpellier!
Caroline Bompoint – Local Organizer
John Murray – Chair of the EBMT NG
OFFICIAL LANGUAGE & SIMULTANEOUS TRANSLATION INFORMATION
English is the official language for both events, however, simultaneous translation English to French will be available on the 10th EBMT Nurses International Study Day (04.10.2018)
REGISTRATION
The general registration fee is 40€ per day. A full registration package for two days is available for 60€. This fee includes all sessions, access to the online content, catering during the course, and the meet-the-expert dinner.
Early bird fees available until 2nd September 2018: 30€ per day and 50€ for 2-days course.
To register to this event, please click on the button above. If you have any questions please contact us at education.events@ebmt.org
Please click the documents above to download the Scientific Programmes.
LOCATION
French southern city full of traditional and contemporary treasures, Montpellier is a Mediterranean crossroads, a charming and exceptional destination. A medieval city where the town centre, Place de la Comédie, Faculté de Médecine and Place Royale du Peyrou attract visitors from around the world, however, besides its historical charming Montpellier is also a modern metropolis, open to contemporary architecture, science, culture and recreation.
VENUE
Created in the twelfth century, the Faculty of Medicine of Montpellier is the oldest practicing medical school in the world.
It has welcomed scholars and scientists from all ages and backgrounds like Rabelais, Lapeyronie, Chaptal, Arnaud de Villeneuve and Gui de Chauliac.
Address:
Faculté de Médicine – Bâtiment historique
2, rue Ecole de Médecine
CS 59001
34060 Montpellier Cedex 2
HOW TO MOVE AROUND
Walking is an excellent way to get around Montpellier since there is a wide pedestrian area on the downtown.
Gare Saint Roch is the main train station and it is only 15 minutes walking distance from the venue.
The trams tend to be very pleasant way of travelling across the city and arrive every 3-5min at peak hours but less frequently at night. Ticket prices are the same as for the buses and the tickets are interchangeable (1,60 euros single ticket). Purchase tickets before boarding - there are multi-lingual ticket machines at each tram stop. The closer tram stop to the venue is Place Albert Saint-Charles.
ACCOMMODATION & TRAVEL
Participants will be responsible for covering their costs of travel & accommodation. While attending the course, coffee breaks, lunches, a Meet-the-Expert Dinner will be provided and cost is included in the price ticket (limited spaces available).
If you would like to arrange your accommodation close to the meeting venue, you will find some hotels in the area by clicking on the image below.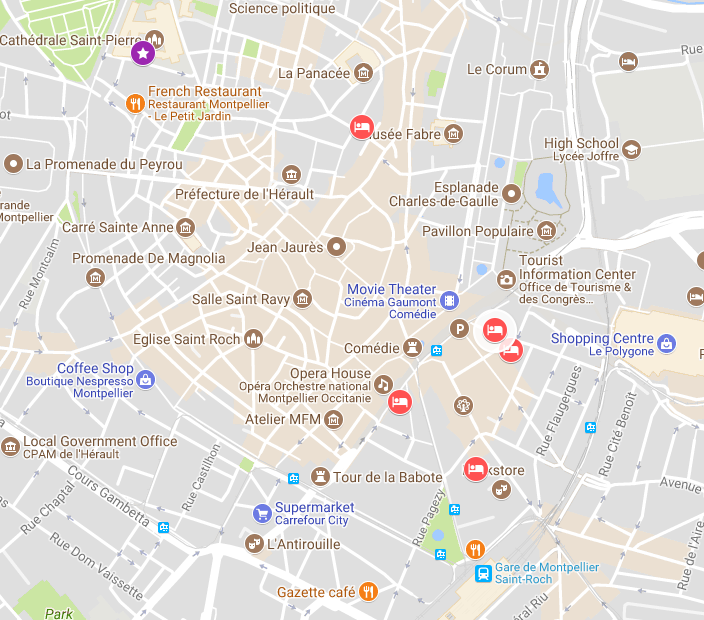 Alternatively, you can check booking.com for more options.
EBAH-CME ACCREDITATION
We are pleased to announce that this educational course will be accredited by the EBAH-CME credits system.
In order to collect your EBAH-CME credits, we recommend you to create an EBAH-CME account by clicking on the following link. By registering to the EBAH-CME website, you'll have access to the record of other events you have already been accredited for. After the meeting, an updated attendance list will be uploaded to the EBAH-CME website.
If you already have an account, you will receive an email to evaluate the course and claim your points. If after 15 days you have not received an email regarding your credits, please contact the EBMT Education Unit at education.events@ebmt.org
Lunch Symposium

---
Meet the Expert Dinner

---
Supporter